Despite some poor performances on the pitch, the arrival of Jurgen Klopp has given Liverpool supporters hope ahead of Sunday's League Cup final, writes Sachin Nakrani.

During Barack Obama's campaign to become US president in 2008, one word more than any other became a link between the candidate from Chicago and the nation's electorate: hope. He was offering it, they yearned it after eight years of George W. Bush's neo-con, ultra-thick presidency, and as momentum grew during the election, which Obama fought against Republican candidate Senator John McCain, its usage grew. Hope, hope, hope, every day and everywhere.
It became Obama's motif, and the word which sat alongside an image of him on a poster designed by the artist Shepard Fairey, the now iconic stylised pencil-portrait which many observers of the '08 election claim ultimately won it for the Democrat's man. A national mood had been captured in colour and Obama knew it – hope, hope, hope. He couldn't say it enough, every day and everywhere.
It got to a point where Obama's critics – including his rival for the Democrat candidacy, Hilary Clinton – used 'hope' as a stick to beat him with. 'All rhetoric and no substance' was the charge, and such was the barrage of criticism, Obama found himself having to defend himself while out on the campaign trail, no more so than during a rally in Providence, Rhode Island.
"I've been teased in this campaign a little bit," Obama told the crowd. "Senator Clinton says, 'Oh he talks about hope all the time…He thinks the clouds will part, he's so naive, he thinks he can wave a magic wand and suddenly everything will be great. He is a hopemonger'. It is true I talk about hope a lot and the implication is if you talk about hope you must be naive, your head must be in the clouds…you must not be wise to the world and know what it takes to bring about real change.
"But the critics and cynics do not understand what hope is. Hope is not blind optimism, hope is not ignorance of the challenges that stand between you and your dreams. Hope is exactly the opposite – hope is believing and then working and then fighting for things."

Stirring, articulate words and ones that came back to me as the final whistle blew in Liverpool's FA Cup defeat to West Ham earlier this month. Conceding a goal right at the end of extra-time from a free-kick that a) should not have been awarded and b) could have been avoided had Lucas not committed one of his typically needless fouls, was a sickening way to exit the competition, and on the back of the ticket protest at Anfield a few days earlier, I could not have been the only one feeling that being a Liverpool supporter was once again proving to be a trying affair. Fury and frustration in the stands, poor performances and results on the pitch; it was like The Hodge and those two American hucksters had never left. Hope – that's what I needed, hope that things could and would get better.
And then it came. First through the words of the manager following the loss at Upton Park. "It's not the most easy season for Liverpool FC, a lot of things happen and nothing is easy from the hand," he said. "But it's our situation and maybe the history of Liverpool, how everything started, maybe if we want to see it really positively we are again just at the start point of the future. So, in this moment, we fight for the next step."
Shortly after there came the news that having witnessed 10,000 supporters leave Anfield early during the 2-2 draw with Sunderland, the owners had decided to retreat from unmoral ground – ticket prices were to be frozen for the 2016-17 season, the offer of £9 tickets was to be increased to 10,000 across the entire campaign and categorisation for away fans was to be abolished altogether. Stunning, splendid news, proof that people protest can have a strong, immediate effect and a little bit more of that much needed thing: hope.
It's an intangible thing, hope, you can neither touch it or see it, but you know when it's there, spreading through the atmosphere, giving you reason to believe an upturn is around the corner. They felt it across large sways of America in 2008 and we, as Reds, should feel it is running through our club right now.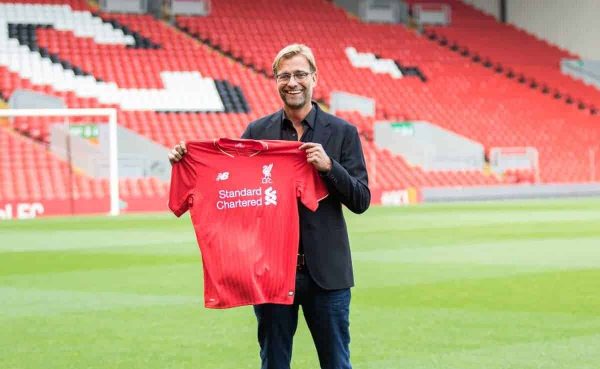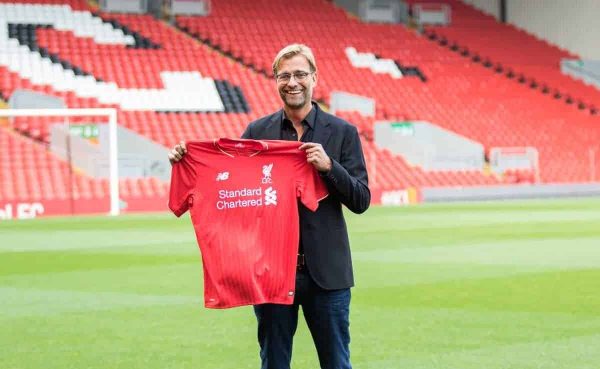 There will be many of you who have felt hope ever since Jurgen Klopp became Liverpool manager last October, striding into town with his jeans, black shirt and talking about bring "emotional football" back to the club. It was easy to be seduced, particularly given this smiling German had won back-to-back Bundesliga titles with a team that went from near bankruptcy to breathtaking performances and achievements under his charge. But I for one was not fainting like a teenage girl at a Bros concert (ask your parents, kids) and hailing the new man as the Messiah, because I had been here so many times before – new manager, fresh optimism, ultimate disappointment.
That could prove the case with Klopp, too, but somewhat paradoxically I have a firmer belief in his abilities to make this club of ours great again now then when we arrived amid great fanfare four months ago. The results have been poor but it's clear he has a plan.
That belief – that hope – is strengthened by what he said after the West Ham game. Klopp could easily have bemoaned his lot after a fourth game without victory for Liverpool (fifth if you include the League Cup semi-final, second leg against Stoke at Anfield that required penalties for the hosts to prevail) and yet another in which his seemingly brainless side conceded from a set-piece. Instead he focused on the positives, drawing on the strength of the collective to put forward a case in believing that the bright future starts now. And well, there could be no brighter start in that context than the owners bowing to the will of the supporters – collective strength 1-0 greed.
That was a huge off-the-pitch victory and this Sunday Liverpool have the chance to secure a huge on-the-pitch one, too. Manchester City may be in a rut right now but they remain favourites to win the League Cup Final, and fair enough given they're higher than we are in the Premier League and, quite frankly, have better players. But I've seen enough of City this season to know they can be beaten, especially if Liverpool play with confidence and energy – in other words, repeat what they did in securing that 4-1 win at the Etihad Stadium last November. The Sky Blues were ripped apart by the Reds inside 32 minutes and whatever Manuel Pellegrini and his men say, the scars will still be sore.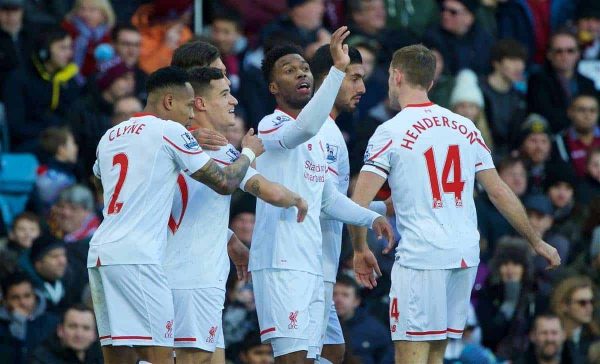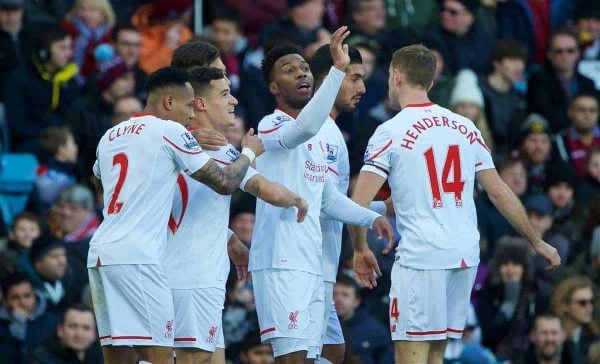 The return of Daniel Sturridge also benefits Liverpool's attacking play, as seen in the recent 6-0 demolition of Aston Villa. And while that victory was followed by a drab goalless draw at Augsburg, Klopp's boys are no doubt a more threatening prospect now then they have been for months.
Victory at Wembley would give Liverpool a first trophy in four years, which for a club whose reputation is built on collecting silver pots season in, season out, is important. But more than that, it will fuel the sense that there really is something to get behind here, specifically a manager who can definitely win honours against the odds in this country as well as his own and a group of players who have what it takes to deliver on the big stage.
Some – and I'm looking at you here, Simon Mignolet – should not be allowed to use a winner's medal as reason to be kept on beyond this season, but for those who remain will come a strengthening of resolve and belief that they can achieve greater success at the club in the years to come. We will have that belief too, that renewed optimism. That hope.
All this may sound like wishy-washy nonsense, but as Obama told those who came to listen to him speak in Providence, hope is not a form of blind ignorance, it does not ignore the challenges ahead, which in Liverpool's case are plentiful. Hope is instead believing that with a combination of hard work and fight, you can make substantial and significant improvements.

It's already been achieved at Liverpool this season by a group of supporters who had hope a mass walkout would lead to fairer ticket prices and it can be achieved by a manager who clearly has hope that despite the bad, good is within reach if his players are willing to adhere to his principals. Indeed Klopp has already proved that can be the case in Germany, where he became known as a Menschenfanger; the type of guy who can literally talk people into doing things they did not feel possible.
In case you've forgotten, Obama won the 2008 election and went onto introduce the most significant health reform in modern American history. Liverpool can with the 2016 League Cup Final and much more beyond. They – we – just need to have hope.