With Joel Matip announced as the second player set to join Liverpool at the end of the 2015/16 season, supporters praised the club's swift move.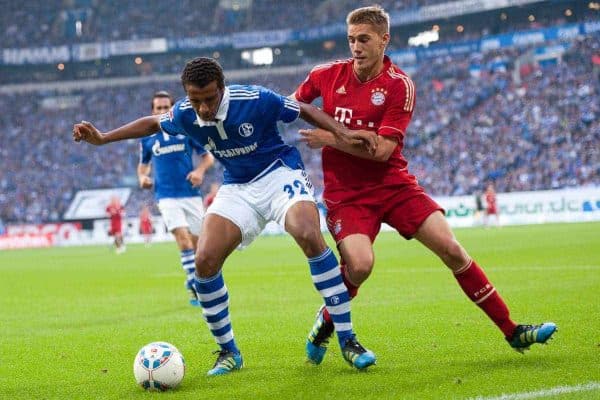 Matip joins on a free transfer, having entered the final months of his contract with Bundesliga challengers Schalke.
The 24-year-old will arrive at Anfield with a raft of experience, having spent the past 16 years with the Gelsenkirchen side, competing regularly in the Champions League.
This is the second signing manager Jurgen Klopp has lined up for his first full season in charge at Liverpool, joining Red Star Belgrade's powerful midfielder, Marko Grujic.
Matip is the more high-profile acquisition, and this move has seen a largely positive reaction form the Liverpool support.
Most hailed this latest signing, as Klopp builds his squad for the 2016/17 campaign…
▼ Article continues below ▼
We're getting Matip! Yesssss quality signing!!! @LFC

— Patrico? (@agger61) February 15, 2016
Joel Matip on a bosman!! Bargain of the decade

— Klaus (@TheRaheelDeal21) February 15, 2016
Joël Matip. Good signing Klopp ?

▼ Article continues below ▼

— dot (@firdauus) February 15, 2016
What a signing welcome Joel matip

— Connor Wagner (@wagbolegend) February 15, 2016
Klopp was famous at Dortmund for signing free or cheap players and developing them. #Matip is one of them

— Tommy J (@t_jurik) February 15, 2016

▼ Article continues below ▼
Welcome to @LFC Joel #Matip ? This is what he will bring to the side https://t.co/gRvkjGhUKH

— Chris Williams (@Chris78Williams) February 15, 2016
Schalke fans on reddit seem really gutted to lose Matip. One says, "Great move. You're not only getting a great player but also a good guy."

— Paul (@PaulW_16) February 15, 2016
▼ Article continues below ▼
Joel Matip on free transfer. Good business that.

— ? (@baenaja) February 15, 2016
Really pleased with the Matip signing. Shrewd "free" transfer. That's how we should be building the squad side of things. Improvements at

— J (@JaseRoberts_) February 15, 2016
low cost. We've wasted far too much money on squad players in the past. Matip may even push on to become a regular & fulfil his potential.

▼ Article continues below ▼

— J (@JaseRoberts_) February 15, 2016
Joel Matip looks a really good signing tbh. Strong and quick CB decent in the air, exactly what we need. #LFC

— David Lawler (@Super7lfc) February 15, 2016
Joel Matip isn't the answer, long term, but is better than all Liverpool RCB's and his versatility will benefit the squad

— John O'Sullivan (@NotoriousJOS) February 9, 2016

▼ Article continues below ▼
Klopp gets Matip for free. Rodgers would have got Williams for £20m.

— Jona$ (@Jona2en) February 15, 2016

https://twitter.com/PerryLFC1997/status/699229207877050368
While others focussed on the efficiency of Liverpool's business under the former Borussia Dortmund manager…[td_ad_box spot_id="custom_ad_1″]
Another player in for next season, that's 2 new players signed for next season allready…..#Matip #LFC

— Paul Phelan (@Pheo7) February 15, 2016
Nice to see Jürgen getting a head start on transfers for next season. German efficiency at its best #Matip

— Kauser Soze (@NinaKauser) February 15, 2016
Joel Matip and Marko Grujic – 5.1M

Adam Lallana and Christian Benteke – 57.5M

Things be a changing!!#Klopp

— showmethemoney (@smtm_LFC) February 15, 2016
I lov Klopp's way of business. Grujic for 5m and Matip for free. 2 great deals. #LFC

— Swapnil (@thecipherstory) February 15, 2016
Grujic with £5m and Matip free, humble beginnings from Klopp

— Indo LiverpoolFC (@IndoLiverpoolfc) February 15, 2016
Great to see Liverpool moving swiftly and decisively in the market, Grujic and Matip in for a full pre-season under Jurgen Klopp. #LFC

— Jack Lusby (@jacklusby_) February 15, 2016
At the forefront of the praise for Matip came with his physicality, with the Cameroon international standing at 6'3″…
Great move by LFC to acquire Matip. Great to see some height on the back line. #LFC

— Alfredo Rodriguez (@fredo_5) February 15, 2016
Joel Matip is a good signing… Has a got good height and heading ability to survive in the PL and he is a good passer of the ball.

— Abhinav Katkam (@LFC_Joker) February 15, 2016

https://twitter.com/ScottBerko/status/699195203962462208
If #LFC can bring Matip to Anfield. It is a big move. Surely he will improve our defensive problem. Bring pace, height and composure

— Stephen #LFC (@stephen_ks) January 27, 2016
The average height of Klopp's Dortmund team was 6'1. It makes sense considering present players height. Grujic and Matip both stand 6'4.

— Sudarshan Venkatesan (@SrinzzzLFC) February 15, 2016
Klopps signings for Liverpool so far:

Marko Gruji? (6"3) & Joel Matip (6"4)

Height clearly an issue in this current Liverpool team.

— Levi (@TheAlonsoRole) February 15, 2016
Meanwhile, the Liverpool Echo's Ian Doyle jokingly conjured memories of one-season wonder Rigobert Song…[td_ad_box spot_id="custom_ad_2″]
A Cameroon international centre-back at #LFC – what could possibly go wrong?

— Ian Doyle (@IanDoyleSport) February 15, 2016
More from This Is Anfield
Fan Comments
Comments are retrospectively moderated. Some could be subject to delays before publication. They must obey the
comment policy
. Comments load below.
Please only discuss the article above. General chat can be made on our forums at forums.thisisanfield.com