Lucas Leiva has urged Liverpool to approach their Europa League clash with Augsburg as top priority, turning the focus away from Sunday's League Cup final.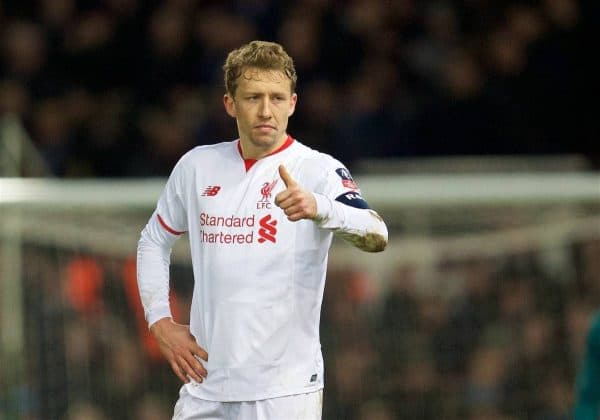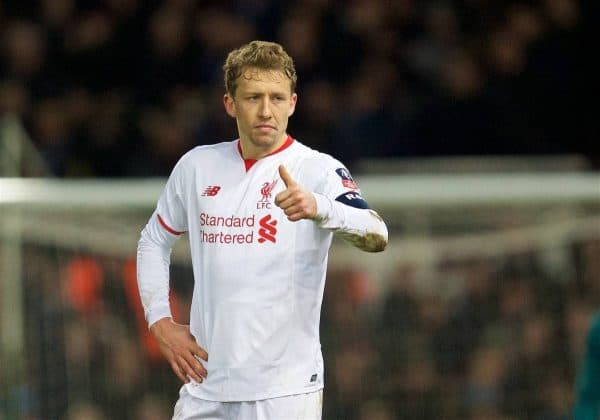 Beginning a crucial, season-defining week with the second leg of a round-of-32 clash with Bundesliga side Augsburg on Thursday night, Liverpool can then prepare themselves for Sunday's final against Manchester City.
But speaking before the Reds' Anfield outing, Lucas has stressed the need to focus on their European hopes.
Particularly for the Brazilian, this represents another opportunity to stake a claim for a place in Jurgen Klopp's starting lineup at Wembley at the weekend.
"That is how football life is—every three or four days you have a very big game," he explained.
"Of course, on Sunday it is a big final, but this is another final for us on Thursday.
"For myself, if I've got a chance to play it'll be another chance to show we want to be in the team for the final.
"This is an opportunity for us.
"But it's an also an opportunity to go to the next round in a tournament we want to go as far as possible in.
"It's a European tournament and they should always be taken really seriously."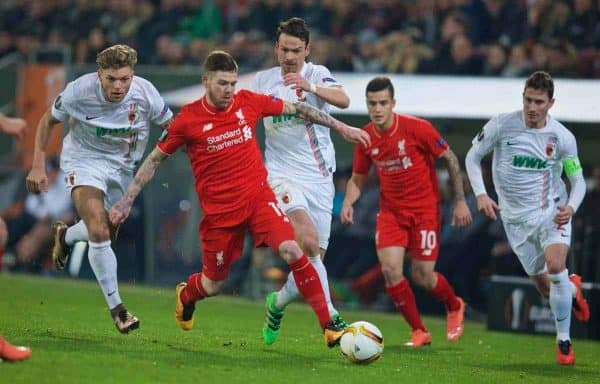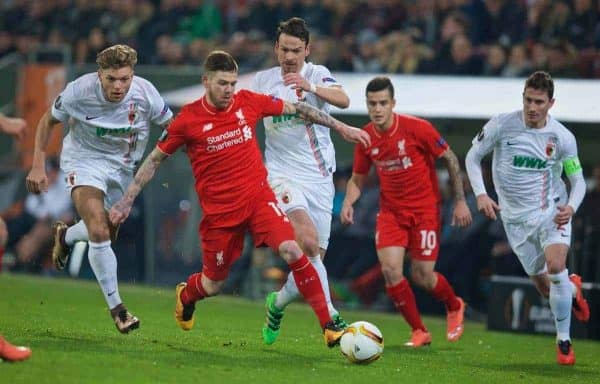 After being held to a 0-0 draw in the first leg at Augsburg's WWK Arena, Lucas is determined to approach Thursday night's clash with "confidence."
"We didn't have the best game over there and I think we'd all agree with that, but it was a result that means it is in our hands," he continued.
"If we win the game at home, then we will go into the next round.
"Always when you don't concede away from home, it's good.
"If you look after two legs, it's not a bad result—we wanted to do a lot better, but it's in our hands in front of our fans.
"We have to approach it with confidence and hopefully get through to the next round because we want to challenge for this tournament."
Success in the Europa League, as well as victory over City on Sunday afternoon, would provide Liverpool with much cause for positivity in 2015/16.
The arrival of Klopp has brought hope to Merseyside, and the German's focus on success in all competitions has clearly rubbed off on his squad.
Lucas is right to stress the importance of victory on Thursday night, and Klopp may require his more experienced players to secure progress, with Nathaniel Clyne admitting he is already looking forward to the League Cup final.
[interaction id="56cb30408f0287d70a5e6f92″]