A late penalty from Christian Benteke secured Liverpool an unlikely 2-1 win away to Crystal Palace after going down to 10 men after James Milner's dismissal.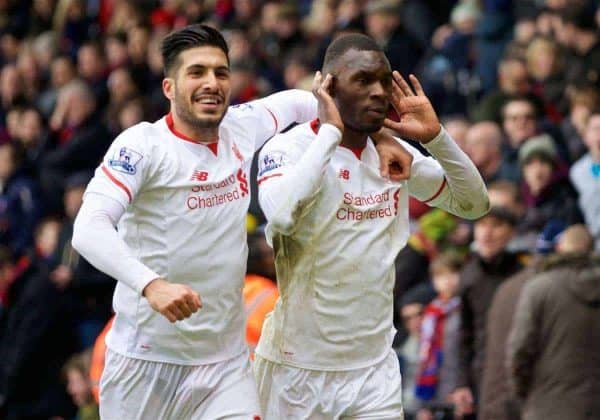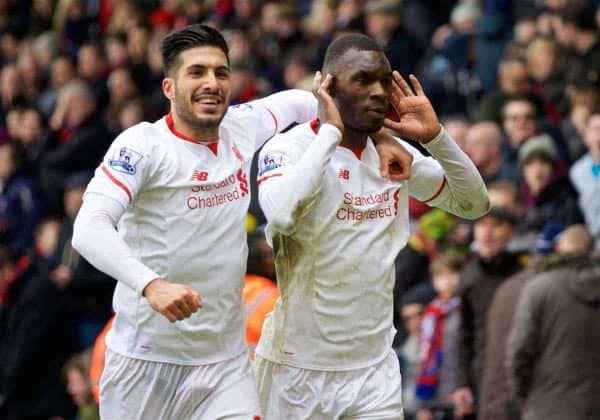 Crystal Palace 1-2 Liverpool
Premier League – Selhurst Park – Sunday 6th February 2016
Goals: Ledley 48′; Firmino 72′, Benteke (pen) 90+6′
Benteke's controversial last-minute spot-kick gave the Reds their first league win away to Palace since 1997, after a dominant display from a physical Eagles outfit.
Joe Ledley opened the scoring early into second half, before Alex McCarthy's horrific error gave Roberto Firmino the chance to equalise.
Felled in the box by Damien Delaney in the closing stages, Benteke dusted himself off and sent a composed penalty beyond McCarthy to send the travelling Kop into raptures.
Here's how supporters saw Sunday's win at Selhurst Park.
Should play palace with 10 men more often!!!!!!brilliant 3 points.Well done all.We were well overdue that one there.

— John Aldridge (@Realaldo474) March 6, 2016
Down to 10-men, 1-0 down. Did extremely well to get anything let alone 3 points from that game.

— LFCTS (@LFCTS) March 6, 2016
Absolute scenes! What a reaction to going down to 10 men. Got our just rewards.

— Aaron Cutler (@aaron_cutler) March 6, 2016
There's some belief in this Liverpool team and it's all down to Klopp. He told us all from the off though – doubters into believers

— Sam McGuire (@SamMcGuire90) March 6, 2016
"Performance of champions. If we can take this forward we are going to finish well up the table."
– theres always tommorrow on the forums.
Not a great performance but a great result! #LFC.

— Si Steers (@sisteers) March 6, 2016

https://twitter.com/beccaparry10/status/706501262725009408

Brilliant effort to come from a goal and a man down to win. Emre Can was phenomenal & incredible composure from Benteke at the death #LFC

— Sam Drury (@SamDrury11) March 6, 2016
"Strange days and even weirder match. Didn't do anything to earn a win over the course of the match, but played well enough to earn a goal after going down to 10 men. Let's hope very little of this performance carries into Thursday, aside from the determination to get a winner."
– Gegen Pretzel on the forums.
https://twitter.com/TheKopMagazine/status/706501170064453632

That was incredible! In with the Palace fans and I will never know how I didn't go mental went Benteke scored. What a sight the away end was

— Henry Jackson (@HenryJackson87) March 6, 2016
Have that Pardew!!!! Massive win and we'll done Benteke for having balls to take that pen

— Jeff Goulding (@ShanklysBoys1) March 6, 2016
"I really hope that Benteke now has the confidence that a striker needs, I think we cannot imagine the load he carries on his shoulders: being that expensive, and not delivering, and getting stick…"
– StanSB on the forums.

Get in Big Ben. To not score for so long then do that. ?? by me.

— Floyd Nundy (@TheFNundy) March 6, 2016
Lovren and Can great there today. Big balls on Benteke too. Have some of that Pardew. Not shushing anyone now are ya soft lad?

— The Liverpool Way ??? (@theliverpoolway) March 6, 2016
To come back and win the game after being a goal down with 10 men is all part of the Klopp effect. It's getting better!!!

— Darshni Lal (@darsh_nil) March 6, 2016
"Europa qualification is still alive! Come on lads!"
– KraznyIvan on the forums.
Lovren & Sakho were brilliant.
Moreno had Zaha in his pocket.
Emre Can is our best player.
Coutinho changed the game.
Benteke winner.

— – (@AnfieldRd96) March 6, 2016
Emre Can the best player on the pitch….and only Origi younger

— SimonBrundish (@SimonBrundish) March 6, 2016
1 down,down to ten men,bogey team. I'd call that a great win! #LFC #YNWA

— James Walsh (@jamesstarsailor) March 6, 2016
This was probably the most undeserved Liverpool victory in recent years. But who cares.

— Artur Petrosyan (@arturpetrosyan) March 6, 2016