Ignore what the media may say, there's plenty of proof of the progress made under Jurgen Klopp in the last five months, as proven here by Alex Malone.

Just before we battered Man City last week, Steve McManaman claimed that Liverpool had not progressed under Jurgen Klopp; that the team was just as inconsistent and one-dimensional as it was under Brendan Rodgers.
Now, I know with McManaman being such an esteemed student of the game, and one so loved by Reds fans for his dedication to the club, we should be hanging on his every word (cough). But to put it bluntly, Steve, you're talking bollocks.
There is a very simplistic and naïve way to look at progress. The one that the, erm, "experts" in the media use ad nauseam: "In the 10 games since taking over from person x, person y has the same number of points as person x. Therefore, there has been no progress." Yes, folks.. it's really that simple isn't it?
Of course it's not. There are many other factors… team style, tactics, team mentality, player performance, self belief, attitude… the list goes on.
Klopp inherited a team going nowhere. It was a team that had regressed from a win percentage of 68% in the 2013/14 season, to 47% the season after, to 38% just before he was sacked. His last 17 league games gathered a shocking 20 points!
Rodgers, over his entire Liverpool career, managed a team that conceded an average of 1.2 goals per game. His final season, which consisted of 11 games, saw 3 wins, 6 draws and 2 defeats… a win percentage which had plummeted to 27% in his final season. It's worth noting too, that, 2 of these 3 wins came in the first two games of this season. In Rodgers' final 9 games, we won just 1 – 11% of the games.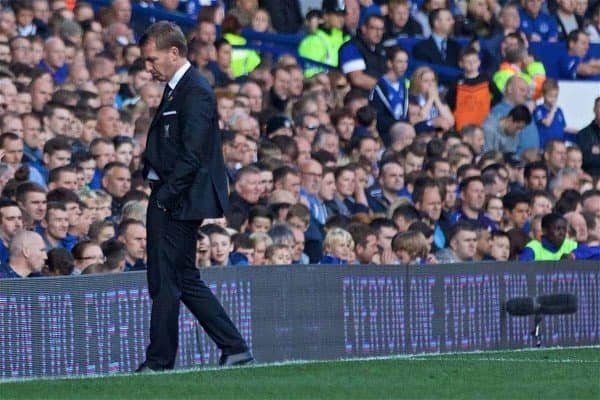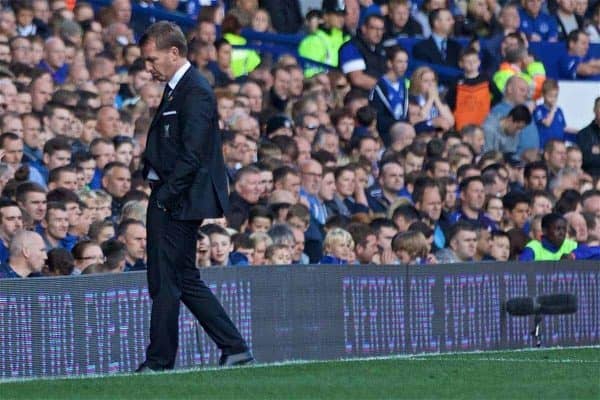 Those final 11 games saw us score 11 and concede 13. That's a goal scoring record of 1.0 per game, and goals against of 1.2 goals per game. This followed on from the worst Liverpool defeat in 50 years at Stoke in the final game of last season. The axe fell on October 4th.
Klopp came in on October 8th, taking over a team with the aforementioned win percentage of 27%. 5 months and 35 games in to the job, he currently has a win percentage of 46%. That looks a lot like progress to me; especially since he's had essentially the same players recruited by his predecessor as well as a crippling injury crisis to deal with.
In these 35 games, we have scored 53 goals (1.5 goals per game) and conceded 36 (1.0 goals per game).
So, in Klopp's 2015/16 season, we have scored 1.5 goals per game versus Rodgers 1.0, and conceded 1.0 goals per game versus Rodger's 1.2. Hmmm… seems like progress again to me?
Finally on the stats front, we have had 14 clean sheets in Klopp's 35 games. 4 of these have come in the last 6 games. Rodgers had 13 clean sheets in his final 35 games (fairly similar) but NONE in his final 6 games.
In fact, in his final 35 games (the total number of games Klopp has been in charge for) goals scored was 38 (fifteen less than Klopp) and goals conceded was 41 (five more than Klopp.) Klopp's first 35 games have resulted in a goal difference of +17. Rodgers final 35 games saw a goal difference of -3. No progress ay Steve?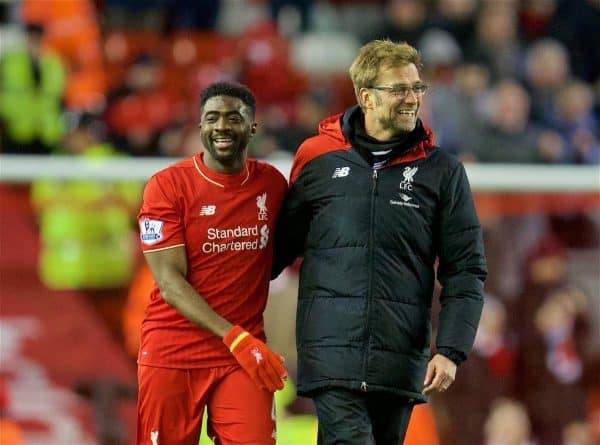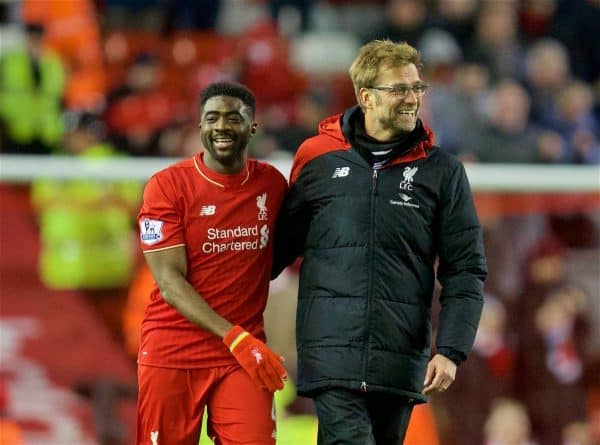 The stats above tell the story of the team in general, but it's individual player's progress that has also caught the eye. Not all of them of course, and as with any squad, some players won't cut it, no matter how exceptional the coach.
But there are already a number of success stories:
Injuries aside, Lovren looks reborn under Klopp. His performance at Palace when down to 10 men was superb. It was a top class performance rarely, if ever, seen under Rodgers. His performances of late are of a player who has rediscovered self belief, after a period when his confidence was shot to pieces.
When I watch Can now, I see a player growing in confidence and stature. His efficiency and consistency is on an upward trajectory. He's not the new Stevie G, but he might just be the 'most likely' of the current crop of midfielders to even get close to that level.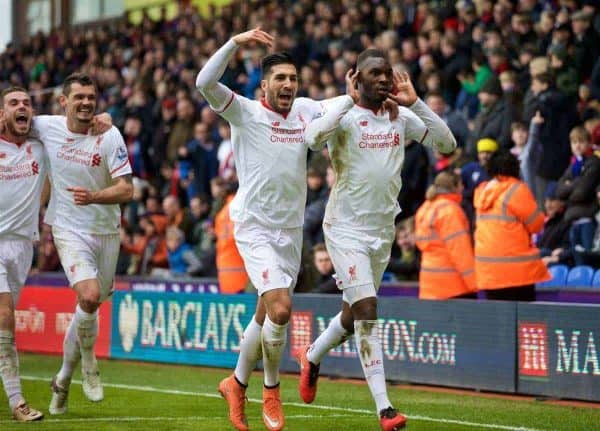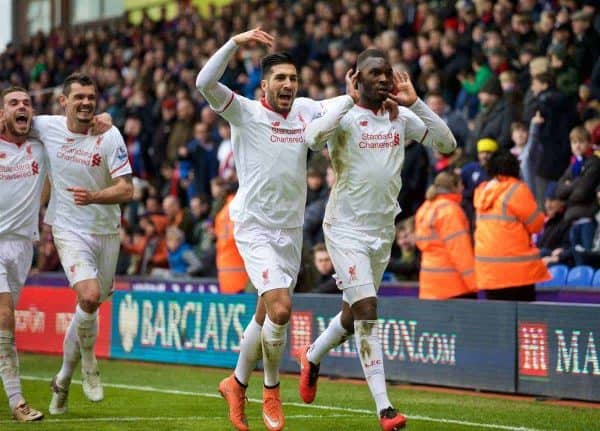 I absolutely loved his fist pumping and how he pointed Benteke out to the ecstatic Liverpool fans after his last gasp winner on Sunday. It showed a kid with passion, someone who cared so much about his team mate, and maybe, just maybe, a future leader?
Not consistent enough for a long enough spell as yet, but another whose performances are more 7/10 of late, versus the 5/10 earlier this season. His MOTM performance in dismantling Man City showed just what he's capable of.
We need it more often and he needs to add goals, but the latest version of Lallana is the one we hoped we were getting from Southampton. Klopp is clearly a fan, and his faith in him is paying dividends. I questioned both his physical and mental fortitude in the past. Finally, there are signs he might just possess both.
I have to be honest and admit that I thought Origi was a lost cause earlier this season. Not now. Klopp's faith in him to lead the line – ahead of the expensive and experienced Benteke, has seen a young lad grow into a genuine prospect capable of playing at the top level. Another who is nowhere near the finished article, but the signs are very promising. His speed and ability to stretch play has been a feature of recent performances.
Firmino
The most goals plus assists in the Premier League since the start of 2016 tell their own story. Firmino took his time to adapt but we're now seeing the Samba swagger his price tag suggested he had. Still finding his feet with the intensity of the English League, but adapting by the week.

He's also putting more tackles in now too, and not bottling out as much. Once he stops reacting like a werewolf avoiding a silver bullet when a plastic football is kicked at his legs, he'll be even better.
Lucas
I know Lucas is a firm fan favourite, but he's never been the answer for me as the truly top quality defensive midfielder we've needed since Mascherano moved on. One, he's naturally quite slow and two, he too often boots people unnecessarily in dangerous areas! Klopp's vision to move him to central defence has that "Bob Paisley-Ray-Kennedy-to-midfield" kind of feel to it.
Lucas has been tremendous back there, and it's allowed his natural defensive abilities to shine while tempering his appetite to give away free kicks. He's also able to read the game more using his positional sense and speed of mind rather than speed of feet.
So, that's my list of recent successes. You might want to add one or two more to this list, but the point is that Klopp has had a positive effect on more than few players who had been written off by many or were at least struggling to make an impact. Others such as Toure, Sakho, Coutinho and Clyne have maintained, or improved their already impressive form. Flanagan and Sturridge are already proven successes and are integral to our future success.
The jury remains out on a few others. However, I do want to stress that I'm not condemning these players as lost causes. I just feel the following players need to show more/do more in their respective positions than has been seen of late.
Mignolet
Our undisputed current #1 is still plagued with inconsistency in his decision making. A few great saves don't disguise the fact that he is culpable for too many avoidable errors. Klopp has publicly backed him – as of course he should – but surely he is yet to be truly convinced? Highly successful teams are generally built around a world-class goalkeeper. Mignolet's performances are not in that bracket I'm afraid.
Moreno
We have all witnessed the issues with Moreno. The problem is, we've all witnessed them for a very long time now, and there is little, if any, sign of improvement. His positional indiscipline makes it far too easy for the opposition on far too many occasions.

We all want barnstorming overlapping full-backs, but not to the detriment of the defensive unit and team shape. With Joe Gomez to return, Brad Smith showing very positive signs, plus Flanagan & Clyne in the ranks, our flying beagle has a battle on his hands.
Henderson
I know he's the captain and I know he's committed to the cause. What I don't know is if he is good enough. I worry that I see a player who has reached his limit in terms of creativity and goal threat. And his creativity and goal scoring are both lacking for the position he plays. He's a fan favourite, I know. He's been carrying an injury, I know. But I'm looking at the bigger picture and simply asking the question if he has what it takes to be both captain and first choice for a manager whose near term goal is to be challenging at the very top.
Benteke
It's been a difficult time for Benteke to say the least. It's been said that his style doesn't fit the new Liverpool 'high press' style. That may be true, but I feel there's a bigger concern. I just don't see a striker with the instinct and 'cleverness' required at this level.
He seems to run in to congested areas instead of away from them. He tends to pull back from goal when he should be steaming in on goal. He chooses to stand still when a run needs to be made. Once he gets in to position, no doubt he's a proven finisher. He just doesn't get in to position enough.
Ibe
Similar to Moreno, I am seeing the same weaknesses he had as a much younger player two seasons ago. He tends to hold on to the ball when he should release it. He too often tries to beat a man when a pass is the better option. He runs in to blind alleys far too regularly.
Attacks break down at his feet when they could easily be maintained with the right decision making. Klopp has recently – and sensibly – taken him out of the firing line. He still has plenty of time on his side to become the success we all hope he can be, but right now he remains firmly a 'prospect.'

So in summary, we are making strides as a team. Results are better, goal scoring is better and the defence is better. We are coming from behind with 10 men. We are rolling up the sleeves rather than throwing in the towel. Team morale is excellent, the manager's energy and passion is translating to the players and fans and the feel good factor is there for all to see (except McManaman and plenty of others in the media).
We've been to one cup final and are still in contention to make another. We're still in with a chance of top four. And Klopp hasn't even started his rebuilding process yet. Given what he has achieved already, it's impossible to not believe that greater things lie ahead.
Whatever the future holds, no one can deny that these are exciting times for English football's most successful club.
MORE OPINION: Klopp's winning mentality has revitalised Liverpool ahead of top-four push