Lucas Leiva says Liverpool's 4-0 win over Everton on Wednesday was "one of the best" Merseyside derby victories he has been a part of.
The Reds tore their local rivals to shreds at Anfield, with goals from Divock Origi, Mamadou Sakho, Daniel Sturridge and Philippe Coutinho easing Jurgen Klopp's men to victory.
Lucas is now Liverpool's longest-serving player, having joined from Gremio in 2007, and Wednesday was his 15th Merseyside derby.
The 29-year-old says Wednesday's triumph was up there with the most memorable he has taken part in, and he hopes it keeps the Reds' momentum going for the remaining weeks of the season.
"It would be up there as one of the best. When they got the man [sent] off, we controlled the game and looked for more goals", Lucas said post-match.
"At the end we dropped a little bit of intensity but we controlled the game; maybe not the first 10-15 minutes, when they had a few chances on the counter-attack, but after that I think we were better than them.
"I think it's a deserved win. It's special because it's the first derby under Jürgen, we are all happy and hopefully we can keep this good momentum going because we still have a lot to play [for] this season."
Although the Europa League is now undoubtedly Liverpool's main priority this season, with the semi-final against Villarreal on the horizon, Lucas says finishing strongly in the Premier League is of huge importance.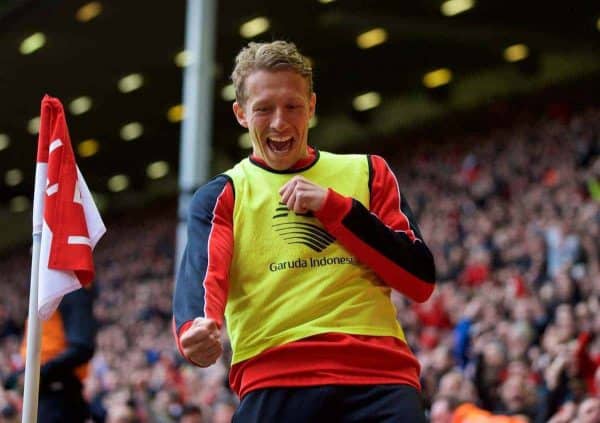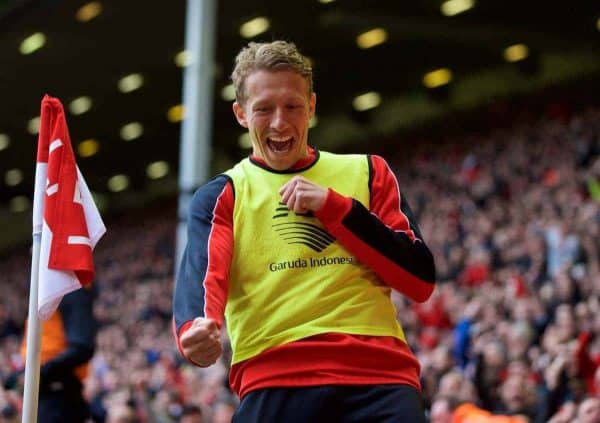 "We want to finish as high as possible in the Premier League, we know it's important," he added.
"We want to play European games and if we can get a spot through the Premier League it will be brilliant because the Europa League is too open and we have a chance but we don't know if we're going to win [the trophy].
"We just have to keep going and [tonight] shows the squad is in good shape, everyone is playing well and we are getting results so it's all positive.
"But we know football can change very quickly so we just need to keep very relaxed and focused."
Lucas produced a typically assured performance in the centre of the Reds midfield, and even provided an assist for Sturridge's goal.
The Brazilian may not be perfect, but he understands the importance of the Merseyside derby as much as any current player, and his passion once again shone through at Anfield.