Borussia Dortmund arrive for a crucial second-leg on Thursday night, when the Reds look to continue their Anfield dominance against German sides.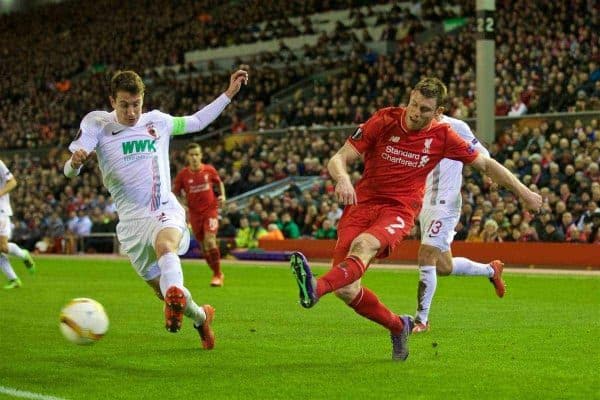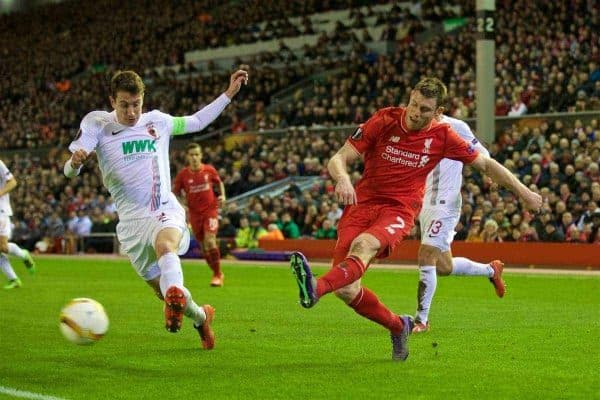 Anfield plays host to another titanic European fixture when Thomas Tuchel's Dortmund arrive on Merseyside for the finely poised showdown.
The Reds boast a slender advantage through Divock Origi's crucial away goal and look to complete the elimination of the tournament favourites in L4, where Liverpool have historically enjoyed the upper hand over German visitors.
Though under the lights on European nights at Anfield it would be expected that the Reds boast strong form, Liverpool's record is spectacular – something Klopp will be desperate to continue against his former club.
In 16 games against German teams at Anfield, the Reds have enjoyed pure dominance, winning 13 and drawing three to remain unbeaten on home soil.
Holding Bill Shankly's Reds to a goalless draw 51 years ago, FC Koln, the first German visitors in European competition, would become one of just two teams – of out 10 to play at Anfield – to head back to Germany having avoided defeat.
The only other outfit to have returned unscathed and lived to tell the tale is Bayern Munich, who have survived twice to claim goalless draws in 1971 and '81, but only after tasting that losing feeling with a 3-0 loss on their first ever trip to L4.
Aside from those two clubs picking up three draws between them, all eight other German visitors have been beaten at Anfield – including Dortmund.
TSV 1860 Munich suffered a more forgettable evening than most being on the receiving end of one of Liverpool's record European wins – an 8-0 hammering in 1967 – while Hamburg didn't fare much better either, losing 6-0 a decade later, with a 2-0 loss for Frankfurt sandwiched in between.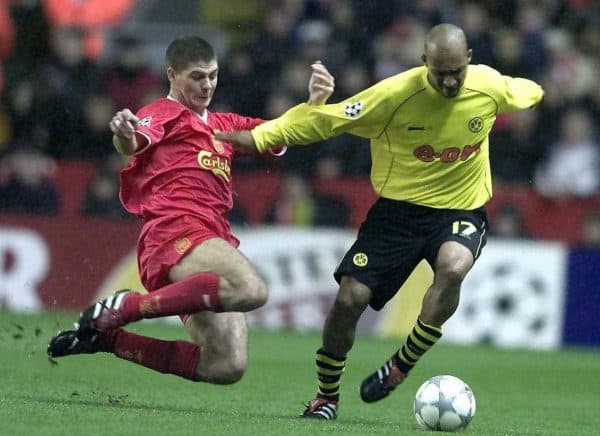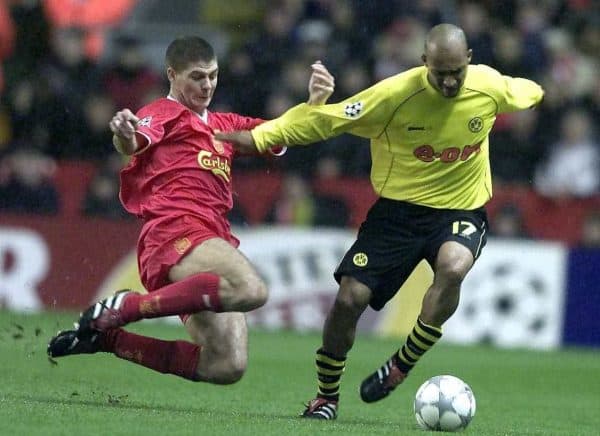 Dynamo Dresden, visitors and losers at the Reds' spiritual home three times, suffered a heavy 5-1 thrashing to Bob Paisley's side on the Reds' way to retaining the European Cup – in which Borussia Moenchengladbach were also disposed of by a 3-0 score-line at the semi-final stage.
After Bayern's second draw in 1981, it would be 20 years before Liverpool hosted German opposition again in Europe, and not since then has a visiting side suffered anything other than defeat.
Dortmund were the visitors for their only competitive Merseyside clash in 2001, but Liverpool picked up from where they left off with the Reds posting a comfortable 2-0 win, thanks to Vladimir Smicer and Stephen Wright, as the record rolled on.
Two visits from Bayer Leverkusen in three years in 2002 and 2005 saw Liverpool run out 1-0 and 3-1 winners, before Augsburg became the latest to fail just two months ago with James Milner's penalty enough for victory.

It's clear just how good Liverpool have been on home turf against teams from a nation that boats four World Cup triumphs, and though games are not decided on previous records, the psychological factor can certainly play a part.
Klopp's men will need every advantage they can get to extend the run and seal progression against Tuchel's team, who will be determined and confident of making history of their own by becoming the first victorious German team in European competition at Anfield.
But using the record, coupled with the fact the Reds have progressed 11 of the last 12 times an away draw has been secured in the first-leg, Liverpool will look to history to guide them right way again as they fight for a precious last-four place.
Even a fourth goalless draw would do.
All stats via the excellent LFChistory.net.