Just when you think that Mr Hyde has finally broken free of the shackles of Dr Jekyll, back he comes with a sinister Dr Evil type cackle in your face, writes Alex Malone after the 2-2 draw with Newcastle.
Could a team possibly exhibit more schizophrenic behaviour than ours has in the last few games? Only Liverpool seen to be able to grab victory from the jaws of 'certain' defeat, then within a week or so, follow it up by snatching 'defeat' (yes, yes, I know, we drew!) from the jaws of 'certain' victory.
Against Dortmund, we defeated a team who – let's face it – are currently way ahead of us in their development – they had Klopp for 7 years after all! Against Everton, we played football right up there with the best seen in the Premier League this season and absolutely humiliated them.
Fast forward a few days, and we choke against a Newcastle team vastly inferior in every department…
… apart from goalkeeper.
Before discussing team mentality, I feel compelled to spend a few minutes discussing our goalkeeper and his effect on the team and results.
It would be very easy to pin the Newcastle result on Simon Mignolet… so I will. Because it was. As he has done throughout his entire Liverpool career, he made a mistake of shockingly inept proportions on Saturday.

Any goalkeeper – even at amateur level – is capable of reading the flight of a hopeful, lofted cross and pick it out of the air with ease. Mignolet missed it by a country mile, gifting Newcastle a goal they should never have scored.
For their second, he gave us an impressive parody of Dicky Lewis in shorts as his statuesque stance and non-existent reactions allowed the equaliser. I know there was a deflection, and some will say he had no chance, but make no mistake – top keepers react to, and save, that shot.
Mignolet's consistent mistakes act to deflate the team and inspire the opposition. It's a fact that goals change games. At 2-0, and cruising, tails are up, and the opposition are downtrodden, especially when being comprehensively outplayed in every department.
Score, and make it 2-1, and it serves to galvanise a team, instilling otherwise lost belief. Two teams in the bottom three of the Premier League came back from two goals down to steal 4 points at Anfield as a direct result of Mignolet's incompetence.
The most common line spouted about Mignolet is "he's a good shot stopper." It's a myth. He's not!
Mignolet's faced 98 shots this season and conceded 39 times. Heurelho Gomes at Watford has conceded the same number, but has faced 152 shots.
David De Gea has faced three more shots (101) but conceded eleven goals less.
Hugo Lloris has faced just one more shot than Mignolet (99) but conceded a massive FIFTEEN goals less.
Kasper Schmeichel at Leicester has faced TWENTY TWO more shots than Mignolet, yet conceded six goals less. Here are the full stats for the six teams currently above us this season:



So, to beat EVERY other keeper for teams in the top 6, you have to have significantly more attempts on target. But it doesn't stop there… here's the rest of the division: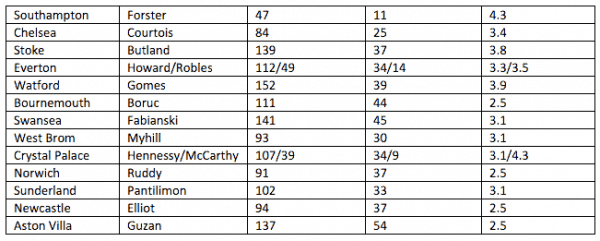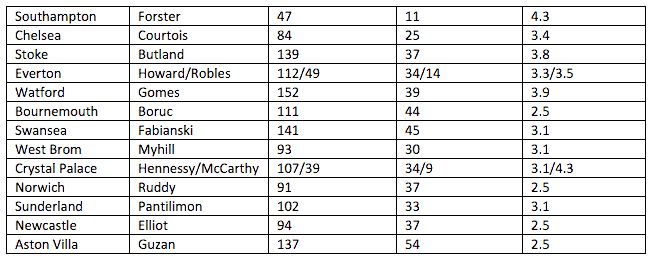 So, 3 of the bottom 4 teams, plus Bournemouth in 13th, have keepers who are beaten every 2.5 shots… exactly the same as Mignolet.
He's joint last at shot stopping with 15 other keepers ahead of him – including EVERY keeper in the top 16 other than Boruc at Bournemouth.
He has also been beaten by the opposition's first shot on target and conceded more goals from individual errors than any other keeper in the league this season.
It's a MUST that Klopp addresses the goalkeeping situation as one of his most immediate and pressing priorities.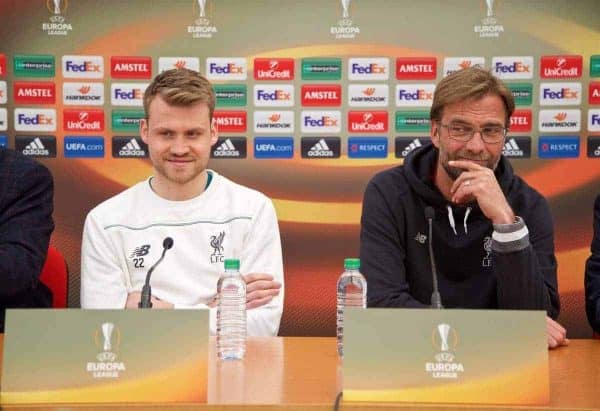 But there's more to this than just Mignolet… he's one of the catalysts for the roller coaster results, but of course, he's not the sole reason. The other is a combination of team mentality and mentality of certain individuals.
Dejan Lovren came out postmatch with the comment that "we must think like it's 0-0 at half time." That tells you right there, that the players/team are guilty of complacency when things are seemingly rosy. It was, in essence, an admittance that too many players take a mental holiday as soon as they think the job's done.
The lack of mental strength goes back to the Rodgers' days, but has taken on a new guise. Under Rodgers, as soon as the going got tough, the weak went hiding. As such, we rarely ever came back from conceding goals in games. If we conceded, we routinely dropped points.
This continued in the early days of Klopp, but he immediately and publicly addressed it. Back in October, when Mane had equalised in the last 10 minutes at Anfield he said in his post-game news conference:
"It felt like the end of the world and it's not the end of the world, it's only a goal and you can come back always and that's what we have to understand. That's what I saw tonight."
Since then, we've made some tremendous recoveries. Norwich equalised in injury time, yet we didn't buckle and lashed in a fifth goal with the last kick of the game. Man United made it 2-1 on aggregate in Europe, but we hit back and knocked the stuffing out of them. We pulled off the greatest of escapes against Dortmund when all seemed lost.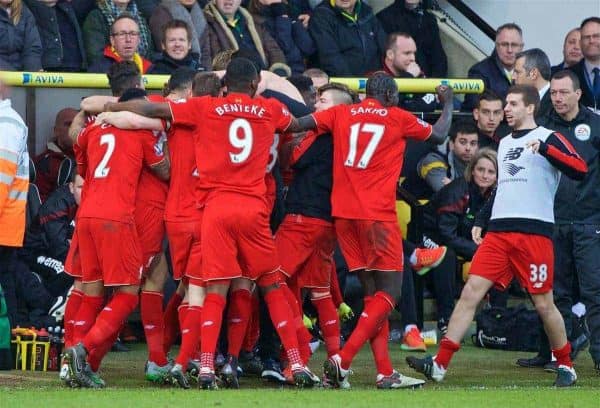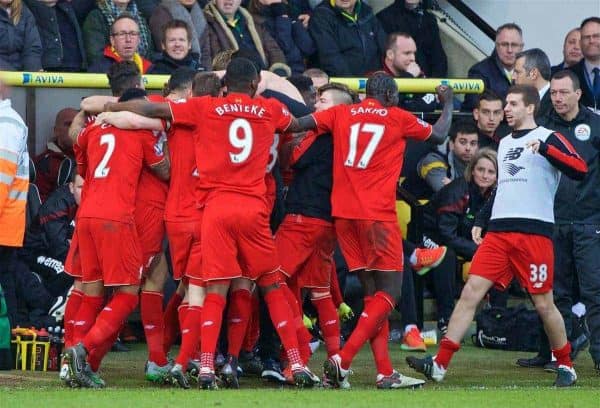 The ghosts of Rodgers' surrender mentality had been addressed and Klopp instilled the belief that when we're down, in no way are we out. My own mentality changed too. Now, when we concede first, I don't lose hope.
However, the problem of mental strength has not been fully eradicated or addressed. Instead, it's manifesting itself in a new guise – that of complacency. Two nil advantages against Sunderland, Southampton and Newcastle have yielded a depressing 2 points from a 'certain' 9.
Newcastle had lost 9 straight away games and scored 10 goals in 17…. 0.6 goals per game. In 45 minutes at Anfield, they scored twice.
Of the 35 away games played by the two Geordie teams, they've lost 24. Their combined goal difference away from home is MINUS 46! Against us, after being completely and utterly outplayed, they have a goal difference of 0.
We have dropped NINETEEN points this season from winning positions… by far the most in the Premier League.
Great managers do not and will not accept this, and Jurgen will have identified the team mentality issues, as well as specific individuals who switch off half way through their job.
I have my own list of 'lazy arses' who decide to clock off/switch off/showboat/scratch their arse rather than go for the throat and make sure 2-0 becomes 3,4 against inferior opposition. I'll leave it to you to decide who those are.
At nil-nil, or when coming from behind, this Liverpool team has recently been stunning/exciting/sublime to watch and the Man U/Dortmund/Everton games will live long in the memory. Klopp is developing a team in his own image and there is no doubt we are, overall, on an upward trajectory. Results and "most" performances of late prove that.
But it's up to each individual in the team to match their talent with determination, mental fortitude and focus to see games out with all 3 points.
Anything less won't be tolerated by Klopp, and as he begins reshaping his squad to dine at the top (of the) table, talent alone will not be enough.