Reflecting on his first season as Liverpool manager, Jurgen Klopp hailed his strong bond with the Reds supporters.
Klopp arrived at a despondent Anfield at the beginning of October, and immediately set to turn the club from "doubters to believers," a message stemming from the squad to the stands.
With Liverpool preparing for next week's Europa League final against Sevilla, this has certainly been the case.
The Reds have been backed by exceptional atmospheres throughout their European run, most notably in home wins over Borussia Dortmund and Villarreal, and Klopp can already be considered a hero on Merseyside.
Speaking to reporters on Friday afternoon, Klopp was asked to reflect on his first campaign as Liverpool manager, and the German hailed the support he has received.
"I'm not sure that it could be better in the case of relationship with the club. with the fans, players, no. That's better than I could imagine," he said.
"We could have more points, to be honest. I remember some games where it didn't make sense to lose.
"Now I see the table, how close it is, where we would be with three or four points more.
"On the Premier League side it could be better, but it's okay in the moment.
"We'll try our best and see where it ends [away to West Bromwich Albion], then go to the final.
"We created a quite nice relationship in seven months, that's right."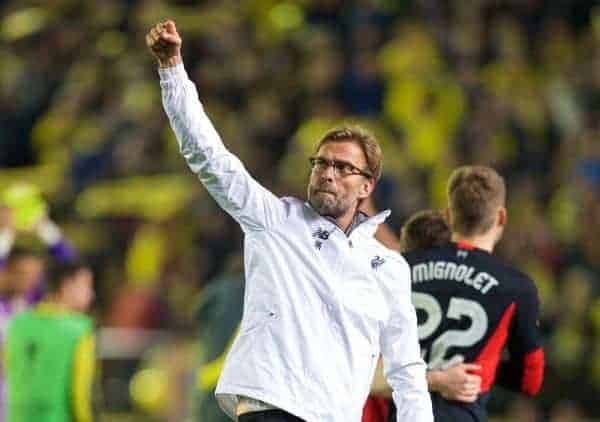 Klopp has continuously stressed the importance of atmosphere to his side's fortunes, and this was no different as the 48-year-old previewed Wednesday night's final.
Ahead of the trip to Basel's St Jakob-Park, Klopp said he was looking to reward supporters with "something to enjoy again."
"We have great atmospheres, maybe the best in the world at this moment," he continued.
"Like the things that happened in our game against Dortmund. The strike back against Villarreal was good, the performance against United was good.
"I like when we adapt to the atmosphere, or the atmosphere adapts to our performance.
"That's what football atmospheres should be.
"For a lot of people it was more difficult to enjoy Liverpool in the last few years, so everyone was waiting for the moment for something to enjoy again. So that's nice."
First comes a trip to the Hawthorns to take on Tony Pulis' West Brom, but many supporters are already turning their attention to Basel next week.
After disappointment in February's League Cup final, Klopp can look to turn his bond with Merseyside into a trophy.