Liverpool scored another stoppage time goal against Chelsea on Wednesday, which further highlighted the added steel Jurgen Klopp has brought to the squad.
"Eighty-two minutes – game over. I turned around and I felt pretty alone at this moment. We have to decide when it is over."
This was what a frustrated Klopp had to say back in November, after streams of supporters left Anfield following Scott Dann's late winner for Crystal Palace.
By that point, Liverpool had become a side lacking in belief. Klopp hadn't been there long enough to make a difference and the fans had lost faith in their team ever producing some late drama.
Fast forward six months, and what you see is a completely different Reds side altogether, with belief flowing through the veins of the players, and a never-say-die attitude becoming increasingly apparent.
This is solely down to Klopp's management and attitude, with consistent late goals something that only the very best can seemingly master.
"Kloppage Time"

Klopp has done so much good at Liverpool since taking over from Brendan Rodgers in October, but adding a new-found steel to the squad has been as telling as anything.
It is an area that can certainly still be worked on, but statistics show that the Reds are now one of the Premier League's most resolute sides.
Liverpool have gained something from losing positions 12 times under Klopp.
Divock Origi's late equaliser at home to West Brom in December may have been a touch fortunate, but the young striker still had the confidence to try his luck from distance.
Joe Allen's last-gasp strike salvaged a draw against a top-of-the-table Arsenal side, and there was a calmness to his finish that suggested he was fully prepared for such a moment.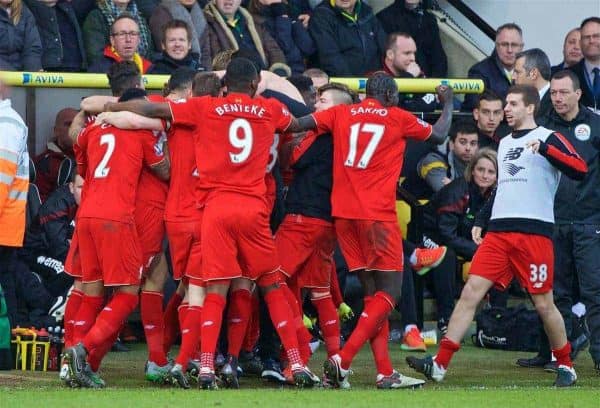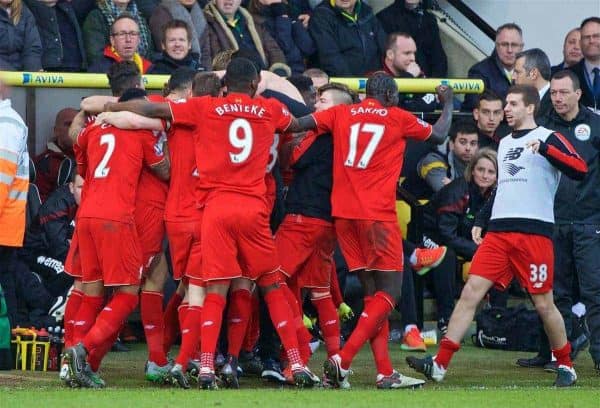 Then, of course, there was the unforgettable 5-4 win at Norwich. Former Reds sides would have wilted when Sebastien Bassong equalised in stoppage time, but Klopp's men regrouped and secured an incredible victory.
Benteke's late, late penalty was coolly dispatched away to Palace, and there was a complete lack of panic in Liverpool's build-up play, prior to the spot-kick being awarded.
The season-defining 4-3 win at home to Borussia Dortmund was the biggest sign yet of how Klopp has reinvigorated this side.
To come back from 3-1 down against a side of such quality is a remarkable feat, and is something that was simply unthinkable under previous managers.
There was almost an inevitability about Dejan Lovren's dramatic late winner, and when that is the case, you know you are onto a winner.
Nothing lucky about it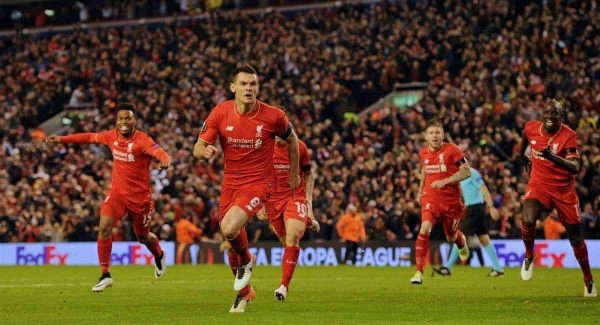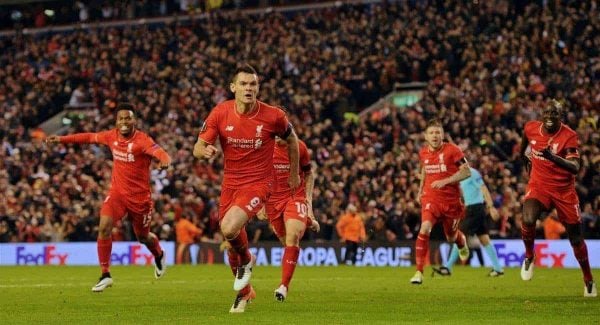 Liverpool fans had to sit and watch Man United score endless late goals during the 1990s and 2000s, with the term "Fergie Time" coined because of it.
It was easy to call United lucky – Arsenal's "Invincibles" and Chelsea under Jose Mourinho also had the knack for snatching last-gasp goals – but deep down that was purely bitterness on our part.
This never-say-die attitude was drilled into them by Alex Ferguson and they reached the stage where they simply knew a goal would come.
The opposition would wilt and the patience and ruthlessness they displayed would invariably shine through in the closing stages.
This is exactly what we are seeing with Klopp's Liverpool now, and considering he has only been in the job for seven months it can only bode well for the future.
Players are backing themselves in big situations and the Anfield crowd, on the whole, is staying until the final minute because of this change in mentality.
It is also worth stressing how effective Klopp's substitutes have been.
Benteke, for all his shortcomings for Liverpool this season, has scored more goals from the bench than any other Premier League player in 2015/16 (with six), and he also has the joint-most assists (two).
The Reds have seen their substitutes score 14 goals between them, which is more than any other team. Arsenal are second, with eight.
Once again this is no fluke, with Klopp ensuring every single player truly believes they can make a difference, even in a cameo role.
Exciting times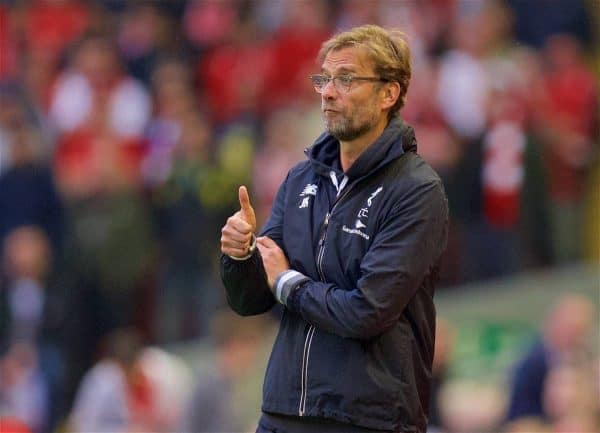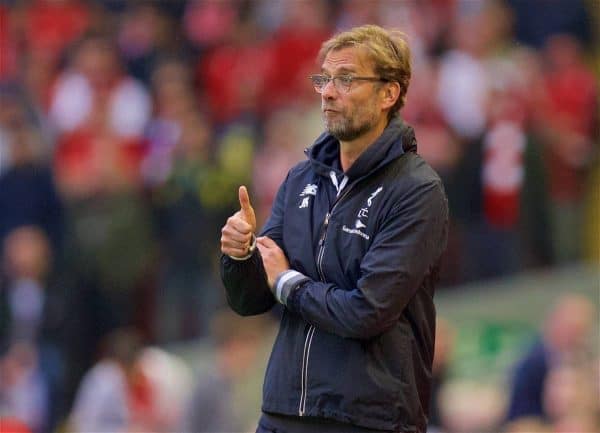 This is a Liverpool team going places under Klopp, and while they are still far from the finished article, the future looks extremely bright.
We've reached two cup finals in Klopp's first season in charge, with a relatively limited squad that he inherited from another manager.
With his own players brought in and a summer of pre-season to further stamp his authority, the Reds will be a real force next season.
It is an ongoing joke that Liverpool supporters have said this time and time again over the years – some may even have tipped Roy Hodgson to bring the glory days back to Anfield – but this genuinely feels different.
For all the free-flowing football and general happiness around the club, it is this new winning mentality that Klopp has instilled that is most crucial.
Liverpool are now gaining a reputation for being a team that scores lots of late goals and fights until the very end, and that can have a huge psychological advantage in matches.
Chelsea would have ambled to a 1-0 win on Wednesday evening in years gone by, but despite Liverpool never being at their best, it wasn't a shock to see Christian Benteke head home in the dying seconds.
"Kloppage Time" may be a fairly irritating phrase, but if we keep hearing it in the coming years, none of us will be complaining.