After Liverpool's dreams of European glory were dashed in Basel, we review how the media assessed the gutting final defeat.
The Reds were denied the dream ending to the season as they went down 3-1 to Sevilla in the Europa League final at St Jakob-Park.
Daniel Sturridge's outstanding finish put Klopp's side on their way to glory and a Champions League return, but a spirited fight-back from the holders with a goal from Kevin Gameiro and two from Coke ensured of an unprecedented third straight success.
It was a gutting way to end the season for the Reds, who paid the price for their lack of ruthlessness in pursuit of a second goal, before buckling under the pressure Unai Emery's side put them under in a horror second period that could have been worse.
Attention will now swiftly turn to the rebuilding job Klopp faces this summer after seeing his side come up short on the big stage for the second time in four months, but before that, here is how the media reacted to the loss.

A devastating end to the season, reporters summarised a disappointing night for Liverpool and gave their assessments of where the Reds came unstuck at St Jakob-Park.
The Liverpool Echo's James Pearce felt it was a night that summed up Liverpool's season:
Their season had just been summed up in the space of 90 crazy minutes – brilliant in patches, pathetic in others.
The Independent's Simon Hughes thought the occasion proved too much for Liverpool to handle:
And yet, ultimately, none of Liverpool's key players were on their game. The weaker ones were exposed for what they are, and for the second time this season – after defeat to Manchester City at the League Cup final in February – the occasion got to them.
The Mirror's John Cross felt the Reds were "overwhelmed" and got off lightly with a 3-1 loss:
But, in the end, Liverpool were lucky not to have suffered a heavier defeat as they were completely overwhelmed.
Andy Hunter of the Guardian criticised the Reds' response to conceding:
Of greater consequence was Alberto Moreno's mistake for the Andalucian club's equaliser and his team's feeble reaction in the face of the second-half onslaught.
Goal's Melissa Reddy questioned where the Reds' trademark fighting spirit was:
The steely mentality that characterised Liverpool in the previous three rounds against Manchester United, Borussia Dortmund and Villarreal was AWOL on Wednesday.

[…]

Once Gameiro levelled for Sevilla, UEFA could have started inscribing their name on the trophy. Liverpool forgot who they were, where they were and the defiant performances that got them to the Europa League final.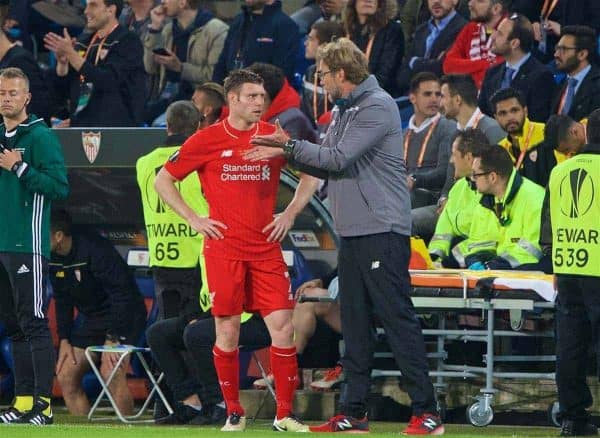 BBC's Phil McNulty thought Klopp's side lacked mental strength and leadership:
Instead, they visibly wilted and fell apart in key areas of the field. They were overrun in midfield and exposed in defence. Their body language sagged. It was a desperate sight as Sevilla tore them to shreds.

[…]

There were no Liverpool leaders on the night and certainly no sense they were about to mount a comeback of Dortmund proportions.
Cross criticised Liverpool's poor game management having surrendered control of the game:
But, in truth, Liverpool's game management was just as bad as they allowed Sevilla back into the contest having been in complete control.
The Mail's Ian Ladyman felt Klopp's men paid the price for failing to produce their usual vibrancy and energy:
Apart from a 15-minute period in the first half, this was Liverpool-lite. It was Liverpool without the energy and vitality on which they rely.

[…]

They didn't move the ball quickly enough and they didn't press eagerly enough. That part of Liverpool's game is not just important to them, it is everything. It helps them to overcome other shortcomings, so when it's absent it all but neutralises them.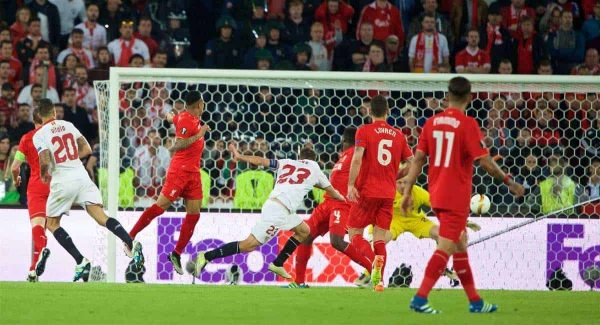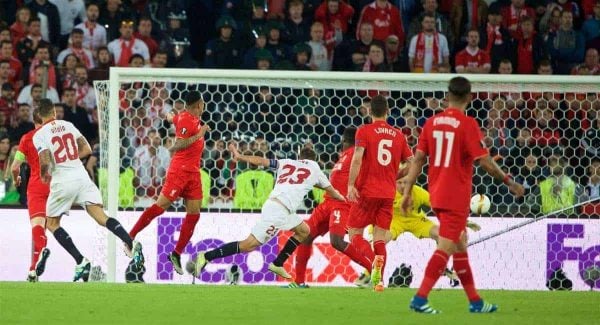 There was criticism for Liverpool's defending in post-match reports, with plenty of that heading in the direction of Alberto Moreno in particular after a dire showing from the left-back.
The Telegraph's Chris Bascombe wrote on Moreno:
This has happened far too often with the left-back. It was his error that proved so expensive against Villarreal in the semi-final. To be so vulnerable – at such a moment – with his manager surely demanding maximum concentration at that stage of the game was almost unforgivable.
McNulty wrote:
Liverpool were fragile mentally after the equaliser and it was quite simply too easy to get behind their defensive unit, with Alberto Moreno's shocking performance demonstrating once again he is a weakness that must be addressed.
Cross echoed:
The heroics of the previous rounds against Manchester United, Villarreal and Borussia Dortmund forgotten amid horrible defensive mistakes.

The biggest culprit was Liverpool left back Alberto Moreno who looked horribly out of his depth, his mistakes paving the way for Sevilla's second half fight back.
Pearce labelled Moreno's display "one of the worst in living memory" from a Liverpool player:
And surely a left-back will be high on Klopp's shopping list after Alberto Moreno delivered one of the worst final performances from a Liverpool player in living memory.

Moreno was a glaring weak link against his former club as his lack of defensive discipline cost the Reds dear.

There was also further criticism for a number of Liverpool's key men, who many reporters felt failed to turn up when it mattered most.
ESPN's John Brewin focussed on the non-existent Brazilian duo, Philippe Coutinho and Roberto Firmino:
The answer of Coutinho was unanimous, but aside from that key pass to Sturridge, the Brazilian could not get into the game — nor could the equally disappointing Roberto Firmino.
McNulty echoed:
Klopp's problems were compounded by the failure of his creative players to put their stamp on the game. Philippe Coutinho barely had the ball while Firmino was subdued and substituted.
For ESPN, Tony Evans wrote:
Roberto Firmino contributed little, Coutinho was fitful and imprecise with his passing and though Adam Lallana played well, he never really looked like turning the game.
Ladyman assessed:
But when Philippe Coutinho and Roberto Firmino don't fire, neither do Liverpool and here the two Brazilians were desperately disappointing.
The Telegraph's Jason Burt felt there were too many no-show performances throughout:
Unfortunately, and desperately, it was Liverpool, with poor performances all over the pitch from Moreno – who seemed traumatised by facing his former team and froze – to Emre Can, Roberto Firmino and Philippe Coutinho. They failed to step forward.
The Mail's Dominic King thought bad habits returned as the players froze:
In a 20-minute spell, Liverpool slipped back into old bad habits. Suddenly the fans who had turned into believers became doubters once more and the players froze on the biggest stage.
However, the Guardian's Sachin Nakrani singled out Kolo Toure for praise after a brave and full-blooded display on what could be his final Liverpool appearance:
The Ivorian was probably Liverpool's best player here, covering ground, blocking runs and shots and continuously communicating with his team-mates up until his substitution on 82 minutes.

His contract expires next month but on the back of this display, Klopp may decide that the centre-back should be kept on for another season at least.

Reporters also felt it was a night that showed the magnitude of the rebuilding job that Klopp faces this summer, with some feeling missing out on Champions League football will prove costly to the Liverpool manager's plans.
McNulty wrote:
The lure of Champions League football, set alongside the chance to play for Klopp and at Anfield, would have completed an attractive package to set before any potential signings.

[…]

Liverpool will still attract players of high class, but a crucial plank in their transfer strategy has been removed by this defeat.
Evans echoed:
The chance to play in Europe's most significant competition was even more valuable to Klopp than the cup because it would have allowed him to recruit players of higher quality. His rebuilding job must now be continued in the absence of European football.
Cross noted:
The hopes and dreams turned to tears for Liverpool's travelling red army as the huge task facing Klopp as he tries to rebuild Anfield was put into stark context.
The Mail's Martin Samuel assessed:
That certainly makes the summer transfer market tougher to negotiate, with a Champions League berth the bonus prize for victory here. He will have to sell Liverpool hard, and while he has the personality to do that, his options will unquestionably be limited now.
Barney Ronay of the Guardian was specific on what he feels Klopp needs to sign this summer:
A centre-half, two goalkeepers and a powerhouse midfielder might be a good start. Oh, and a left-back. Left-back. Left. Back.
Nakrani feels Klopp needs to recruit  leaders:
Some of the officiating did not help but the men in red did not help themselves either and what yet another thrown away lead by them this season proves is that Jürgen Klopp not only needs to bring in technically better players in the summer but mentally stronger ones too.

Leaders are needed if the progress the German has made since arriving in October is going to lead to tangible reward.
McNulty echoed:
Klopp will search for better players this summer. He must also find mentally tougher ones.
And finally, King thinks missing out on European football could help Liverpool's progress next season:
Defeat, of course, means there will be no Europe for Liverpool next season but while their rivals are playing across the Continent, might there be a chance for them to capitalise? Be under no illusions that will be his aim. He has not come to Liverpool to accept second best.