After a difficult first year as Liverpool captain, we look at how Jordan Henderson's role could change for the 2016/17 season.
Leading Liverpool into the campaign as newly appointed permanent captain, 2015/16 was a season full of promise for Henderson.
But interrupted by injuries under Brendan Rodgers and Jurgen Klopp and struggling to rediscover his form, it turned into a tough campaign for the skipper.
With rumours previously surfacing that his future may be in doubt and widespread reports Klopp wants to bolster his midfield again this summer, the 25-year-old finds himself in a precarious position.
So where does Henderson fit into Klopp's plans for next season and what will his role be within the team?
Anfield Future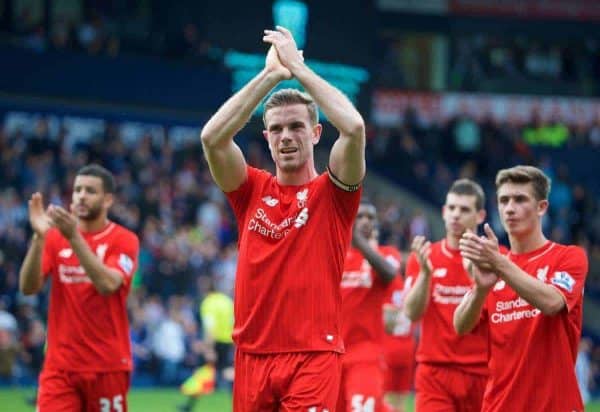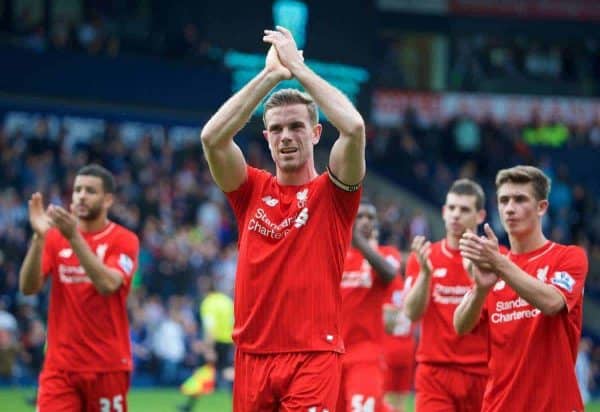 Before focussing on 2016/17, it seems sensible to start by discussing Henderson's longer term future.
A difficult 2015/16, in which he made only 26 appearances due to injury and struggled to impress in those outings, has raised question marks over his long-term suitability.
Henderson's performances in the self-assessed "hardest season" of his career were a far cry from the level he set during his courageous fight-back from an imminent Anfield exit two years previous.
But injury clearly played a significant part in his slow start to life under Klopp, making writing off his chances of succeeding under the German short-sighted and unfair.
A fit, injury free Henderson full of energy, midfield running and quick interchanging passing that shone through his rise, undoubtedly has a role to play in a Klopp-style team.
Added to his selflessness, versatility and importance to the team – Liverpool scored more, conceded fewer and won 1.87 points per league game with him compared to 1.13 without last season – Henderson is certainly an asset to keep on Merseyside.
But as he looks to prove his worth and secure a starting role in Klopp's new-look Reds next season, it begs the question as to where he fits in.
System Suitability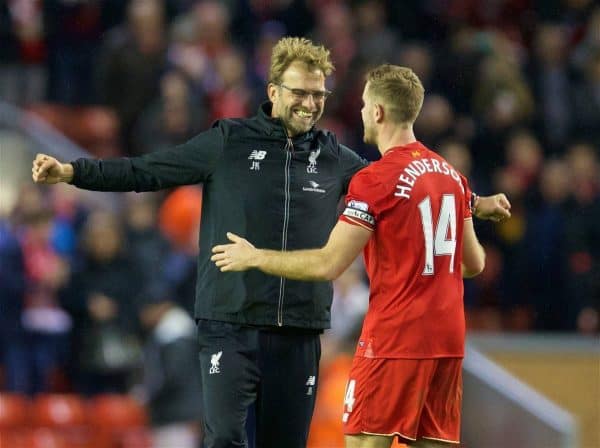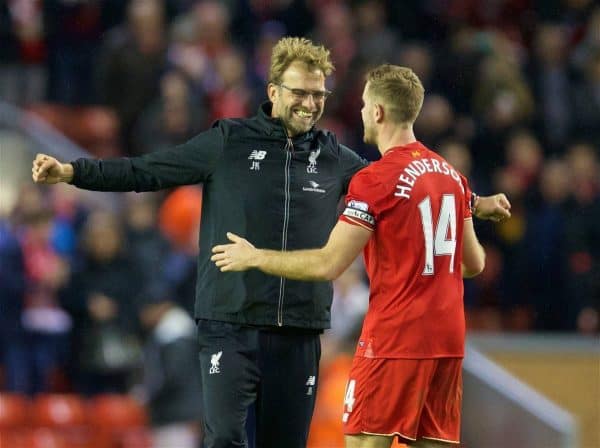 While Henderson's future most definitely lies at Anfield, where in the team his role comes is less distinct.
Playing in a double-pivot alongside Emre Can in Klopp's preferred 4-2-3-1 formation, he struggled to produce anything close to his best form.
Again, injury unquestionably hindered key attributes of his game in his athleticism and vital pressing ability, but Henderson still struggled to impose himself, void of influence and seemingly uncomfortable in the set-up.
Playing a role with more defensive responsibility restricted his main qualities, unable to burst forward or regularly produce what became his trademark deep runs from midfield.
Meanwhile, his underrated one- and two-touch game hasn't held the same impact further back, where a lack of creativity in his passing and the need for control and defensive awareness counteracts.
As a result, Henderson is a slightly dysfunctional midfield option, and most crucially, a big loss to Liverpool with how influential he can be when in a suited position and on form.
His best displays for the Reds have come in a three-man centre, or as part of a midfield diamond, with license to break from central areas.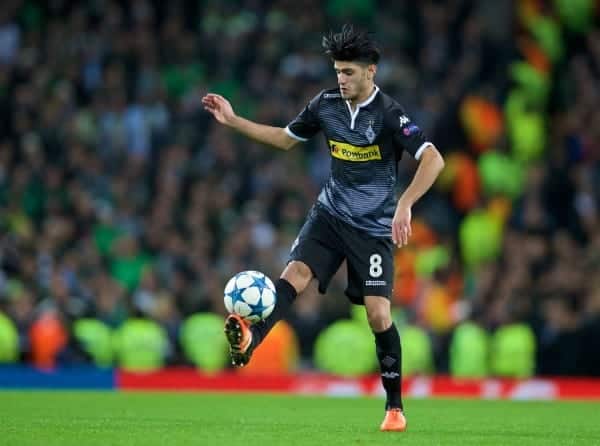 But with Klopp's current system likely here to stay, Henderson's discomfort presents a problem for the Liverpool boss – one he appears hopeful of addressing by signing Borussia Monchengladbach play-maker, Mahmoud Dahoud.
The potential arrival of the 20-year-old would certainly be with one eye on the future, but with the need to play to be integrated to life at Anfield, Henderson could find himself in a battle with the evolving Can, Dahoud and highly-rated new arrival Marko Grujic for game time centrally.
With system – and possibly personnel – an issue, a change of position is something for Klopp to ponder.
Attacking Midfield Berth

With Grujic in and Dahoud a possibility to arrive, the number of central midfielders could tempt Klopp to switch formation to a three-man midfield or a 4-4-2 diamond set-up – also a way of utilising his exciting striking options.
A switch to either would certainly help Henderson restore better form, able to enjoy more licence to drive forward and join attacks.
However, if Klopp sticks with his 4-2-3-1 – which seems far more likely given his preference for this formation – the German could consider moving Henderson forward into the '3'.
Blessed with No.10s in Philippe Coutinho, Adam Lallana and Roberto Firmino, deploying Henderson in a wide-right attacking support role, similar to that James Milner enjoyed at times last season is something to explore.
Allowing for the control of Dahoud or presence of Grujic next to Can, Henderson would offer a more technically able and athletic option than Milner, who may to receive a lessened role next year.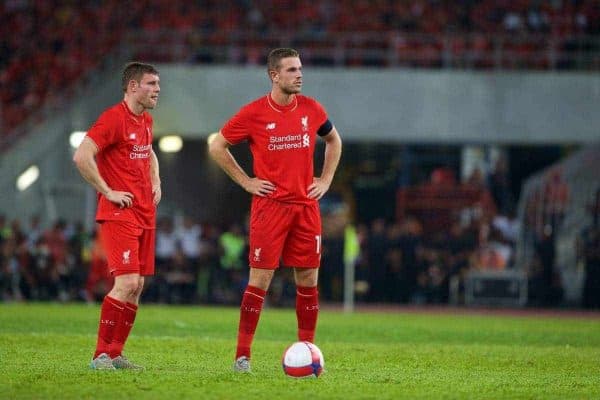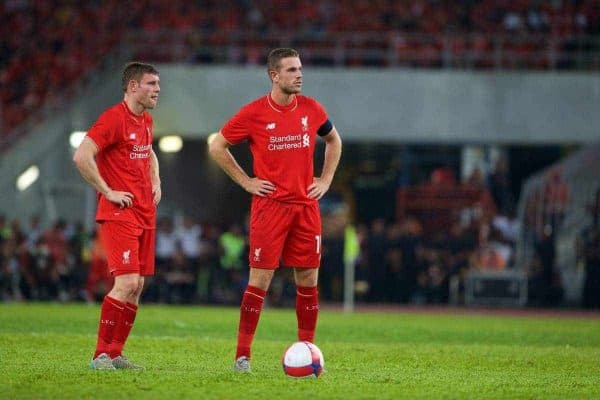 Henderson would benefit from playing with more freedom with which he can impact offensively, as well as enjoying a support role that saw him flourish – rather than with a responsibility that seems to stifle him, something that could see Klopp consider changing captaincy.
Alongside his work-rate, that would also offer vital defensive assistance, moving Henderson higher and wider with Milner as back-up, offers a genuine option.
It may be the perfect role for the Reds No.14 to raise his performance level once again and for Klopp's side to continue developing.
Henderson in 2016/17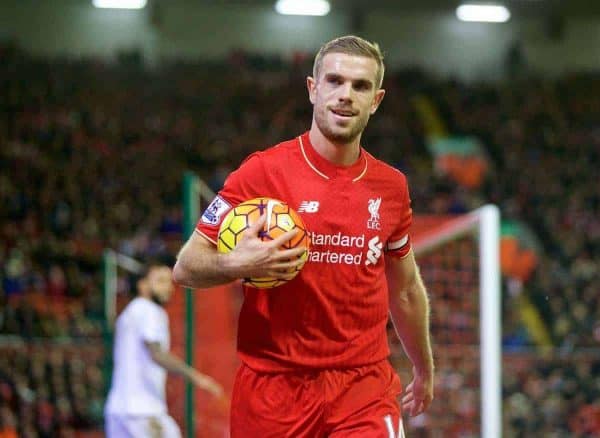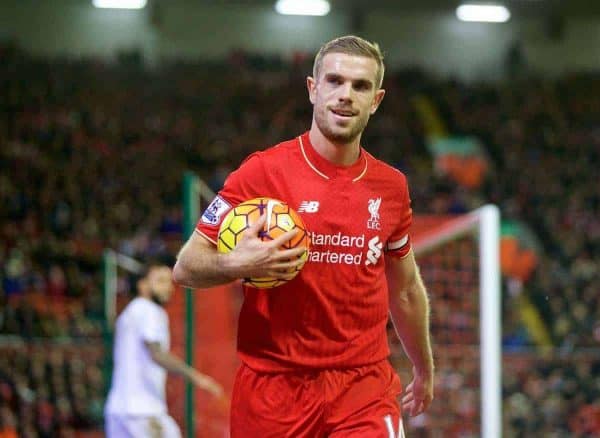 With new arrivals and Klopp's plans set to shape Henderson's role for next season, more will be made clear as the summer unfolds.
But if the likely scenario plays out – Klopp sticks to 4-2-3-1 and bolsters his midfield – a changed role could materialise, rather than a lessened one for the captain.
Playing Henderson advanced seems an ideal solution to sorting his form, while also allowing Klopp to continue evolving his team, freeing up space in midfield for new arrivals in natural positions.
Henderson would also present Klopp with an experienced head to bring back into the middle of the park if and when required, with Milner or the likes of Lazar Markovic and Jordon Ibe able to fill the wide berth in such instances.
Henderson is an important figure to Liverpool and unquestionably has a role to play in 16/17 as Klopp looks to restore glory days at Anfield.
The difference could be that it comes from playing out wide rather than in a central position.