In 1987/88 Liverpool went top of the table in November and stayed there for the rest of the season. Many Reds believe it was the most exciting and attacking team to ever win the league; Neil Poole is one of them and shares his memories.
The 1987-88 season begins and ends with Ian Rush.
However, as part of football's ongoing revelry in sod's law, the man who scored 346 goals for the Reds played no part in what was the most exciting, attractive and attacking Liverpool side to ever win the league.
Prior to the 87/88 season everyone knew Rush was leaving for Juventus – he'd already been their player for a season but had remained at Liverpool on loan. This, however, didn't prevent reports in the spring of '87 that Liverpool supporters where petitioning and offering to contribute their own hard-earned cash to keep him at the club. How much substance these claims had, I don't know. But as a nine-year-old, I vividly remember putting all my chickens in this basket and believing it could make the difference.
In the summer Rush finally left for Juventus and football kicked me in the nuts for the first time.
It would save its second kick for the season finale at Wembley. More of that later.
How did we solve a problem like Rush? Luckily for us, a damn sight better than we dealt with the problem of Luis Suarez leaving 27 years later. And for regular readers, yes, I am still banging that drum.
In came John Barnes, Peter Beardsley, and Ray Houghton for the princely and total sum of £3,625,000. We actually brought in Mike Marsh on a free from Kirby Town too, but that negates the overall picture of transfer-business-awesomeness I'm trying to paint so we'll gloss over that.
Dalglish also had the luxury of throwing a readied John Aldridge into the mix. Having been weaned into the team and used sparingly since his acquisition around the midpoint of the previous season, Aldo was ready to justify his place among a squad already comprising a mix of experience, quality and grit with the likes of Grobbelaar, Hansen, Nicol, Molby and McMahon.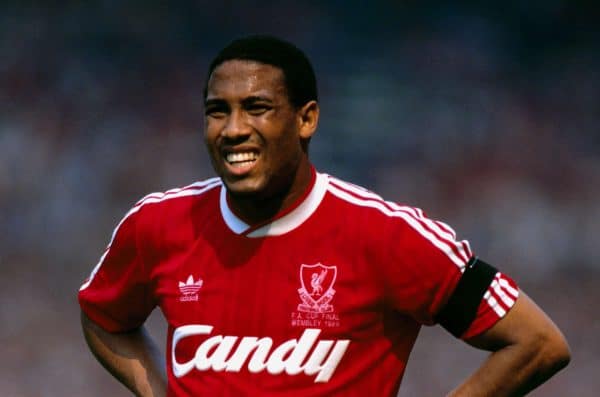 If you were between 6 and 16 in 1987 I'd wager John Barnes is your favourite ever Liverpool player. He would become mine before the season was out too. No explanations. Watch your old videos. Watch the DVDs. Search YouTube. Either remind yourself of Barnes, or if you're too young, expose yourself to John Barnes today…no, not like that you dirty bastard…
However, from high on the Kop in my first season attending Anfield, I had my eye on John Aldridge from the very start. Like a man on the rebound, selecting his new girlfriend on nothing more than the specifications of a game of Guess Who I had unwavering faith in this universal equation: facial hair = goals
"Does she have a 'tash…"
"Yes"
"This is on! Here's 10p. Call your mum. You've pulled."
Even without the doppelganger merits though, and with a goals-per-game ratio that actually surpassed Rush, albeit over a much shorter time, Aldo flourished scoring 29 goals in all competitions that season, and even went on to score the winning penalty against Wimbledon in the FA Cup final…oh…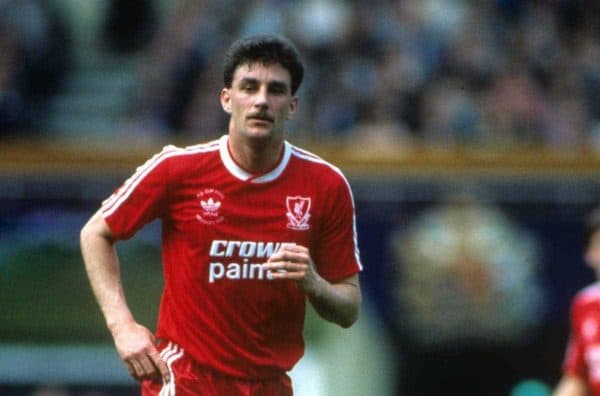 Never personally a stats chap, the 87/88 was an early rogue exception. The obsession with surpassing Leeds' existing record from the 73/74 season – unbeaten for the first 29 games – took root relatively early.
The realisation hit home that this was another very special Liverpool team. The belated blooming of Beardsley after a tricky start and the acquisition of Houghton in the autumn moved us further up the gears after Barnes and Aldridge had already hit the ground running; the former being the provider and the latter the goal-scorer for Liverpool's first goal in the first game of the season against Arsenal at Highbury in a 2-1 victory.
Liverpool equalled the Leeds record, but the unbeaten run came to a halt at Goodison as we succumbed to a 1-0 defeat in the thirtieth game, or what decades later someone would call 'Match-day 30' as a piece of you quietly died and malignant tears stung your eyes.
However, the title win was already a formality and my recollection is shrugging, and in doing so inadvertently engaging, for the first time, in the simple art of annoying Evertonians with apathy.
The standout game of the season came in April '88 against Nottingham Forest. In the final, satisfying act of a trilogy which saw Liverpool play Forest three times in eleven days, Liverpool battered their wannabe peers 5-0 at Anfield under the lights.
Regularly touted as one of the best displays of football ever, the words of Sir Tom Finney are always unimaginatively dug out as proof, as sure as night follows day. I'd hate to disappoint you with imagination…
"It was the finest exhibition I've seen the whole time I've played and watched the game," the 66-year-old said.
Interestingly this marks the first of several claims to accumulate over the next two decades in which Liverpool would seemingly become involved in the best versions of all the key games in football….ever.
After this, the best performance in '88, would come the best Premier League ever game in 1996 with our 4-3 victory over Newcastle. Next would be the best UEFA Cup final ever as we beat Alaves 5-4. 2005 saw the best Champions League Final in Istanbul. Finally, came the best ever FA Cup final against West Ham in 2006.
Putting aside the possibility that our heads may have disappeared up our own arses with one or two of our 'best ever' claims, the 5-0 win against Forest is distinctly different from those which followed.
Whilst the quality of the aforementioned post-88 games are measured by drama, passion and heroics remedying our own errors, the performance against Forest is pure and simple: we just oozed sheer class. No shipping of goals. No need for a comeback. No need for individuals. No tidying up. We were an efficient machine; an efficient machine, polished to a mirror finish and with luxurious add-ons.
Then we were beaten by Wimbledon in the FA Cup Final and John Aldridge missed a penalty depriving Kenny and Liverpool of their second double. Nut-kicking two.
It still pains me to this day. Still essentially a petulant nine-year-old I don't want to talk about it…just two things though…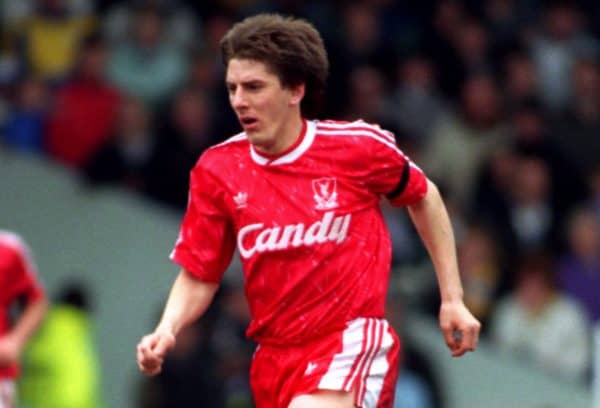 Firstly, Peter Beardsley opened the scoring with a perfectly good goal which was disallowed because the referee didn't play the advantage. Secondly, all this bollocks about the Wimbledon players intimidating Liverpool in the tunnel is just that: the huge, pendulous, mythical gonads of a 90-year-old giant.
I'm not bitter.
They say that your life flashes before your eyes just before you die. Rather worryingly then my memories of the 87/88 are largely a random collection of fleeting but vivid images: walking to the match, always in sunshine; lock-outs at 1.30pm; Steve Nicol's hat-trick against Newcastle; McMahon keeping the ball in touch against Arsenal; men telling me I should come to Anfield every week because we never lose when I'm there (that changed!); hating Luton because of Steve Foster's headband; John Barnes. John Barnes. And John Barnes; never really concentrating on the footy and just watching and listening to the crowd; 45 minute walks; sitting outside the Queens on Queens Drive watching the Reds in a bus parading the First Division League title.
I end though, not with a memory but an entirely unsubstantiated story I've heard and love. I'm of the opinion such things can be as important as facts and memories when reflecting on the past. It's all part of the dance – It's a joke. It's a joke!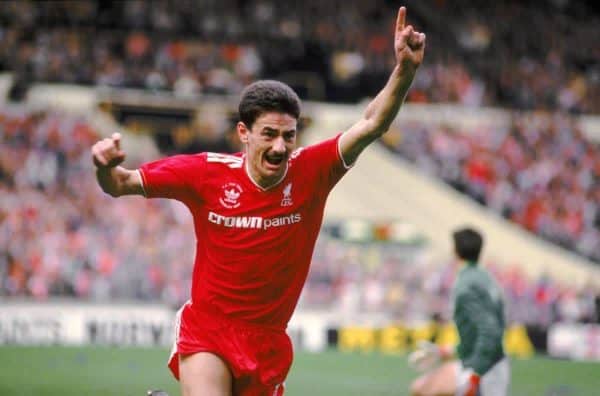 In the summer of '88, Kenny Dalglish held a press conference. To the total surprise of the Press, he announced that Liverpool had re-signed Ian Rush from Juventus after only one year away. The following exchange took place:
"Kenny, how did you keep this a secret?"
"I didn't tell anybody," Kenny replied.
And so it was, the 88/89 season began with Liverpool and two men who looked like Ian Rush. It's difficult to remember a happier time.
---
Liverpool, 1987/88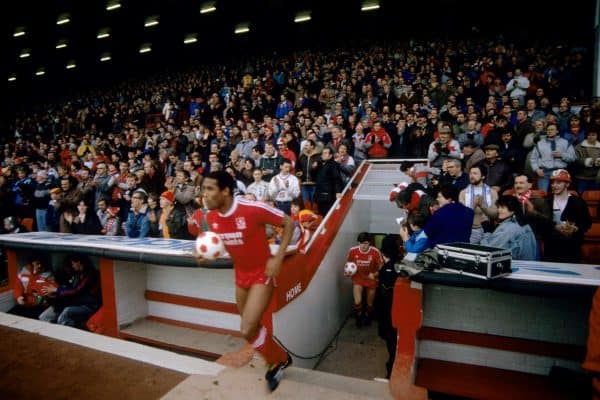 Manager: Kenny Dalglish
Captain: Alan Hansen
Top Scorer: John Aldridge (29, all competitions)
Most Appearances: Steve Nicol (50, all competitions)
League Position: 1st
FA Cup: Runners Up
League Cup: Third round
Total games: 50
Games won: 32
Games drawn: 14
Games lost: 4
Clean sheets – league: 21
Clean sheets – overall: 27
Total goals: 99
---
Previous Seasons in this Series: