Liverpool centre-back Martin Skrtel has been forced to take to social media to apologise for comments regarding manager Jurgen Klopp.
The 31-year-old is set to leave the club this summer, and a recent post on his friend's Instagram account included the hashtag "#KloppJeKKT," believed to translate roughly to "Klopp the dickhead."
As is the nature with modern football supporters, Skrtel's supportive comments below this post led to something of an uproar, prompting the Slovak to apologise.
Taking to his personal Instagram account, Skrtel issued a statement saying his friend "did not realise how serious the comments may appear."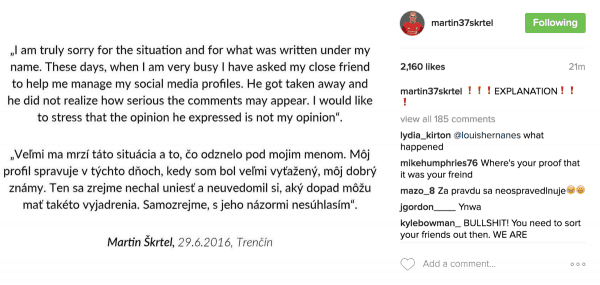 Skrtel also claimed that "when I am very busy I have my close friend to help me manage my social media profiles," providing a new take on Joleon Lescott's infamous 'pocket tweet' in February.
Shortly after Liverpool's 6-1 victory over Aston Villa at Villa Park, Lescott posted a picture of a Mercedes, with supporters questioning his commitment as a result.
Whether either should be a issue is debatable, but this once again provokes the question as to why high-profile players utilise social media to engage with supporters, given the level of scrutiny.
Skrtel is set to seal a £5 million to Fenerbahce on his return from Euro 2016 this summer, with only personal terms left to be agreed.
This will end his eight-and-a-half-year spell with the Reds, after falling down the centre-back pecking order under Klopp.
Klopp has already signed Skrtel's replacement in Cameroon international Joel Matip, with the ex-Schalke man set to compete with Mamadou Sakho, Dejan Lovren and Joe Gomez for a starting role.