Rubbishing suggestions of Liverpool heading into another transition season, Jurgen Klopp says his squad are ready to compete for honours.
The German has overseen seven incomings and 10 major outgoings so far this summer, as he and his backroom staff remould the squad inherited from Brendan Rodgers in October.
Such an overhaul has previously led to calls of transition among the Liverpool support, but speaking this week Klopp insisted: "This is my squad now."
"After all the transfers, this time it is my team," he said.
"There are probably no players here any more I don't want.
"There are no signings I didn't want, we have not sold anyone I didn't want to.
"And if you have seen them in training, there is a special quality that we did not have last year.
"Above all, you can see we have created a special atmosphere, not only in our team but with our fans."
Klopp called for Merseyside to build this "special atmosphere" last season, and he will attest that this played a key role in reaching the Europa League final.
But with his side falling short when they came up against Sevilla in May, it was clear that he needed to bolster his group.
In came Loris Karius, Joel Matip, Ragnar Klavan, Marko Grujic, Georginio Wijnaldum and Sadio Mane, along with veteran presence Alex Manninger, while Martin Skrtel, Joe Allen and Jordon Ibe led the surge through the Anfield exit.

As a result, Klopp has built a hugely competitive squad, arguably the most competitive in many seasons, and continuing to detail this rebuild he highlighted the need for strength in depth.
"New players have to bring in their quality. But it doesn't mean they have to play all the time," he added.
"Their quality can be brought on to the pitch—or it can push all the others onto the next level.
"If one player pushes 11 from last season on to the next level, imagine what that will mean? That is how it works."
This mass shakeup of personnel has required Klopp's ruthless nature to shine through, and the 49-year-old now needs this from his side on the pitch.
"I'm not afraid of making decisions—it's part of the job. I am pretty sure I cannot make all the ones everyone likes, but I have to be convinced about it," he continued.
"At the end you are alone with the decision but it's no problem to me.
"I am happy with my team now, and all I can say is we will be a challenger, we will fight for everything, for every cup and what'll happen in the end we will see.
"Certainly at the moment we should not look for excuses and say things like 'I need another year' or things like that.
"We will try everything 100 percent and see what happens.
"We built this team only to be successful, not one where we say we will have to wait."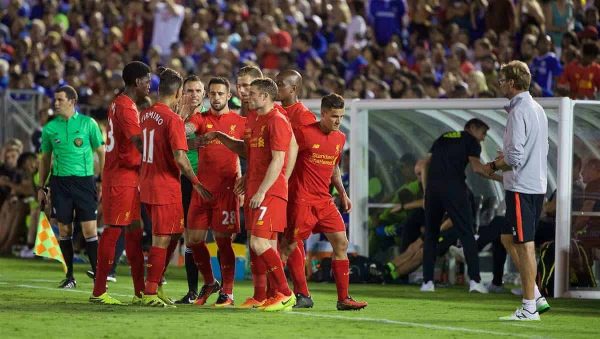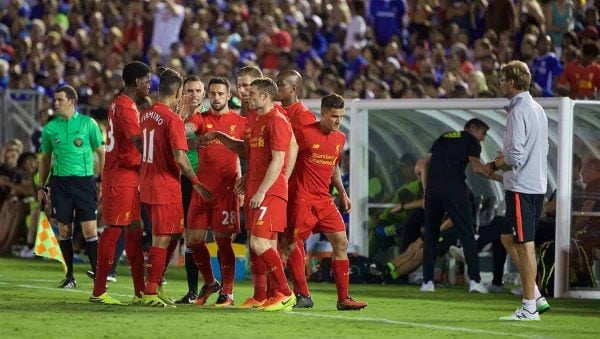 Liverpool will continue their pre-season preparations with clashes against AC Milan, AS Roma, Barcelona and Mainz 05, before beginning the Premier League campaign away to Arsenal.
By that trip to the Emirates Stadium on August 14, Klopp will hope to have his squad in perfect shape, and ready to gun for the title—as he will ask for nothing less.
---
---