Aaron Cutler looks back on a breakthrough season for the English midfielder and what we can expect in 2016/17.
When Kevin Stewart lined up for his maiden Liverpool appearance at Exeter in the FA Cup, few expected him to repeat the trick. Indeed, he was presumed part of a makeshift squad, hashed together as Jurgen Klopp sought to protect star names in the midst of a daunting winter schedule.
That evening the newcomer performed manfully, if not lighting up the occasion at least fronting combative opponents and trying conditions. While senior pros toiled, Stewart ensured play ticked over – despite having not played a competitive game since August due to injury – and Liverpool earned the opportunity to make amends in a cup replay.
That reunion inspired similar traits and a much improved scoreline, the Reds' place in the fourth round secured but Stewart's Liverpool career almost certainly over.
Only the Englishman hung around.
To the surprise of many his manager had seen enough to warrant another start, this in the same competition but against far better opposition. Indeed an in-form West Ham side rocked up to Anfield in January seeking a third win of the season over their illustrious opponents.
The likes of Dimitri Payet, Alex Song and Cheikhou Kouyate were expected to swat away yet another inexperienced XI, with Stewart at its heart. Instead the youngster rose to the occasion, a miscued effort at the Kop end the only blemish in an otherwise encouraging display. The stalemate itself was harsh on Liverpool.

Buoyed, his level was ratcheted up further still come the replay at Upton Park. That night his energy, tackling and ball retention hinted at prolonged involvement, longer at least than his team's participation in the competition. For while the Reds succumbed to a cruel and late winner, Stewart was named as a substitute in the upcoming Premier League game with Aston Villa.
With the Reds five to the good, he was introduced for a top flight bow and again kept things simple. An understated league debut, it was nevertheless the kind that would have earned him Villa's player of the season.
An ankle injury ruled him out of the next two months but Klopp was quick to demonstrate faith in the midfielder, handing him a four-year contract to bookend an almost inexplicable emergence. A whirlwind two months had seen Stewart plucked from seeming obscurity, his the kind of rise usually reserved for X Factor contestants and Big Brother no-marks.
Loan moves to the likes of Cheltenham, Burton and Swindon became distant memories; instead increased action was facilitated by a gruelling schedule and the need to rotate.
Much was made of the 22 year old's belated breakthrough – coming after the likes of Emre Can and Cameron Branaggan – both his junior. However he continued to acquit himself well, consistent in his equanimity.
Granted such simplicity could prove his undoing. A resurgent Newcastle gave him the run around in a second half comeback, that after Swansea had dismantled a disinterested Liverpool pre-occupied with thoughts of a Europa League semi-final.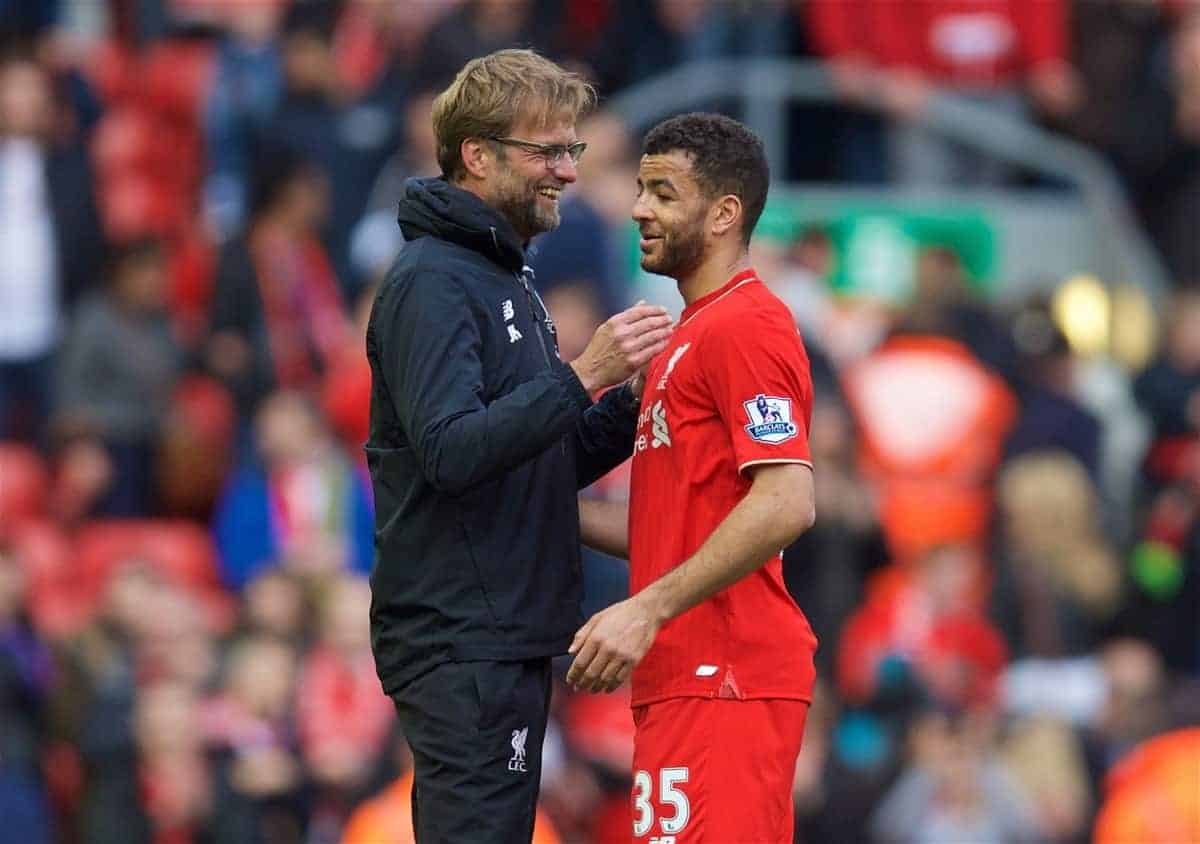 In truth Stewart looked like an accomplished Championship player – just short of the level required for regular Premier League football but capable of marshalling midfields a tier below. That was at least until this pre-season.
Friendlies can skew supporter thinking. Reading too much into what are essentially meaningless work-outs can lead to foolhardiness of the worst kind; just ask those who plumped for Iago Aspas as top scorer in 2013/14…
Nevertheless, the willingness of some to try new things can break the monotony. Judging by his nine run-outs thus far, Stewart is determined to escape the back and sides moniker, becoming far more adventurous with his passing.
Saturday's trouncing of Barcelona was somewhat of a watershed, for club and player. Yes the Catalans were visibly off the pace but the pressing game deployed and executed by Liverpool was vintage Klopp.
We hunted in packs, broke with numbers and sought the out ball of Sadio Mane time again, his pace as refreshing as it was devastating.
For large parts of last season Liverpool appeared laboured going forward, that in part due to an inability to break in behind. They now have that threat, a game-changer in more ways than one.

The overall level meanwhile was in no way lessened by the introduction of the so-called Ressies at half-time. Jordan Henderson and Stewart displayed the same intensity as Emre Can and Adam Lallana before them – biting at the heels of their opponents and overwhelming them in midfield.
While the captain staked his claim for a start next weekend, his younger teammate perhaps convinced his manager that he – and not the injured Lucas Leiva – can deputise for whoever claims the defensive midfield berth.
Lucas has been a great servant to the club and remains a key player at certain junctures of a season. Ailments mean he always clocks up a fair share of games and – fitness permitting – contributes positively.
As well as reading the game brilliantly, the Brazilian has an underrated knack of fizzing early passes forward. They may not be in the vein of a Steven Gerrard or Xabi Alonso, but those vertical balls turn defence into attack rapidly.
Stewart seems to have recognised the importance of such forward thinking, his through ball to Divock Origi at Wembley evidence of that.
With greater confidence comes greater ingenuity and Klopp's obvious belief in Stewart may empower him to kick on from here.
Indeed pre-season may just have convinced the German that Stewart is developing at a rate which allows him to sanction the sale of his veteran teammate – a deal which could suit all parties. At 29 the fan favourite deserves regular first team football and at 22 the Englishman cannot be left kicking his heels.
Much of Lucas' involvement in recent months has actually come as an emergency centre-back, versatility Stewart too possesses having figured for the U21s in that same role – before anyone had heard of him.
This promises to be an intriguing season for the club, with Stewart's a curious sub text. The absence of continental competition will certainly impinge on his involvement but expect the former Spurs man to add to his 11 senior appearances this term. Expect him also to raise his game in doing so.
For if there is one thing the unlikely rise of Kev Stewart has taught us it's his ability to successfully negotiate new rungs whilst seldom looking out of place.