Liverpool manager Jurgen Klopp has refused to get carried away after an excellent start to the 2016/17 campaign.
The Reds continued their fine run of form with a 5-1 victory over Hull City in the Premier League, ensuring that had taken four wins from their last four games in all competitions.
Klopp's side are unbeaten since their 2-0 defeat to Burnley on August 20, and currently sit fourth in the league table.
Muted title predictions have spread around Merseyside after wins over Arsenal, Leicester City and Chelsea, but speaking after Liverpool's Anfield triumph on Saturday, Klopp quashed expectations.
"It's an early moment," he told reporters, after watching goals from Adam Lallana, Sadio Mane, Philippe Coutinho and two James Milner penalties rip apart the Tigers.
"We are far away from Christmas now and after Christmas there's January, February, March, April, May and then it stops.
"So it's a long, long, long race and I never saw in any race that if you have to run 20km that after 5km you [celebrate].
"I know there's a lot of work to do still."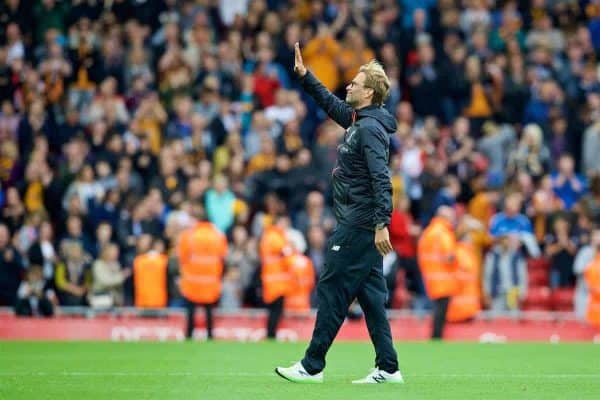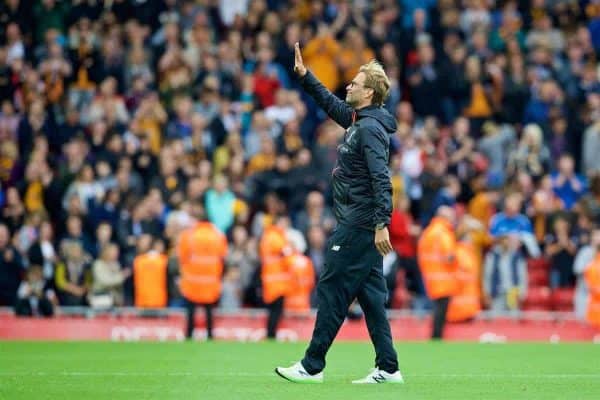 Klopp sanctioned the departures of 13 first-team players over the summer, bringing in seven including Saturday starters Mane, Georginio Wijnaldum, Joel Matip, Ragnar Klavan and Loris Karius.
This represented something of an overhaul of Klopp's squad ranks ahead of 2016/17, but despite this, the manager insisted the changes he had made were only minor.
"The big difference between us and the rest of the people in the Liverpool world was that everyone thought we should change a lot of the team," he continued.
"We changed a few things but not a lot.
"Most of the players who performed most of the time last year are still here. That's what we want to build on.
"We brought a few things in, that's true. A few new skills. But it's all about the base that we already had."
Lallana, Coutinho, Jordan Henderson and Roberto Firmino were among those from last season's Liverpool squad to shine at Anfield on Saturday.
Meanwhile James Milner produced an exceptional performance in his new role at left-back, and this is perhaps the most salient example of this embryonic stage for the Reds.
Klopp knows there is still work to be done, but the early signs suggest Liverpool have landed on their feet in a new landscape in 2016/17.