Liverpool midfielder Georginio Wijnaldum has explained his transition into a new role under Jurgen Klopp, working as part of a well-drilled unit alongside Jordan Henderson and Adam Lallana.
The Dutchman signed from Newcastle in a deal worth £25 million this summer, and is steadily growing into form alongside the English duo.
Wijnaldum, Lallana and Henderson have so far formed Klopp's regular three-man midfield, with his new-look 4-3-3 formation proving successful, as the Reds sit fourth in the Premier League.
This is something of a change for Wijnaldum, as he detailed his new role and the flexibility of Liverpool's system ahead of Saturday's clash with Swansea City.
"[Klopp] doesn't really give a lot of jobs to players," he said. "He tells me to be free and play how I can play. But sometimes it is different.
"It depends on what the other players are doing. You have to look at the other players.
"For example, if Lallana goes forward and Henderson also goes, I have to stay.
"Sometimes I have to get used to it because, normally, I'm the one who goes all the time. Now, I have to also look at the other players.
"That's the thing that has changed the most in my way of football—that I have to look more at the other players."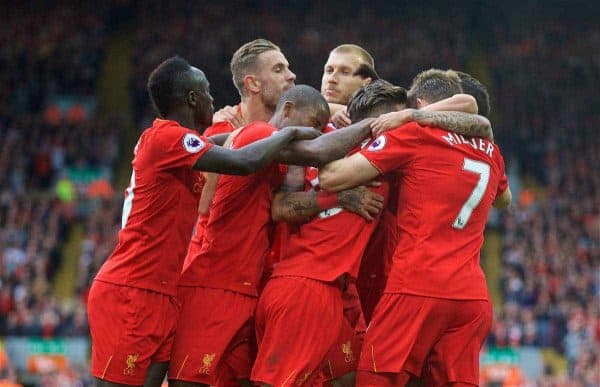 The free-flowing movement in Klopp's 4-3-3 decimated Hull City in Liverpool's last outing at Anfield, with Lallana netting the first in a 5-1 victory.
Wijnaldum is yet to score for the Reds, after vowing to tally at least 10 goals in his first season with the club, but believes the spread of goalscoring talent is "better for the team."
"It is difficult and it still is. In the teams where I played before, I was the one who was running all the time to make a goal and I came into more positions to make goals," he added.
"Now it's not so often, it's a few times in a game.
"But we have more players to come into that position, so more players who can score a goal.
"I think that's better for the team, because if you only have one player who can score goals it can be a problem.
"We have more players who can come into that position and have the quality to score goals. It makes it easier for the team."
Wijnaldum has largely impressed since his move to Merseyside, albeit with a few muted performances in the opening weeks, but insisted "I know I can be better."
This could come as a warning sign to returning midfielder Emre Can, who is working his way back to full fitness after an ankle injury.
With Wijnaldum, Lallana and Henderson all settled and in form in Klopp's midfield three, quite where Can slots back in remains to be seen, but this competition for places can only be healthy.