Liverpool defender Dejan Lovren has applauded manager Jurgen Klopp, for his influence at the club both on and off the pitch.
Lovren is one of the players to have enjoyed a remarkable resurgence in the 12 months Klopp has been at the club, following the German's arrival on October 8, 2015.
The Croatian was a derided figure under former manager Brendan Rodgers, but has since turned his fortunes around and is now one of Klopp's key players.
Adam Lallana, Jordan Henderson, Emre Can, James Milner and Roberto Firmino are among those to have improved markedly since Klopp's arrival.
On the eve of the German's one-year anniversary at the club, Lovren explained how this was due to his infectious will to win, speaking to the Express' Paul Joyce.
"He is a perfectionist and so everyone wants to be like him," he said.
"You want to give perfection during training and give 100 percent on the pitch.
"It is great to see how intense he is on the touchline.
"He is really emotional and shows that in every part of the game.
"There are a lot of things that I have learnt from him but he is not just a good manager, he is a good man."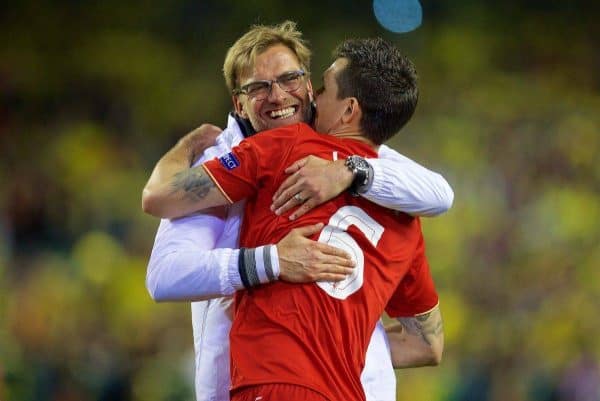 However, while silverware, results and performances on the pitch are the marker of success for supporters, Lovren also revealed the 49-year-old's quality in man management.
Ahead of the Reds' Europa League clash with Augsburg in February, Lovren departed Merseyside for Croatia, due to a family illness.
"I will never forget he gave me a couple of days off when I had a problem with my daughter and she was ill and in hospital," Lovren explained.
"She needed an operation. It was at the time of the Augsburg game away in February, and he said to me: 'Go to Croatia. Be with your daughter'.
"These things are big for a player. He showed his personality then."
Klopp enjoys a positive relationship with his players, and this is clearly key to their working hard for him on the pitch, with Lovren's gratitude matched by his influence in defence.