Liverpool midfielder Lucas Leiva has discussed missing out on a summer move away from the club, but says he has "full confidence" in manager Jurgen Klopp.
Lucas was close to sealing a switch to Turkish giants Galatasaray, in a deal that would have seen him follow another long-serving stalwart, Martin Skrtel, to Istanbul.
But while Skrtel made the £5.5 million move to Fenerbahce, Lucas remains on Merseyside for his 10th season.
Speaking to ESPN Brazil this month, the 29-year-old said this was because the Reds' hierarchy "didn't feel comfortable" with letting him leave.
"There really were a few exit opportunities, they ended up not happening, Liverpool didn't feel comfortable to seal a deal," he said.
"For the time I've been here, I respected the club and stayed for another year, for this season, starting my 10th season for the club, which is a very cool mark."
Lucas' words on staying "for this season" suggest he is set to leave the club on the expiry of his contract next summer, after a likely testimonial to mark his 10 years with the club.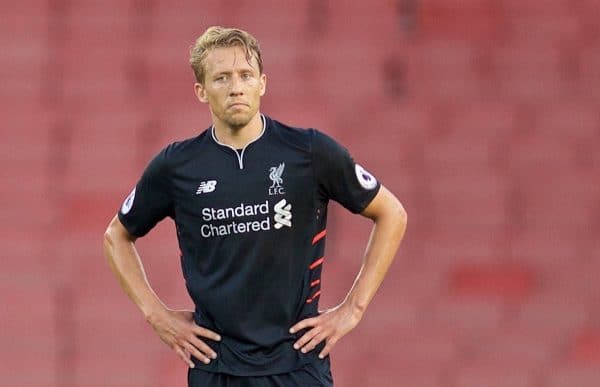 The Reds' longest serving player, Lucas has only made three appearances so far this season; two starts and one as sub.
However, there remains a campaign to fight for throughout 2016/17, and Lucas has explained how he has "full confidence" in Jurgen Klopp's ability.
"A season with Klopp is much different than any other season I had with other managers," he continued.
"My relationship with Klopp is very good, I have full confidence from him.
"Last year there were eight or nine months to know a little more about the way he wants the team to work.
"And this year, with a full pre-season with him and new signings, we started the Premier League very well.
"So we expect to be able to have a different year than last year in relation to titles, last year we got to two finals and we lost the two, and this year we expect it to be different."
After failing to conclude a move to Turkey in the summer, Lucas will be hoping to go out on a high in eight months' time but his chances look set to be very limited.