Despite being handed a simpler – on paper – run of fixtures in the last few weeks, Liverpool's 2-2 draw with West Ham saw their struggles continue.
Goals from Dimitri Payet and Michail Antonio saw Slavan Bilic's out-of-form Irons leave Merseyside with a share of the points, moving them out of the relegation zone.
Though Divock Origi's second-half tap-in, adding to Adam Lallana's opener, highlighted the quality on show in Jurgen Klopp's side on Sunday afternoon, this draw served as a paltry response to their 4-3 loss away to Bournemouth last time out.
The Reds have now taken eight points from their last five Premier League games, despite playing Watford, Southampton, Sunderland, Bournemouth and now the lowly West Ham.
After such a bright start to the season in an extremely tough opening, to limp through an easier run of fixtures is a source of considerable frustration for Liverpool, with Klopp's side seemingly lacking conviction.
Now, the Reds must hope their fortunes improve as they head into a tough festive schedule.
Creeping Complacency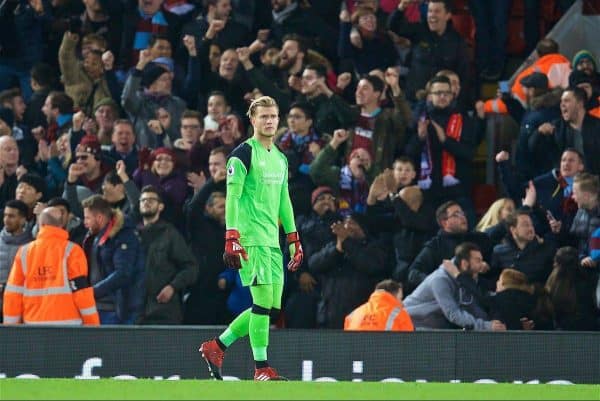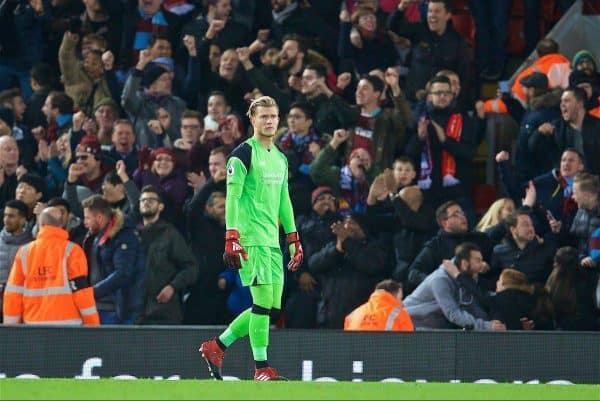 After letting a two-goal lead slip twice at Dean Court last Sunday, Lallana's well-taken goal in the fifth minute against the Irons looked to set Liverpool on their way back to form.
But as with against Bournemouth, while the Reds' interchanging showed signs of the effervescence of the first weeks of the season, there was a noticeable drop in intensity when they went ahead.
This could be seen in their pressing game, with the intelligent, intuitive movements of Lallana, Sadio Mane and Roberto Firmino still present, but without the drive that saw them overwhelm the likes of Leicester City and Hull City in earlier months.
There was also a more lacklustre approach in defence, and Loris Karius' positioning when Dimitri Payet stepped up to take a free-kick just before the half-hour mark was decidedly ill-judged, allowing the Frenchman to curl his effort into the bottom corner to equalise.
Whether there has been a shift in mentality during the Reds' recent run or not, there has been a sense of complacency among Klopp's squad when they take the lead against sides of late.
---
"If somebody is a character and wants to celebrate position one in November then he will not play in December anymore because I see it pretty quick," Klopp said after the 0-0 draw away to Southampton on November 19.
It would be remiss to accuse Liverpool of underestimating their opposition due to their success at the start of the campaign, but there were clear signs of such against both Bournemouth and West Ham.
Gone was the earnest, battling endeavour that secured a 4-3 win over Arsenal on the opening day of the season, a 1-1 draw away to Tottenham Hotspur on August 27 and a 2-1 triumph at Chelsea in September, and this will be concern for Klopp.
However, there are other reasons for this winter malaise, with their early title challenge taking a physical toll as well as a mental one.
Lack of Options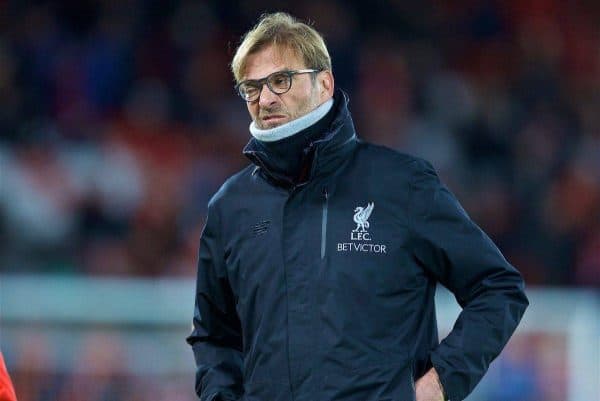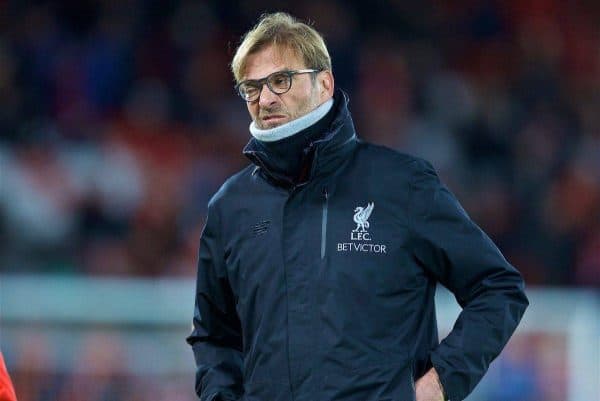 The issue with Klopp threatening to drop players who take their foot off the gas on the ascendency is the German no longer has the options required to do so effectively.
Philippe Coutinho (ankle), Daniel Sturridge (calf) and Danny Ings (knee) are all out through injury, with only Sturridge expected back on the field before the end of 2016.
Adding to this, Emre Can (knee) was out for the clash with West Ham, while Dejan Lovren (hamstring) was forced off at half-time.
In the absence of Can, Coutinho, Sturridge and Ings, Klopp named Simon Mignolet, Lucas Leiva, Ragnar Klavan, Alberto Moreno, Trent Alexander-Arnold, Ovie Ejaria and Ben Woodburn on the bench.
This included just three players with over 10 appearances for the club to their name, and three teenagers, with the average age of Klopp's seven substitutes just 23.7.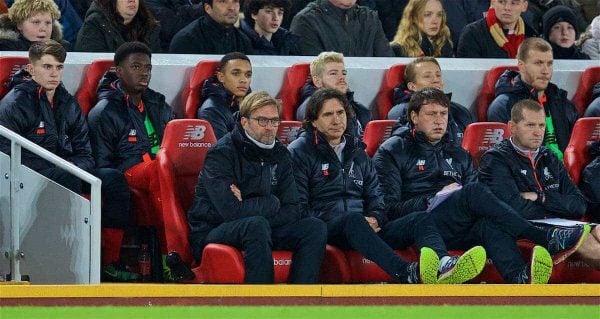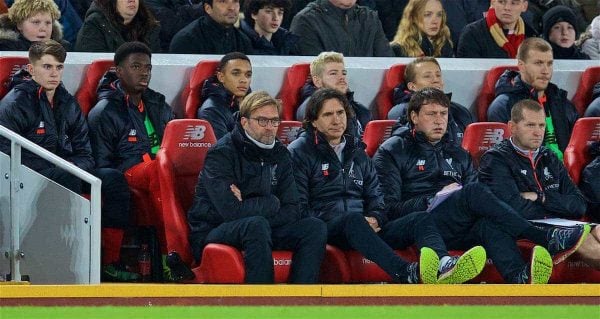 "One change would have made the difference today," he admitted after the game. "It was not the best moment to bring on the young boys on bench."
Klopp made just one substitution at Anfield, with this being only the second time he has done so in his 14 months as Liverpool manager so far—the first coming at Bournemouth last time out.
Furthermore, Klavan only replaced Lovren due to injury and Klopp's decision to withdraw Mane at Dean Court was also dictated by a fitness concern.
While Klopp certainly boasts a stronger Liverpool squad than a large number of his predecessors, that he is unable to make the most of it during this hugely important period is a real frustration.
Instead, the Reds were left to toil away, just as against Southampton and Bournemouth, and while they continued to create chances—tallying 18 attempts on Darren Randolph's goal, eight more than they managed at Bournemouth—a change in personnel would certainly have freshened things up.
Ultimately, as at St Mary's in November, Liverpool were left with a point, while their title rivals continue to record victories.
Falling Behind in the Title Hunt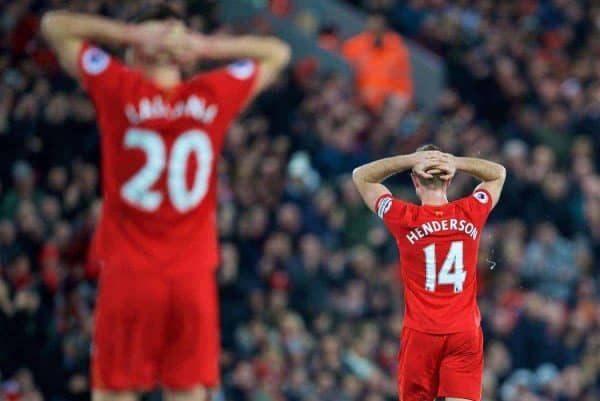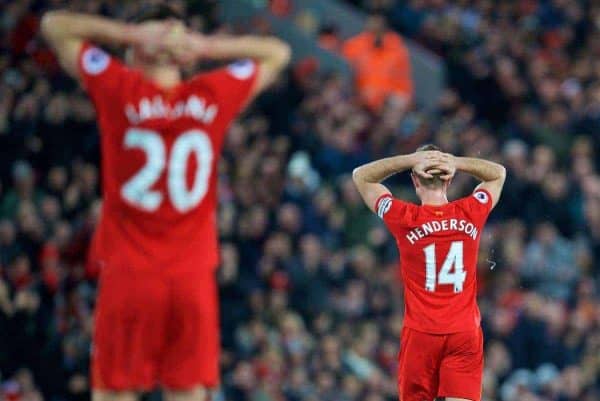 Heading into the November international break, Liverpool were top of the Premier League pile, having taken 26 points from their first 11 games, taking pole position for the first time since May 2014.
While a host of key players departing for duty with their respective nations served as an unwanted interruption, clashes with Southampton, Sunderland, Bournemouth and West Ham awaited.
Of those four low-level sides, Liverpool only managed to defeat David Moyes' Sunderland, and that proved something of a tough challenge, with Origi's opener coming in the 75th minute.
The Reds' next take on Middlesbrough at the Riverside, with Aitor Karanka's side currently 16th in the table, before a more testing run against Everton (ninth), Stoke City (11th) and Manchester City (fourth).
Hosting City at Anfield on New Year's Eve, rounding off the first half of the season, will be the biggest barometer of Liverpool's title credentials so far.
But they may already find themselves slipping further into the category of outsiders before Klopp is able to lock horns with Pep Guardiola.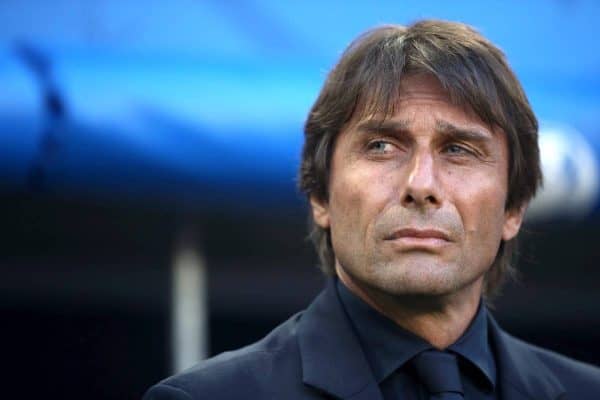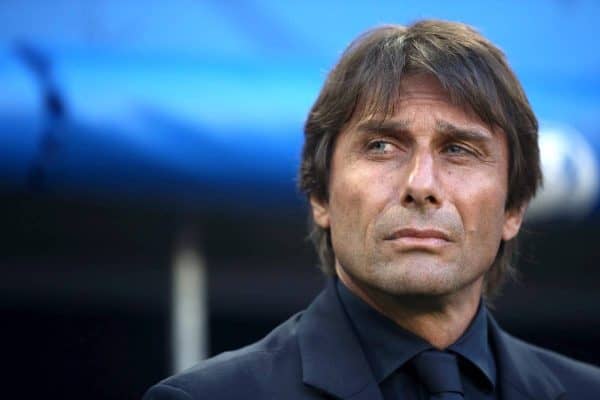 First-placed Chelsea are already six points ahead, having won their last nine league games and play Sunderland (20th), Crystal Palace (15th), Bournemouth (12th) and Stoke (11th) to round off the year.
Liverpool are in need of an injection of quality if they are to resurrect their title hopes, whether that comes on the training ground or, later, in the January transfer window.
This is a stage where Klopp can underline the gravity of his ambitions this season, and his side can't afford to let their swagger turn into complacency after an exceptional start in 2016/17.