Jordan Henderson is eagerly awaiting the return of Daniel Sturridge to Liverpool's starting lineup, after a tough spell with injuries.
Sturridge missed five games with a calf injury picked up in November, and before that had played just 31 minutes in the Premier League since the middle of October.
It has been a troubled season for the 27-year-old once more so far, with Jurgen Klopp preferring Roberto Firmino as his first-choice centre-forward.
The No. 15 is yet to score in the league, with each of his four goals coming in the League Cup—two against Burton Albion, two against Tottenham Hotspur.
But with Sturridge making his comeback off the bench in Monday night's 1-0 win over Everton at Goodison Park, setting up Sadio Mane's winner, Henderson has lauded his countryman.
"We just need him to stay as fit as we can," he said after the derby win.
"When he is fit, he is one of the best around and he has shown that over the years.
"It's only a matter of time before he scores in the Premier League again and hopefully that will be the start of another one of those runs.
"He's been frustrated that he hasn't been involved, but he hasn't let it affect him and around the place he has stayed happy and quite chilled.
"You know when he gets fit he is a big plus because he has so much quality."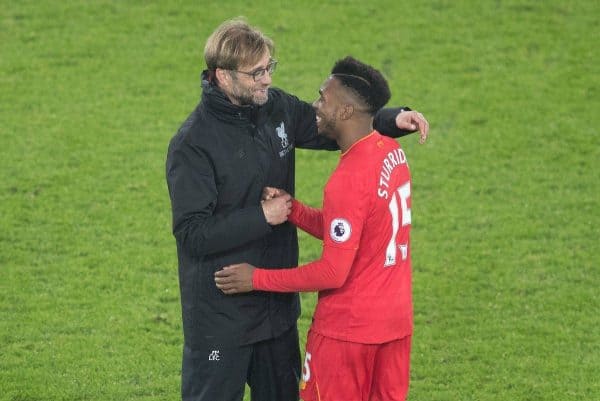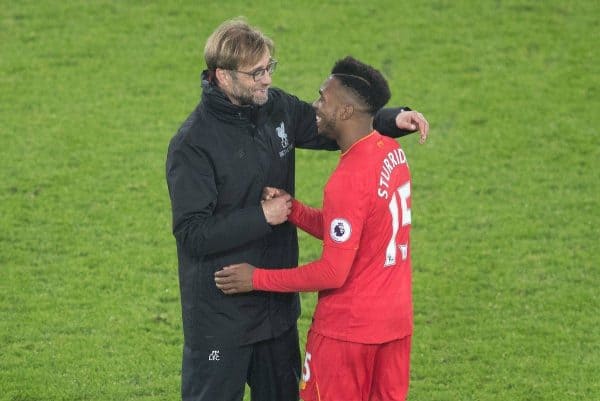 Sturridge is arguably Liverpool's best player when fully fit, though this is something of a fleeting reality following a series of debilitating injury problems.
But nevertheless, as Henderson continued, the captain underlined Sturridge's quality as unique within Klopp's squad.
"When he comes on and when he plays, he has so much quality that you know he is going to produce magic and create goals," he added.
"The key [at Everton] was the way he got himself an extra half-yard. That is what sets him apart, the close touch and movement.
"He gets the space, he gets away from his man, the shot is a bit scruffy but we have got a goal because of it.
"We all know the talent he has got. Everyone knows what a big player he can be for us.
"All the big stuff a striker needs to do? He is brilliant at it."
Sturridge remains the most prolific goalscorer in Klopp's squad, having netted 57 times in just 104 games for the club, but he cannot be relied on as a key starter.
However, his presence in the squad is a major bonus, and if Liverpool are to challenge for the Premier League title this season, Klopp will need to call upon his expertise throughout.