Jurgen Klopp has praised his players for a commanding second-half showing at Goodison Park, following Liverpool's dramatic victory over Everton.
The Reds picked up a priceless three points at the home of their local rivals, with Sadio Mane's stoppage-time winner securing a 1-0 win.
The victory takes Liverpool back to within six points of Chelsea at the top of the Premier League, with the Blues visiting Anfield next month.
Klopp's side were poor for much of the first half at Goodison, with Everton the better team during the opening 20 minutes, in particular.
The Liverpool manager lauded the response from his players after the break, though, saying it was pleasing to see them learn from their mistakes.
"The first half is really important for us because everyone saw it, we can play nice football, but this first half, we couldn't play nice football or whatever," Klopp said.
"It's all about a possession game because we were not clear enough.
"Dejan [Lovren] took the ball direct, he closed his own passing options for this move and it was too easy to defend, so everything was hectic.
"That was the problem sometimes. We maybe played too quick in this direction.
"We need to learn, and that's what I really loved tonight, that we did it so much better in the second half, that's really important. You need to fight for every single ball and we did too.
"Great, intense, how a derby should be, not the best football in the world of course but you cant ignore the intensity and importance of a game like this.
"You have to take it like it is, second half, we took it like it should be."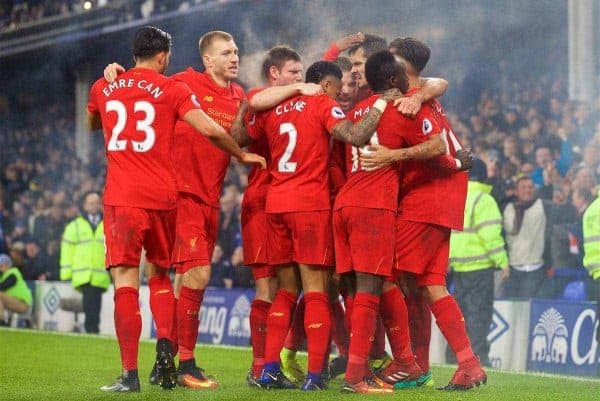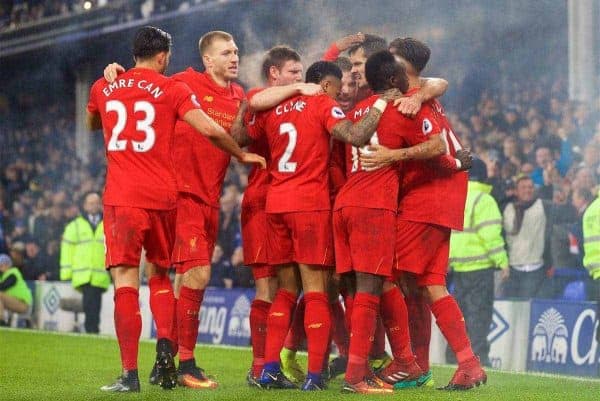 Klopp went into further depth about how his side went up a gear, saying that some half-time analysis helped his players perfect their game plan.
"We had an idea of what Everton did. Making a wide game of it, starting the game like they finished the Arsenal game, pretty wild, intense," he added.
"We did it in training to cope with it but it's different when you have it on the pitch.
"The first touch each player has in a game is very important, you open and close your options, passing options.
"We didn't play simple and quick enough in the first half, we had our moment when we read the situation in the end when Divock [Origi] finished from [Nathaniel] Clyne's cross.
"We showed the boys at half-time, it was two and a half minutes or something.
"Playing the ball, losing it, Adam [Lallana] lost it, counter attack, coming back, in the end Clyne is free in the box, cross, and Div could have scored. That's the way we want to play.

"For this our positioning needed to be better in the second half, in the position '8' we lost a bit of patience, we were not being an option. We looked at it at half-time and it obviously worked.
"The boys are more used to it but obviously not enough, or we could have done it in the first half already.
"It was very important that you don't give a chance away and we didn't.
"We didn't have a lot but we had our moments, in the second half we had more, we could have scored much earlier, Daniel [Sturridge] came hit the post and Sadio [Mane] finished the situation."
It cannot be stressed how important Monday's win could prove to be, both in the title race and top-four battle.
Victories like that, especially against a major rival, can give you so much momentum, and Liverpool will believe they are right in the mix.
Next up is the visit of Stoke City on December 27—before then, Klopp and his players will let their hair down at their Christmas party on Tuesday.
Expect the Reds boss to be the life and soul of it.