Jurgen Klopp is confident his Liverpool side won't suffer defeat at the hands of Everton, like Arsenal did on Tuesday night.
The Gunners let their lead slip at Goodison Park, with a late Ashley Williams header sealing a 2-1 victory for the Toffees over the title contenders.
This saw Arsenal's form dip, losing again away to Manchester City on Sunday afternoon, and pouring doubt over their hopes of winning the Premier League this season.
Victory over Arsene Wenger's side was Everton's first in six games, but when asked whether he was concerned after suffering a similar fate on Wednesday night, Klopp was confident the growing atmosphere at Goodison won't see Liverpool fall to defeat.
"Wenger is right, of course. That is fact that it can make a difference but I don't have any fears," he said.
"I told you how we watched the game [in the hotel in Middlesbrough]? Well the first 20 minutes, it was different.
"Arsenal scored a goal—not the nicest in the world—but they got a goal, had been good in the game.
"Everton had been aggressive but they couldn't get the challenges where they wanted.
"Then Arsenal opened the game for them and Goodison Park ran through. As a neutral football fan, things like this are nice to see."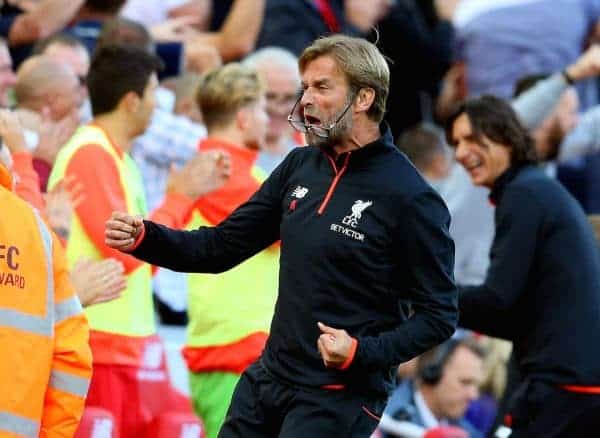 Klopp has been a strong advocate of the importance of a positive atmosphere throughout his career as a manager.
Wednesday marks his first time at Goodison Park, and in his role as Liverpool manager, this amplifies the expectancy—as, too, does the ferocity of the home support.
But Klopp is insistent that his side can spoil their rivals' Christmas with a dominant display.
"That is how it is. It is not easy, even in an outstanding atmosphere," he continued.
"Last year we had a really good away atmosphere in Manchester for the Europa League against United.
"We had a wonderful atmosphere against [Borussia] Dortmund, in both games.
"But the job is to make it as difficult as possible for the crowd to enjoy the game."
Liverpool's contingent of supporters will be considerably smaller than those in blue, but Klopp will hope their can overpower their rivals on the night.
This can be the difference between victory and defeat, as with form having little bearing on the contest, the Reds will be looking to the small margins to ensure they come away with the three points.