In the first in a series of articles looking at the different matchdays for fans, media and more, Paul Machin from The Redmen TV gives us the lowdown on his typical Anfield matchday.
Paul started Redmen TV in 2010 with friend and co-presenter Chris Pajak. Seven years later it's a fully functioning operation, with over 150,000 subscribers on YouTube and hours of quality content per-week.
Paul has a season ticket on the Kop and his matchday routine involves getting in the ground early to film the warm ups. Post-match he and the Redmen gang can be found outside the Kop filming their fan reactions shows.
We spoke to Paul about his matchday routine and the changing face of Anfield.
Tell us about your typical matchday for a 3pm kick off. Any pre-match routine?
Home games it's all about getting in and around Anfield. For me, even after 25 years, there's nothing that replicates the thrill of being around the ground on a match day.
Me, Chris and anyone else who is with us on the day will park up miles down Breck Road and walk up, chatting about the game, usually around the time that the team news comes out.
We then go our own ways, with my season ticket being in the Kop. I love getting in the ground whilst the team are doing the warm ups. I know a lot of people will stay in the pub 'til the last minute, but for me the warm ups are all part of the match experience (which is why they are so often featured in our "Story of The Match" vids).
Because these bits are never really televised it's great to get a piece of Liverpool that only those in the ground get to see. Then it's grab a drink (Bovril if it's cold), and get ready for kickoff.
Post-match you record outside the Kop interviewing fans. Tell us about the interesting moments you must get doing that? How different is the atmosphere after defeats?
I think what's great about doing the post-match interviews is that it gives you a good sense of how the match going fanbase is feeling.
I always used to wonder whether my glass half full mentality was shared by others, so it's amazing to be able to chat with others who largely feel the same way.
I see how Man United and Arsenal fans react in similar situations, and yeah I'm chuffed that we have such a level headed set of fans who go the game.
Lately, the interview we did with the lad who was bemoaning the growing divide between the club and local fans was incredible, and it really seemed to resonate, not just with Liverpool fans, but fans of other teams around the country too.
Obviously it's not all singing songs and dancing (See: Dortmund/Villarreal), but even after defeats, it's never too downbeat, especially now we've got Klopp in charge.
Is it back to Redmen HQ to edit video after that?
As if! It's actually leg it back to the car park before the fella locks the gates, and edit/upload on the move (read: Sit in traffic).
We'll then all go our own ways and carry on working from home until everything is exported, uploaded, tagged, titled, thumbnailed, and social posted.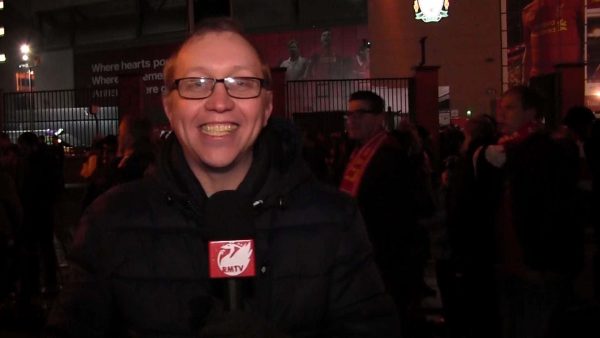 Then we spend what little is left of the night apologising to the respective missus's…
What would be your bit of advice for anyone visiting Anfield for the first time?
Soak it up. Chat to everyone. If you don't know all of the songs, find a pub and have a sing song.
Basically enjoy it, being at Anfield is a privilege, but it's a place where you're meant to have a laugh. If you go to Anfield and it's not the best day of your year, you're doing it wrong.
There's been much debate about the Anfield atmosphere of late. What would be your main solution to improving it?
For me, I'd like to see a section of the Kop that is pay on the door. At the minute there are too many people who go in the Kop and sit in silence (or worse, moan all game).
It would be nice to get a core of people in there who are absolutely desperate to be there, the genuine fanatics.
If you're prepared to queue for 3 hours just to get your space, I imagine you're the type of person who wouldn't have a problem singing your heart out for 90 mins.
Obviously there's more to it than that, but it could be a good start.
* You can check out all of RedmenTV's pre-match content on Instagram and Snapchat (@theredmentv), Post-Match on www.youtube.com/theredmentv, and in depth analysis on www.theredmentv.com
My LFC Matchday Series