As England prepare to face Germany, we reminisce about a favourite German duo who etched their names into Liverpool folklore.
Gareth Southgate's Three Lions visit the reigning world champions on Wednesday, in what is, let's face it, one of those pesky international friendlies.
Nathaniel Clyne and Adam Lallana will both be representing England, while Emre Can could feature against his club team-mates.
The upcoming fixture has got us thinking about Liverpool's two greatest Germans: Markus Babbel and Didi Hamann.
The pair achieved huge success on Merseyside and made themselves bona fide Anfield favourites at the beginning of the 21st century.
Markus Babbel

Not enough has been made of what a coup Babbel was for Liverpool when he arrived on Merseyside.
The silky right-back had gained a reputation as one of the best full-backs in Europe during the mid-to-late 1990s, with Alex Ferguson attempting to lure him to Man United after Germany's Euro 96 success.
Having decided to stay at Bayern Munich for another four years, Gerard Houllier eventually snapped him up in the summer of 2000, on a free transfer.
There have been few better bargains in Liverpool's history.
Still just 27 at the time, Babbel was about to embark on a remarkable campaign that saw the Reds complete a League Cup, FA Cup and UEFA Cup treble, as well as qualifying for the Champions League for the first time.
In a season full of superb individual performances, Babbel was the definition of consistency at the back, defending impeccably, adding attacking thrust when required and bringing a trademark German steel to the squad.
All told, he made a remarkable 60 appearances across four competitions—the most by any outfield player in 00/01, and only one behind goalkeeper Sander Westerveld.
Babbel opened the scoring in the unforgettable 5-4 win over Alaves in the UEFA Cup final, while his ruthless finish in the "Gary Mac derby" at Goodison Park was also a standout moment in a crucial game.
The Reds' No. 6 was a true specimen of a footballer: tall, powerful, technical and possessing great leadership…and it was a travesty that his career was cut short at the start of following campaign, having been diagnosed with Guillain-Barre syndrome.
He is still thought of fondly by Liverpool supporters to this day, though, and is regarded by many as the Reds' best right-back of the past 25 years.
Didi Hamann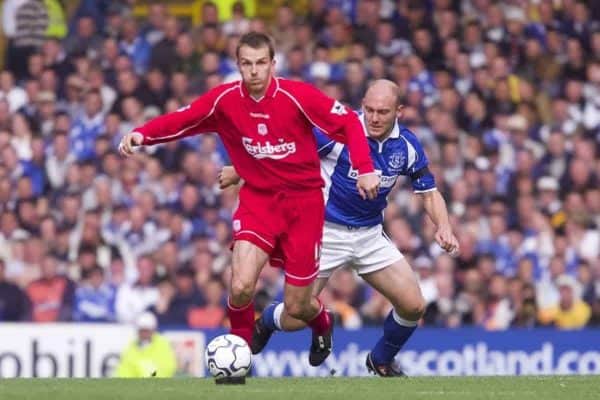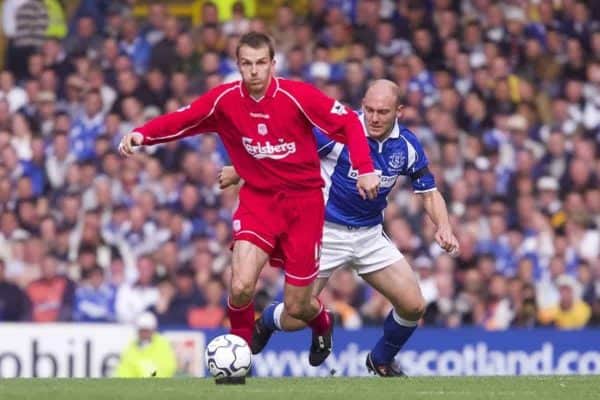 Much like Babbel, Hamann was a dream of a player to have around Anfield, and unlike his unfortunate compatriot, he enjoyed seven great years in a Liverpool shirt.
Joining from Newcastle for £8 million in 1999, Der Kaiser recovered from an early injury to make his presence felt in the middle of the park. His languid, elegant style was accompanied by a delightful nasty streak.
He immediately added a defensive presence that had been lacking throughout the 90s, and his all-round game dovetailed nicely with a young midfield that included Steven Gerrard, Danny Murphy and David Thompson.
Hamann's performances in 00/01 were hugely influential, and although he missed a penalty in the League Cup final shootout win over Birmingham City, he was a key part of the treble triumph.
While the likes of Michael Owen, Robbie Fowler, Emile Heskey, Gerrard and Murphy were making the headlines, the German's understated, unruffled presence helped make Houllier's Reds one of the toughest teams to beat in Europe.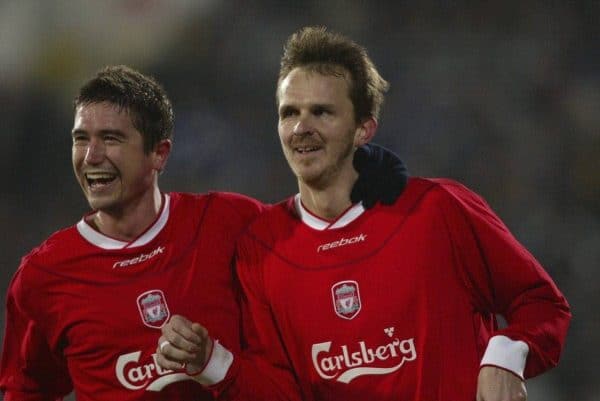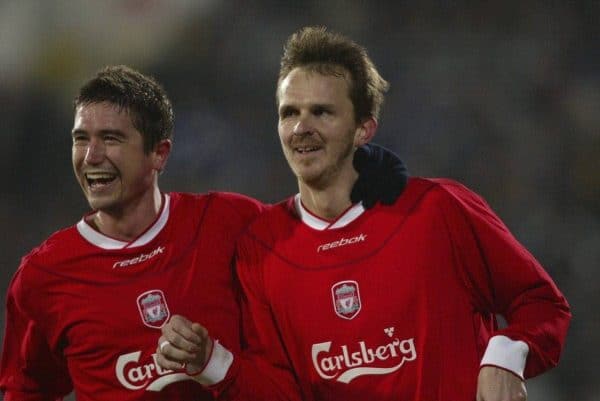 By the time Rafa Benitez took charge in 2004, Hamann remained an integral part of the squad, even though the arrival of Xabi Alonso shifted him down the popularity pecking order a little.
Hamann's entire Liverpool career is still defined by the evening of May 25, 2005, a night when he started the Champions League final against AC Milan on the substitutes' bench.
Benitez introduced the former Germany international at half-time, with the Reds 3-0 down and facing humiliation, but he helped inspire one of the greatest comebacks in football history.
Gerrard will always earn the majority of the accolades, and perhaps rightly so, but Hamann's arrival allowed the skipper off his leash into a more attack-minded role, with his discipline and quality adding so much to the midfield.
His cameo helped take the game to penalties, and as if he hadn't done enough already, he converted the opening spot-kick with inch-perfect precision.
It was a night that cemented Hamann's place among Liverpool's best midfielders of the Premier League era, and he signed off a year later by winning the FA Cup, scoring once again scored in the shootout.
Dream Players for Klopp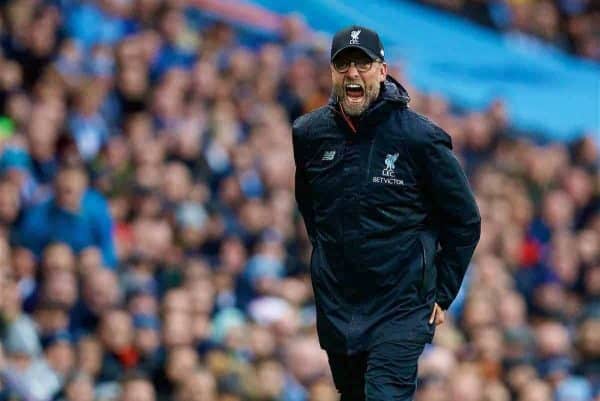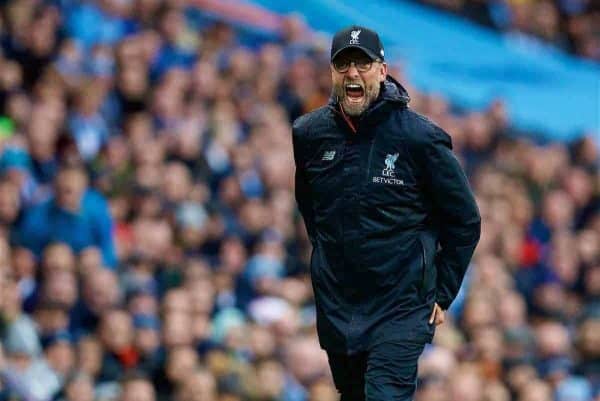 Like so many former Reds, it is easy to start wondering how Babbel and Hamann would fare in Jurgen Klopp's present-day Liverpool side.
There is absolutely no doubt that both in their prime would be priceless additions, bringing so much to the table: Babbel's marauding but intelligent style was exactly what Klopp loves in his full-backs, and with all due respect to the consistent Nathaniel Clyne, he would be a clear upgrade.
His fitness levels were astonishing before illness cruelly kicked in, and he would guarantee a seven-out-of-10 performance every week.
Hamann, meanwhile, may not possess the legs and intensity to be a typical Klopp favourite, but he would be such an important squad player.
During his formative years at Anfield, he covered far more ground than he got credit for—his gangly running style worked against him in that regard—and his passing ability and positional sense would shine in Jordan Henderson's No. 6 role.
Both Germans would add a much-needed ruthlessness and winning mentality to this slightly lightweight, leaderless group of players, something which is vital in any trophy-winning side.
Liverpool haven't exactly been blessed with an array of German talent over the years; Loris Karius and Emre Can remain works in progress, Karl-Heinz Riedle was past his best and Christian Ziege never hit his best levels at Anfield—but Babbel and Hamann remain two of the Reds' finest foreign imports to this day.