As a penalty-box predator Robbie Fowler became adept at finding himself in the right place at the right time. But even the former Liverpool striker was surprised to find himself on the Real Madrid team coach celebrating a title win with Los Galacticos.
Fowler had gone to the Spanish capital to meet friend Steve McManaman, who was injured for Real's last-day title denouement in 2003, and to watch the match, but he got more than he bargained for.
"It was absolutely mental to be honest," said Fowler, who will meet up with some of those Real players when he manages a Liverpool Legends side against their Madrid counterparts at Anfield on Saturday, in aid of the Liverpool FC Foundation.
"Steve is a massive mate of mine but with my playing commitments I hadn't been able to visit him but I was on holiday in Portugal at that time so we made plans to go over there.
"Madrid needed to win their last game in order to win the league and they ended up winning (beating Athletic Bilbao 3-1 to pip Real Sociedad) but the night was much more memorable than the game.
"I was in the lounge afterwards when Steve walks in with two Real Madrid T-shirts and says: 'Put them on, you're coming on the bus'.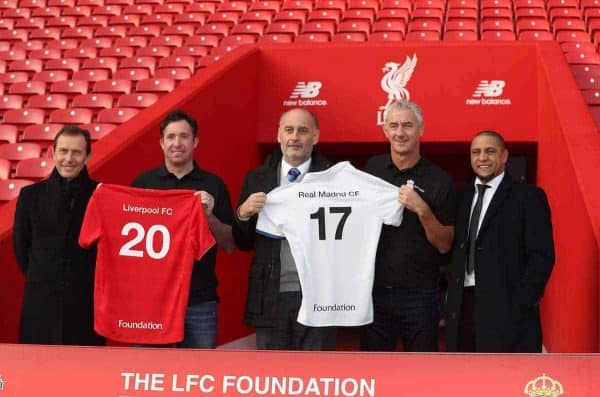 "So Real Madrid are doing their tour of the city on their bus with hundreds of thousands fans lining the streets and there's myself and my cousin – two little scallywags from Toxteth – with them going up to the fountain in the middle of Madrid.
"I think the Real lads knew who I was but my cousin got a few dodgy looks."
Fowler tried to blend into the background when the players took their celebrations off the coach but he was spotted by some eagle-eyed fans.
"When they got to the fountain, the players got off and I was asked to go and do that with them but I stopped short of that as I think that would have been too much," he added.
"When the bus stopped I was cowered down as I was bit embarrassed but there were about 20 English lads who spotted me and started singing my name.
"Real Madrid have just won the league, their players are around the fountain, celebrating the title, and you can hear these lads chanting 'Fowler'. It was a great night. Surreal actually."