Liverpool's 38-game bid to rejoin Europe's elite comes down to a home match against relegated Middlesbrough; here's everything you need to know.
Middlesbrough
Premier League form: L-L-W-D-L-L
League position: 19th, relegated
Last win: 1-0 vs. Sunderland, April 26
Away: Won one, drawn seven, lost 10
Approach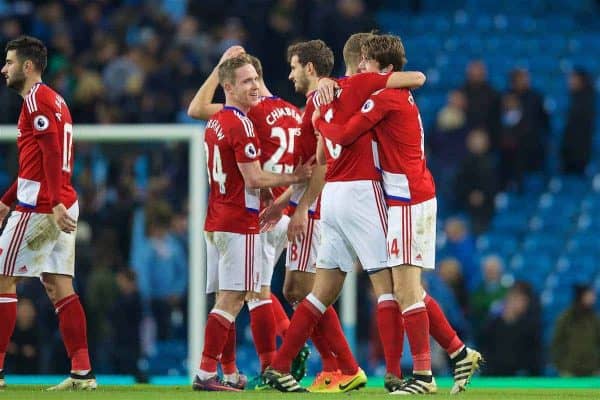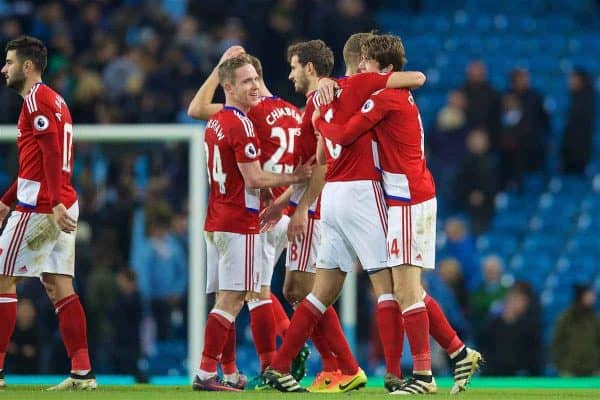 Middlesbrough haven't altered too much despite changing manager; Steve Agnew's side are still struggling to score goals, play a basic 4-3-3 shape which can shift to a more bloated midfield layout when needed and are pretty horrendous on the road.
They've scored just 10 times away from home this season, but the fear for Liverpool is that Boro don't need to score—they just need to stop the Reds doing so.
Boro have conceded 11 in their last three away games though, so it isn't as though they come to Anfield with a set pattern of their own to follow which has reaped rewards.
They have averaged just 39 percent possession across their last six matches, a clear indication of what is to come on the final day.
In midfield it's all-action: aggression in the tackle and closing down from Adam Clayton and Adam Forshaw, as well as quality on the ball, while they'll try to run from deep on the counter to join up with lone striker Alvaro Negredo.
Boro average 76 long balls per game, the third highest in the Premier League behind Burnley and Everton.
Three Keys to Win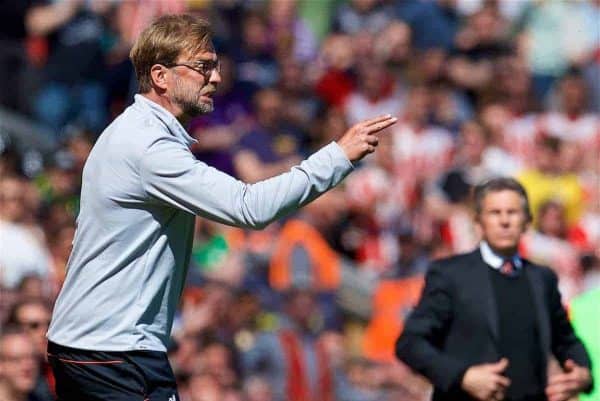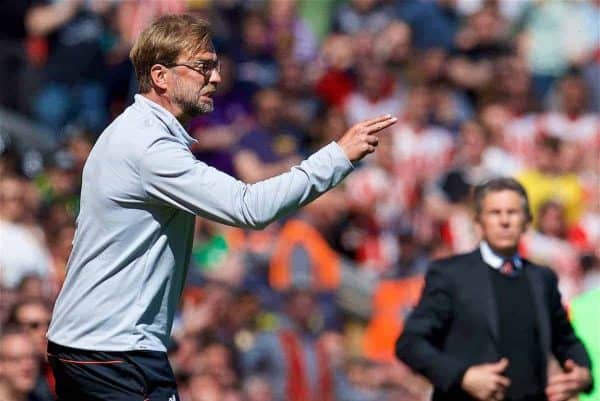 Instead of three aspects of play this time, since the pattern of the match is almost set in stone even before kick-off, we're looking at three different stages of the game and how the Reds should approach attacking Middlesbrough.
Go For the Jugular
Early on, start fast, flood bodies forward and batter Boro's penalty box.
An early goal would settle nerves among fans and players alike, and it doesn't have to be a picture-perfect strike; a deflection, an own goal, a close-range rebound, anything at all and the Reds can quickly be on the right path.
Boro are down in the dumps after relegation and back-to-back defeats; make use of that and let them know they're in for a long match. Immediately.
Even if the Reds are caught on the break and Boro score early, there's still plenty of time left to turn things around and the risk is worth the reward if the breakthrough comes quickly.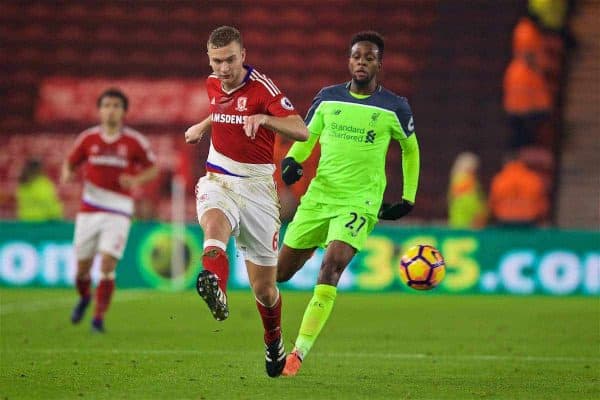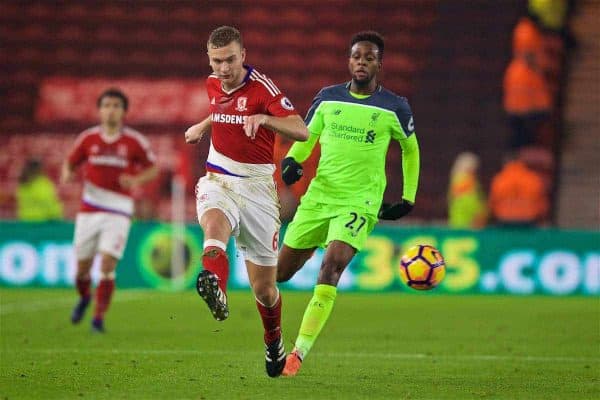 The Patient Game
If the opener doesn't come in the early stages, it's important that supporters stay behind the team and the team stays behind the tactics.
Pass the ball, shift Middlesbrough's defence around, probe and wait for openings—they will come, certainly.
Boro were decent in defence early in the season but that hasn't been the case of late; 50 conceded is far more than Liverpool and in the mid-table section overall, certainly not a defence which cannot be breached.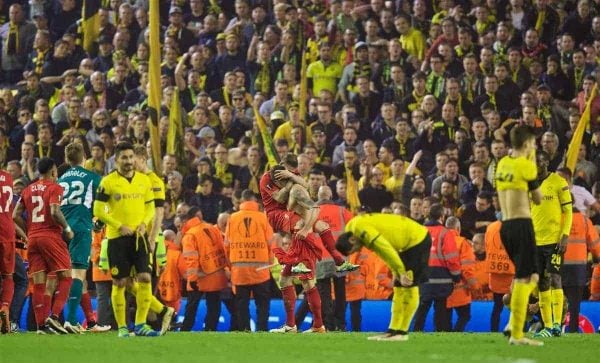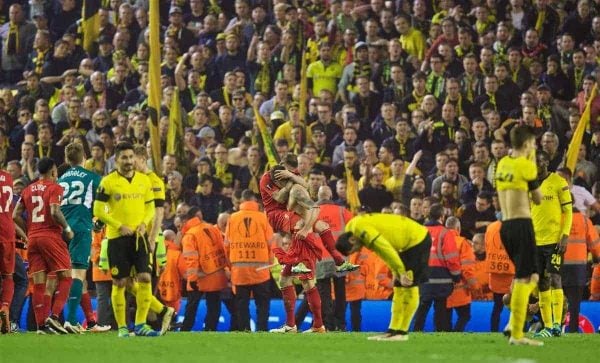 Kitchen Sink
If it comes right down to the wire, with the Reds needing a goal late on, it's important that Jurgen Klopp has reminded the players they are more than capable of finding a way through.
Norwich. West Brom. Sunderland. Everton. Borussia Dortmund!
It has happened plenty of times under Klopp, and certainly can again when the Reds need it most.
There are strikers who can finish, attackers who can create, midfielders who can lash one in and defenders who can use their aerial presence to great effect.
There's no single route to goal, no one particular approach which must be used, and everything counts double on the final day of this season: points and qualification for Europe.
Key Men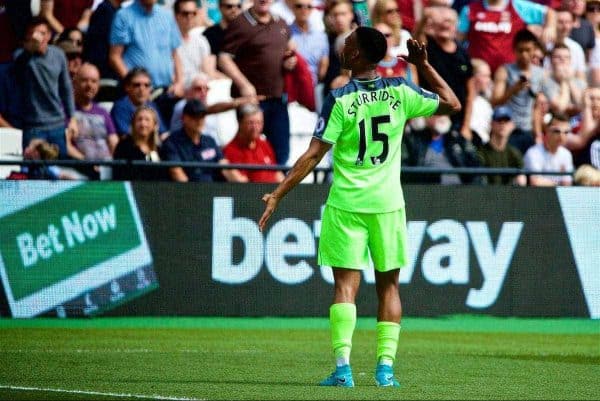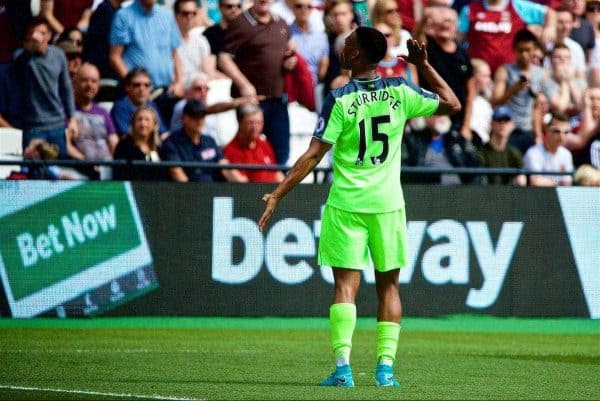 Daniel Sturridge. It has been a long time coming, but his chance has now arrived when the Reds were sorely in need of a clinical edge.
A big performance last time out has surely earned him another start, and it would be a great way to end things (if it is indeed his final campaign at Anfield) if he proved once more what a talent he is in front of goal.
Middlesbrough will look at centre-back Ben Gibson to put in another commanding performance, such as he has managed this term to earn an England call-up and gossip column inches.
Team News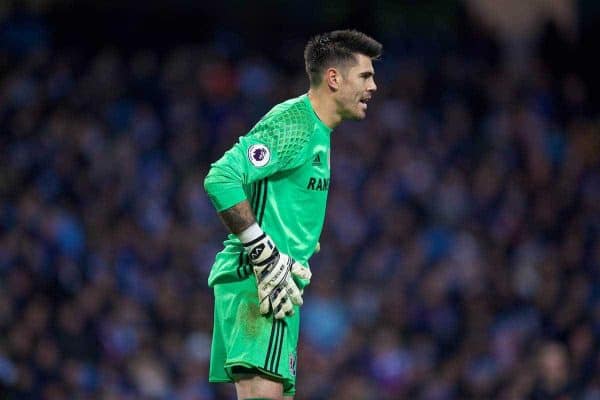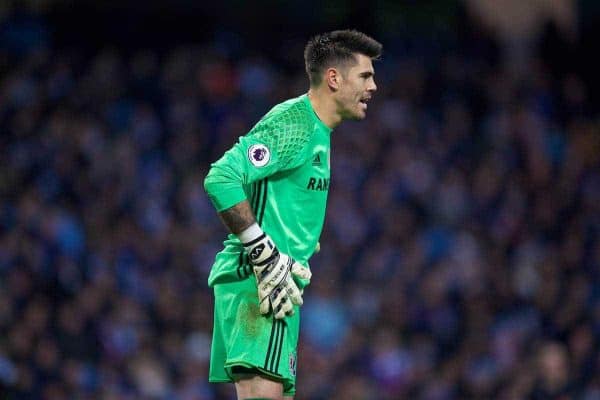 Victor Valdes has missed the past six matches through injury, while former Reds centre-back Daniel Ayala has missed the last three.
Both face fitness checks before the game, while Gaston Ramirez is expected to be fit after also being an absentee of late.
Possible XI: Guzan; Fabio, Ben Gibson, Chambers, Friend; De Roon, Forshaw, Clayton; Bamford, Downing, Negredo