A 4-0 win at West Ham saw Philippe Coutinho return to a central midfield position, but the Brazilian's transformation has been long in the works.
It was six years ago, at the U20 World Cup, where football aficionados saw the first glimpse of the Coutinho Liverpool fans know and love.
A Brazil squad containing the now household names Oscar, Danilo, Casemiro and Alex Sandro worked as a well-oiled unit to win the tournament in 2011, projecting numerous individual talents onto the world stage in the process.
In terms of club football, former Vasco da Gama youth player Coutinho was still trying to find his feet in Europe.
He was endeavouring to find his place, his position and his role in a side.
Inter Milan had put faith in the player they spotted and signed at the age of 16, knowing he wouldn't be able to join them until he turned 18 due to laws governing the transfer of foreign youth players.
He eventually arrived in 2010, but found it difficult to make the first team on a regular basis.
This was despite then-manager Rafa Benitez describing him as "a young player with many qualities, who may be the club's future."
"May" was the key word, and the teenager ended up being shipped out on loan to Espanyol where he showed signs of his natural ability under the tutelage of current Spurs boss Mauricio Pochettino.
This time spent in Barcelona was an important step in the career of both manager and player, and prepared them for their time in the Premier League.
"My confidence has been really building since my time at Espanyol," he told Sky Sports in 2016.
"[Klopp and Pochettino] are actually very similar on the pressing side of the game. They spend a lot of time on that side of it and it's a lot of hard work."
Futsal to Football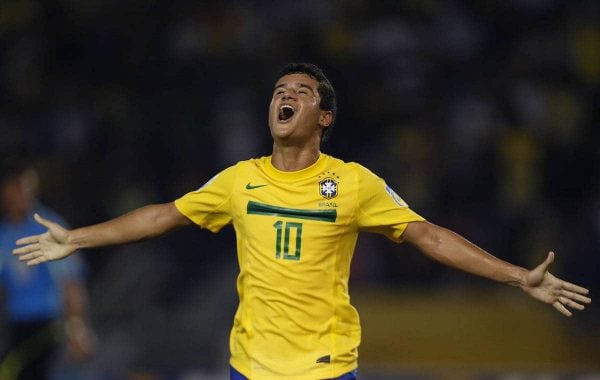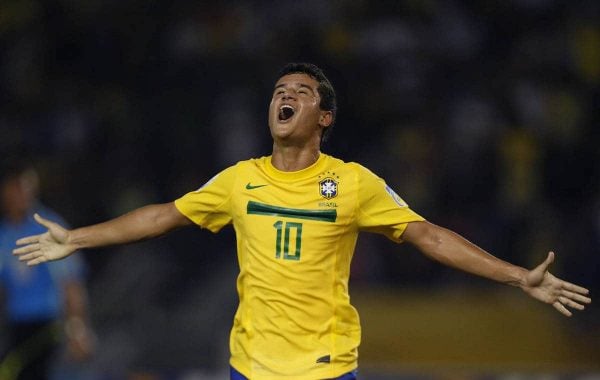 Coutinho had developed his talents in the confined space of Rio de Janeiro's futsal arenas.
This upbringing blessed him with the ball control and skill he shows today, resulting in those Houdini-like moments of escape from even the most packed midfields or penalty areas.
Indeed, he's regularly referred to as the magician, and this Brazilian maestro may be just about to reveal his greatest trick—though we've seen glimpses of it already.
On joining Liverpool he was given the No. 10 shirt once worn by John Barnes, Michael Owen and Luis Garcia.
The shirt number itself went some way to giving an indication of the type of player he was: a creative schemer; a playmaker; a Brazilian.
The most typically Brazilian player the Reds have had since Barnes, who once wowed Rio's Maracana stadium with a goal the great Garrincha would have been proud of.
Despite not speaking the language, Coutinho settled quickly, and it soon became apparent the Liverpool had something special on their hands.
A chant was quickly introduced on the seated terraces to the tune of West Indian musician Arrow's 'Hot Hot Hot', and this new talent regularly had fans on their feet.
There was certainly a free-flowing, carefree, calypso feel to some of the side's play under Brendan Rodgers, inspired by the Afro-Caribbean roots of Raheem Sterling and Daniel Sturridge, and the South American duo of Coutinho and Luis Suarez.
At the start of 2014 the real Coutinho stood up. Back-to-back home performances against Everton and Arsenal saw him move from the wandering attacking playmaker to a scheming role in the centre of the park.
It wasn't the first time he'd played there, but these games seemed like a turning point.
He brought with him the strengths used when playing from the left or behind the striker, but also showed a fiery streak to go with his innate skill on the ball.
The tighter the area he works in, the more impressive the display, and there was now an added bite to his game.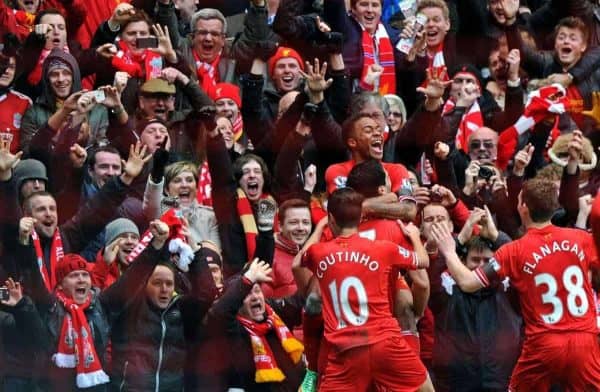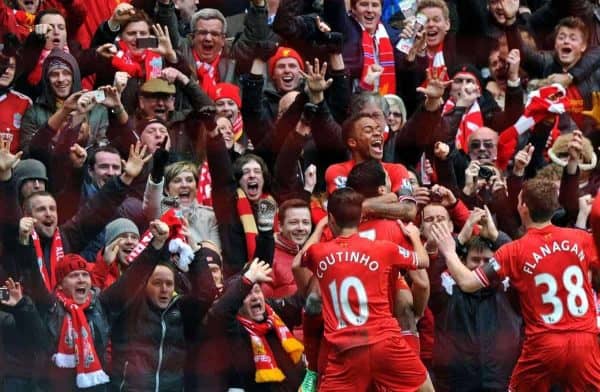 This was epitomised in his performance in the aforementioned game against Arsenal which Rodgers' side won 5-1.
His assist for Sturridge was superb, winning the ball back in midfield before telepathically finding the striker's run with a perfectly placed through ball.
Coutinho led Jack Wilshere a merry dance that day, turning the darling of a supposed new dawn for English football into a sheepish also-ran.
His ability to work in tight areas and leave opposition players behind meant there was space for others to exploit.
Football is all about taking opposition players out of the game to create an advantage, and between them Coutinho, Suarez, Sterling and Sturridge bewildered opposing defences.
The quartet should have been enough to take any side to a league title, but the defensive base of that Liverpool team didn't quite match its attacking point, and they fell short.
Completing Klopp's Puzzle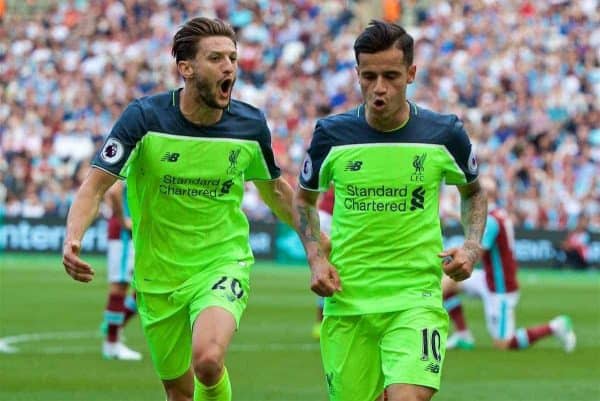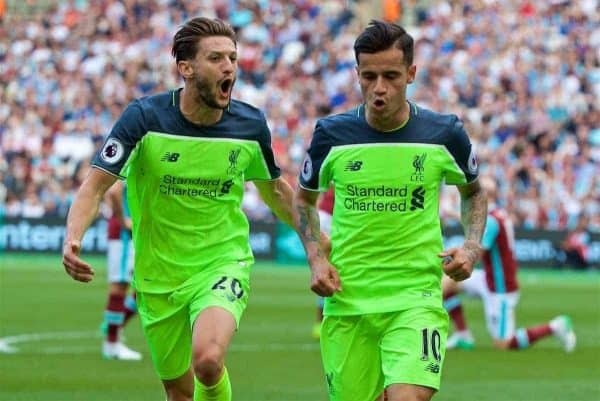 There's no doubt that Coutinho is effective playing from the left, and he's even proved to be useful for Brazil on the right as a certain Neymar Jr. occupies the opposite flank.
But for club and country, the 24-year-old's future position should be in the midfield role somewhere between a No. 8 and a No. 10. The Andres Iniesta role; the David Silva role.
And Liverpool can take a lot of pointers from Silva's Man City side.
Rather than use Silva and Kevin de Bruyne in attacking positions, Pep Guardiola has dropped them into the midfield in front of the still-colossal Yaya Toure.
This allows the pair of attacking midfielders to do what they do well but in deeper positions.
The attacking roles are taken by a combination of finishers and attacking speedsters in the shape of Sterling, Leroy Sane, Sergio Aguero and the latest Brazilian sensation to grace English shores, Gabriel Jesus.
Mane plays the part of Sterling, Sturridge as Aguero, and given Roberto Firmino is backup to Jesus for Brazil he's a natural for that role, but what Liverpool are lacking is a Sane—another wide man.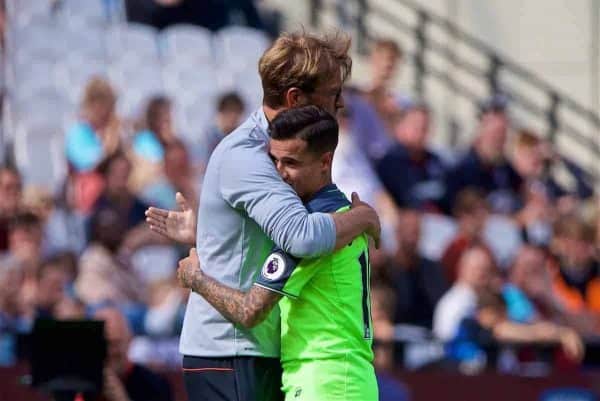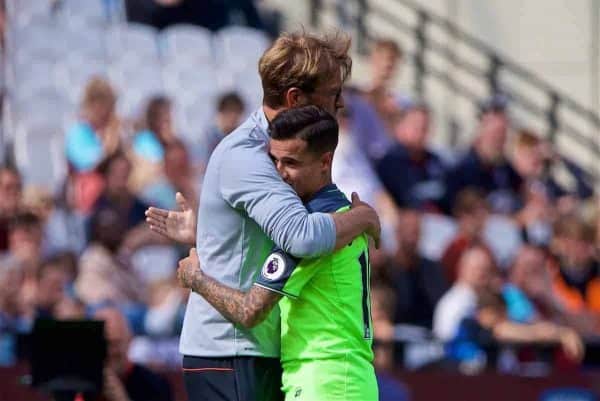 Klopp recently hinted that this is the kind of setup Liverpool should have, but it's taken time to acquire the required attributes in attack.
"He plays at the moment kind of wing '10' but he can also play as a No. 8," he explained.
"That is possible and maybe he will have more influence and we can involve another player on the wing
"That would make us stronger for sure, having his creativity in the middle of the park. He would have to adapt to that."
This is why Coutinho has played mostly from the left this season, but with Liverpool linked to an abundance of pacy wide players it seems that Klopp is finally looking for the final piece of his attacking puzzle.