Roberto Firmino ended his second season at Anfield top of the assists charts, third top scorer and third most minutes played.
Firmino's debut season on Merseyside was one that started slowly but ultimately gathered pace, as he profited from Jurgen Klopp's arrival and use of him in a more central role.
Like so many foreign imports, the Brazilian took time to settle, but 11 goals was a solid return, and we saw glimpses of the magic he possesses.
Many were left excited by the prospect of Firmino going up a gear in 2016/17, although there were question marks over how Klopp would use his silky South American.
It soon became clear what the plan was.
Roberto Firmino, 2016/17
(All competitions)
Started: 39
On as a substitute: 2
Unused sub: 0
Goals: 12
Assists: 7
Average TIA Player Rating: 6.75 (out of 10) (Rank = 7th)
Leading the line superbly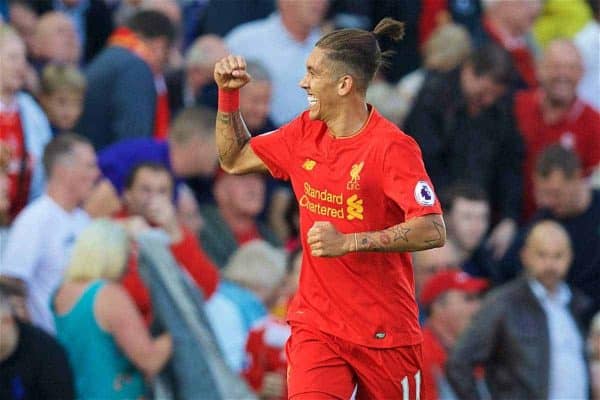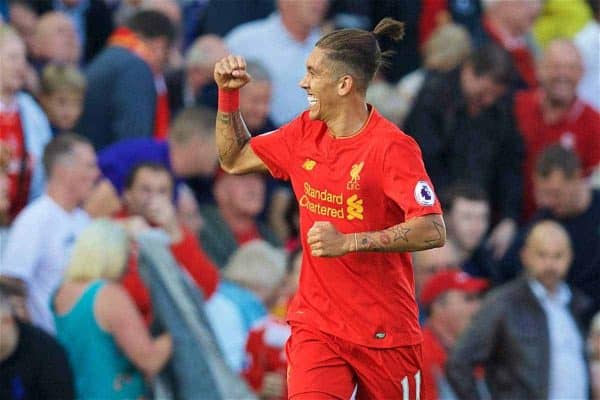 Klopp made it abundantly clear from the opening win at Arsenal that Firmino was going to be his first-choice centre-forward in 2016/17.
Despite Daniel Sturridge and Divock Origi both being available, the Brazilian was seen as the man to lead the line with a mix of elegance, intelligence, end product and relentless hard work.
With Philippe Coutinho and Sadio Mane either side of him in a fluid front-three, Liverpool really looked the part in the opening weeks.
Firmino won the penalty that James Milner converted at Tottenham, but it was his all-round game that was catching the eye. Although not a traditional No.9, he seemed perfect in Klopp's interchanging 4-3-3 system.
A magnificent solo performance at home to champions Leicester saw the ex-Hoffenheim man net his first Premier League goal of the season – he had already opened his 2016/17 account at Burton Albion in the League Cup – and the impressive form kept coming.
Firmino's ability to produce big moments in tight games came to the fore in the ugly 2-1 win at Swansea City, with his inch-perfect header dragging Liverpool level, before winning another penalty that Milner stroked home.
His 9/10 showing at home to West Brom summed up Firmino – he didn't score and make the headlines, but no player was more important on the day.
Noticeable dip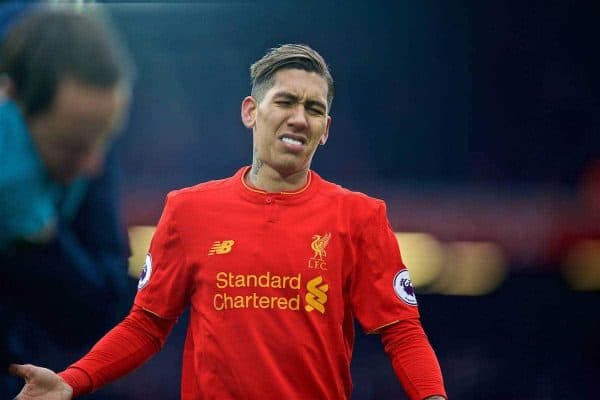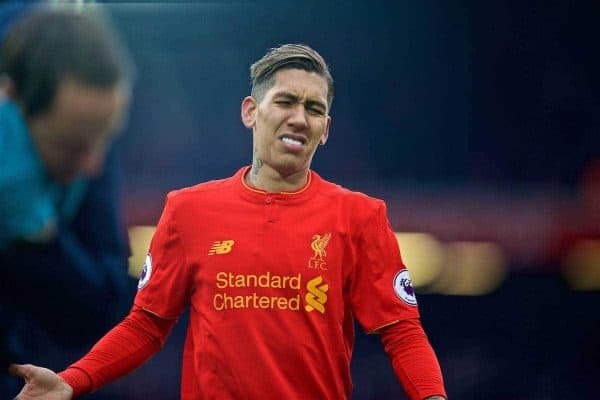 Injury to his compatriot Coutinho, with whom he has a good on-pitch understanding, immediately affected Firmino as December approached, and it started to become clear that he thrived most alongside players on a similar intellectual footballing level.
He often found himself shifted onto the left-hand side in order to incorporate Origi, and the entire balance of the team was lost. In a nutshell, he has to play centrally, both now and in the future.
The effortless, free-flowing Firmino that we had witnessed up until November started to only appear sporadically, and he cut a more frustrated, ineffective player around the turn of the year.
The only moment to shout about in an otherwise quiet January was an excellent double in the home defeat to Swansea, on a day when almost every other teammate failed to show up.
His second of the afternoon, a fabulous half-volley on the turn, outlined just what an exceptional technical footballer Firmino is. It was one of Liverpool's forgotten gems of the season.
The forward's next goal wouldn't come until early March, against Arsenal, with some supporters questioning whether he was prolific enough to be a lone striker.
It was hard not to feel for him, though, with others around him injured and the team as a whole lacking the creative spark of a few months earlier.
Strong end to the campaign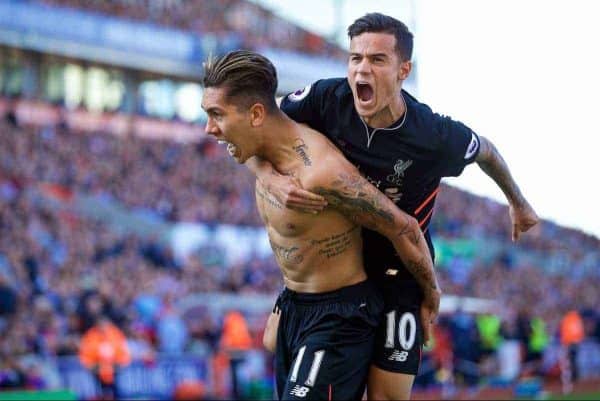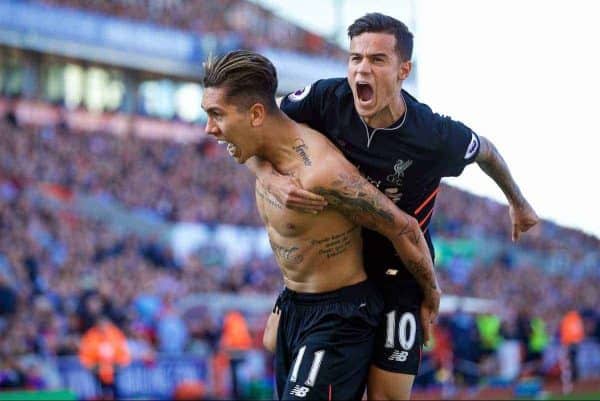 Fortunately, Firmino returned to something close to his early-season form during the run-in, playing a key role in Liverpool reaching the Champions League for only the second time in eight years.
His dramatic late goal at Stoke was one of the highlights of the entire season, having been introduced as a half-time substitute, and his display as a whole was top class.
Firmino's more low-key winner at West Brom was equally important, however, with his well-taken header earning Liverpool a first ever Premier League win away to a Tony Pulis side.
He did his bit, albeit unspectacularly, in the win at Watford, and on the final day of the season, his clever assist allowed Gini Wijnaldum to score the all-important opener against Middlesbrough.
It brought an end to a very good season for Firmino, and it seemed fitting that he played a key role in the biggest match of the campaign.
Improvements & future role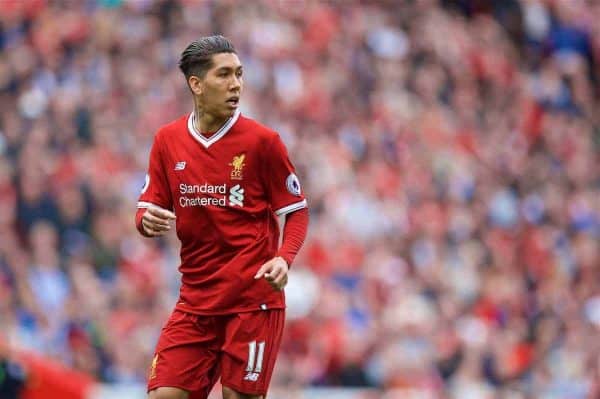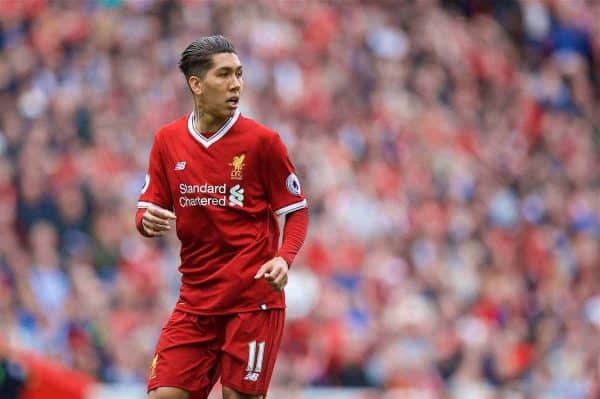 The one thing that did let Firmino down on occasions was his finishing, with his calmness and accuracy in front of goal a notch down from the likes of Harry Kane, Romelu Lukaku and Alexis Sanchez.
12 goals in 41 appearances is far from an eye-catching return, even though finding the net is not the be all and end all of his role in the team.
Like so many Liverpool players, Firmino did also have a tendency to be inconsistency at times – you could often tell within five minutes whether he was on his game or not.
This is being picky, however, and the positives comfortably outweighed the negatives in a very pleasing second season for the Reds.
When Firmino played well, Liverpool played well – he is arguably the most aesthetically-pleasing player to watch at the club.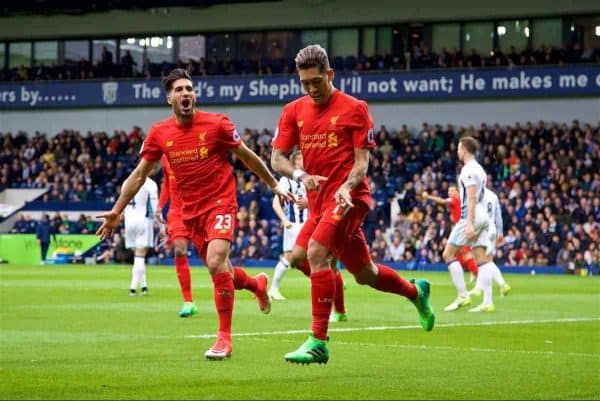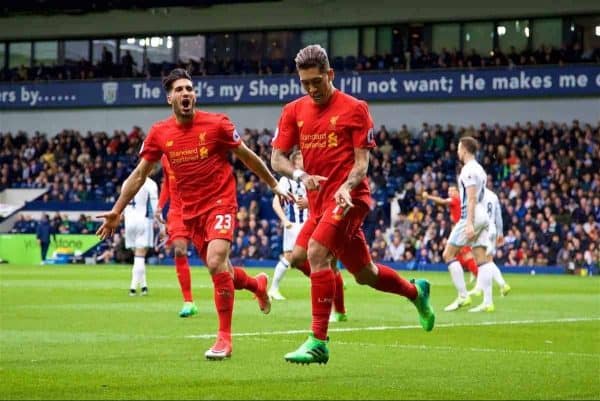 Moving forward, he remains integral to the success of the side, and while Klopp is expected to bring in a more natural striker this summer, Firmino should continue to feature prominently.
More goals would be a welcome improvement, but as long as he has top quality around him also scoring, it isn't a major issue. Firmino is the man who makes Liverpool tick.
Best Moment: The winner against Stoke
Worst Moment: The shocking performance away to Leicester
Role next season: Key player