After three decades of passionately following Liverpool from Down Under, Michael Hayen is set to finally make the pilgrimage to Anfield in December.
I began supporting Liverpool over 30 years ago. It was in the days when soccer, as everyone in Australia called it, was almost impossible to find on the telly, except for the Monday night BBC highlights package shown on ABC.
I had a mate whose father was English and supported Spurs, but I picked Liverpool as Craig Johnston was there. To be honest, it probably also didn't hurt that Liverpool were travelling fairly well at that time.
I remember getting up in the middle of the night for FA Cup finals, whether they involved Liverpool or not, and the incredible excitement I felt when Skippy knocked the ball into the back of the net from a Jan Molby cross in 1986.
I also remember watching the news reports of Hillsborough and seeing Johnston arrive back in Liverpool from Australia, not seeming sure of what he intended to do but knowing he had to be there for the club and supporters that he saw as his family.
As the years have gone on and coverage of football in Australia has improved, I have been able to watch more Liverpool games live and, unlike many supporters in the city itself, have appreciated early kickoffs and night games as these mean slightly fewer interruptions to a decent night's sleep.
I have also been able to follow Liverpool news on the internet, whether through the club's website or the numerous blogs that compete for attention. I also play YouTube highlights sometimes, mainly of Istanbul—a result I still cannot believe to this day.
I live in Hobart, Tasmania now and have adopted a club that my son plays youth football for. We go to nearly every senior team game at the ground, which has a significant crossfield slope on it, and for about £5 enjoy our wins and losses, as well as the goalscoring efforts of our own local Xabi Alonso.
However, I have always wanted to go to Anfield, perhaps having a pint before the game at The Albert and definitely paying my respects at the Hillsborough Memorial.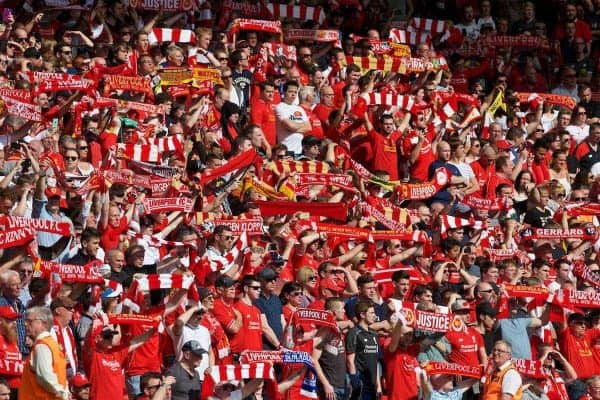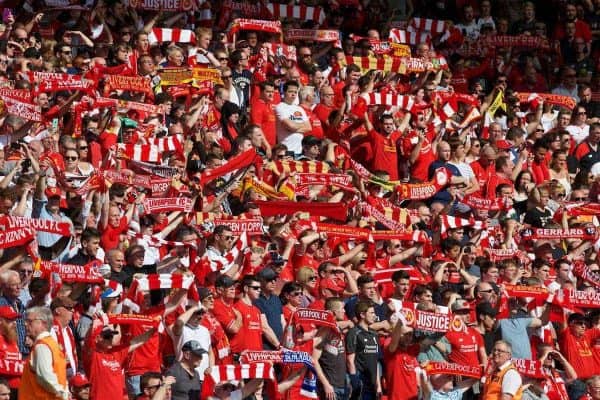 So, when we decided to visit the UK at the end of this year, a visit to Harry Potter World was the No. 1 priority for my daughter, but there was only one thing my son and I were desperate to see: a game with real magicians at Anfield.
Having never been before, we entered the byzantine world of purchasing tickets, firstly making sure my son and I had the right membership cards, then making sure we linked our cards, and then finally reading everything we could on how the sales process works (or doesn't work).
When the draw came out, we discovered that the two options were Leicester or Manchester City and we pretty much wrote off any hope of tickets to the latter. We also checked out the hospitality packages, just in case we missed out and were forced to pay a couple of hundred pounds for a meal to accompany our football tickets.
From about 5pm (our time) on the day of the sale my son and I furiously refreshed our browsers, maniacally clicking on 'buy now' and entering the queue. Although my device showed I had entered the queue first, we somehow managed to progress more quickly on my son's and after 50 minutes we were in and selected the first area that we saw with good availability.
Having heard the horror stories of people being kicked out after selecting tickets, I didn't risk double-checking to see if there were any better tickets, but rammed my credit card details in as quickly possible and hit purchase.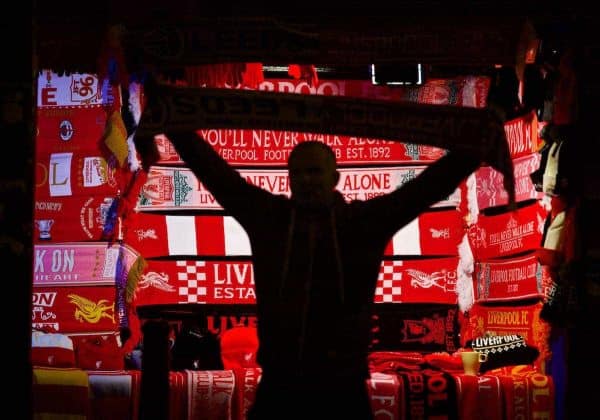 Fortunately, we got our tickets and we will be there singing and cheering and singing some more at 3pm on December 30, or whatever date and time the game is moved to for broadcasting.
We won't be viewing the game through a phone or hitting anyone with a selfie stick.
We will be truly happy watching and absorbing every moment from the Upper Anfield, as close as I will probably ever get to the Kop, only 110 yards away.
* This is a guest article for This Is Anfield. If you'd like to contribute a piece for consideration please see here.