Jurgen Klopp has acknowledged he will face "hard decisions" over his team selection in 2017/18, but believes his Liverpool players should react well.
The Reds have so far made three additions this summer in Mohamed Salah, Dominic Solanke and Andrew Robertson, with only Lucas Leiva and Kevin Stewart departing from Klopp's senior squad.
Klopp can expect to make further signings before the closing of the transfer window on August 31, with Southampton captain Virgil van Dijk regularly linked.
And despite suggestions a host of names such as Joe Gomez and Daniel Sturridge were expected to leave this summer, the 50-year-old looks likely to retain the majority of his first-team group.
But even though Liverpool will fight on four fronts in 2017/18, there will still be major competition for places, which Klopp believes will prompt positive rivalry.
"We want to build on the same base as last year. I'm not in any doubt about that," Klopp told reporters.
"Everybody thought: 'He's going, he's going, he's going' but so far nobody is going.
"If we stay together like this there will be a few hard decisions because they can't start all together. Then we have to see how this works.
"Be angry at me no problem but stay confident. That is important.
"Three days later there is another game so be there again. There will be a lot of challenges."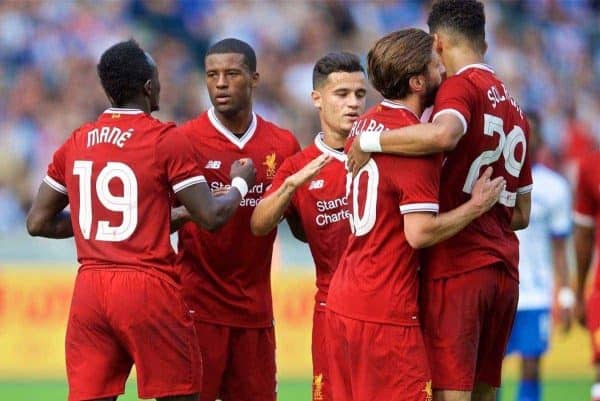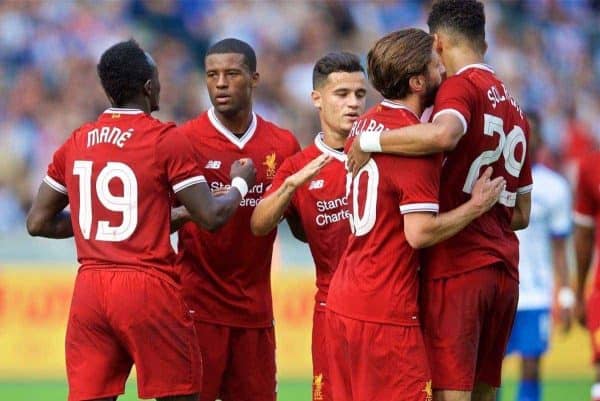 The lack of further signings in the form of Van Dijk and Naby Keita at this stage has provoked criticism among the Liverpool support.
But Klopp feels that the Reds' summer of training—at Melwood, in Hong Kong and in Germany—is just as important, as he looks for his players to "make the next step."
"Hopefully it's like this. Phil [Coutinho] has been outstanding so far and a few others," he added.
"It is about how do we react when it doesn't work in our direction? That's when it is more difficult.
"If you lose a game, then lose another game then it is: 'Are we still strong?' or it's: 'No, we are shaky'.
"I said we always want to develop this team and there are two things to do: signings and training. We did both.
"The signings are nice—either they play or they push another player. But now it's more difficult to play all the time."
With the likes of Gomez, Trent Alexander-Arnold, Ovie Ejaria, Marko Grujic, Ben Woodburn and Ryan Kent also taking up increased roles this summer so far, there is considerable depth throughout Klopp's squad.
His message is clear: opportunity will arise in 2017/18, and his players simply need to take it when it presents itself.