Increasingly, Liverpool fans' factory setting is programmed to anger. Steven Scragg reckons it's completely understandable, yet it is also dangerous territory.
SAME REPETITIVE FAILINGS. DIFFERENT PERSONNEL. MUCH ANGER
We're walking a fine line at the minute. There is much to be angry about, but there is also a blurring of the sightlines. Self-destruction is only a short few wrong turns away from here if we aren't careful. It's starting to take on an all-too-familiar looking shape.
We have an angry supporter base. We reach out tentatively for good times, to reconnect with an increasingly faded sense of success. We put our souls on the line, over and over again, only to see them given another kicking. Some of us have been watching this elaborate courtship with failed returns to the promised land for the last quarter of a century.
None of this is new. Somebody far more eloquent than me once insisted that it's not the disappointment that will kill you, it's the hope.
As hard as it is sometimes, perspective needs to be found. This was the League Cup – I refuse to call it the Carabao Cup. I don't even know what a Carabao is – and it's, at least in the early rounds, unfair to attach it to the continuing story of the still formative period of the football season.
When we stroll out on Saturday, at the same stadium, for the Premier League fixture against the same opponents, then we should take our continuing thread from the Burnley game, rather than this one.
Early round League Cup games, are almost like international breaks. It's football, but not as we know it. There is something vaguely unsettling about these games, no matter the outcome.
CHANGE FOR CHANGE SAKE
That said, eight changes to the starting line-up from Saturday against Burnley is stomach turning.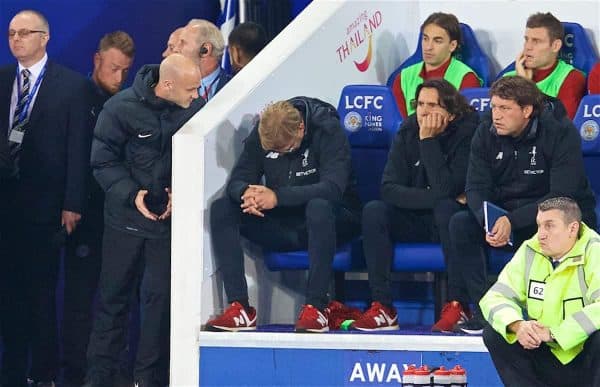 The line-up against Burnley itself had seven changes from the team which had faced Sevilla last week. While there is the concept of rotation, we've gone for an extreme revolving door policy of late.
Yes, we have a lot of games to face, but the levels of change which have gone on to the team in the last few games haven't helped our current situation. In certain parts of the pitch, we now need game-to-game continuity. It's the only way we can possibly locate some cohesion.
Out of the League Cup, we've trimmed a handful of potential midweek fixtures from our 'to do list'. Ragnar Klavan shouldn't be anywhere near the pitch now. He wasn't cataclysmically culpable in this one, but, for better, or worse, we need to play Joel Matip and Dejan Lovren game-in, game-out until January.
It's our only hope of creating anything close to resembling cohesion in defence. If the individual parts are malfunctioning when being rotated in, and out of the side week-in, week-out, then they will only have a chance of improving if they are offered a degree of stability and continuity.
Unless there is a major injury epidemic, Danny Ward, Jon Flanagan, Marko Grujic, Danny Ings, and possibly Ben Woodburn aren't going to figure again this side of the January transfer window opening.
Some of that is for the best, while in other cases, it's a massive shame. Ward deserves another go at some point, while Woodburn has also lost a source of valuable first team acclimatisation opportunities.
POSITIVES?
Not many. Ward could do nothing to stop either of the goals. He came to collect the ball, when the need arose, and he should be considered a genuine contender for Simon Mignolet's place in the side.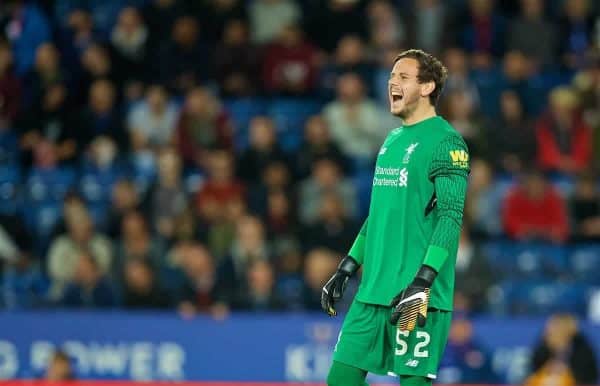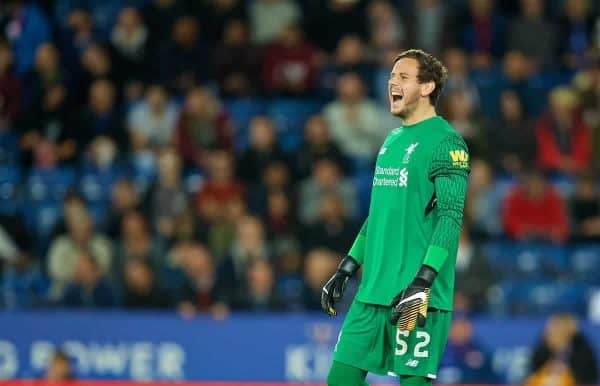 We dominated the first half and had it not been for profligacy, then we perhaps win the game. The removal of Philippe Coutinho changed the complexion of the evening, in what was another questionable substitution by Jurgen Klopp. Either play him or don't. 45 minutes gained us nothing.
Joe Gomez should leap-frog Klavan as the 'next in line' centre back. He may yet offer us a more cost-effective option there in the long-term. While if Klopp is tempted to go with three central defenders, then Gomez must be the choice.
Andrew Robertson looked the part again.
Ings looked effusive from the bench. Highly unlikely to happen, but maybe it's worth trying him in the role of 'impact sub' in the Premier League.
Dominic Solanke continues to put himself in the right positions. Goals will come.
WORRYING PATTERNS

Alex Oxlade-Chamberlain was pretty awful on his full debut. Shocking at set-pieces, and habitually gave possession away. From his shoulders slumped final days at Arsenal, to his second-half introduction on an unforgiving day at Man City, there is cartoon rain cloud following him everywhere. This will take time to shake.
Jordan Henderson continues to shrink. We need leadership, and he isn't supplying it. I'm a Henderson fan, I backed him from the beginning, and he will rise again, yet we need someone to step up and lead us into the strong winds we currently face.
These are character building, and character shattering times. He needs to decide which way to go. We are reaching a fork in the road, but there are no obvious candidates to take the role on, should Henderson's character shatter.
WHAT ARE WE LOOKING TO ACHIEVE?
Collectively, beggars can't be choosers. By the end of this season, it will be six years since we last won a trophy, yet we also have a bigger picture to look at. Essentially, Liverpool FC would be better off if the League Cup became extinct.
I don't say that lightly. Some of the very best days I've had following Liverpool at home and abroad, have come from the League Cup. The lack of respect clubs show toward it is painful to see. We might be the most successful team in its history, but we might well be better off without the League Cup permanently.
Premier League and Champions League. The first half of our season is now clearly defined. Stay in touch with the leaders domestically, and do enough to ensure we have Champions League football in the spring.
Rest assured, despite the continuing conundrums, despite the omnipresent ponderables, the mist will clear before too long, and when we start to fly again, we will need there to be horizons to chase.
The anger you're feeling is natural, but it's also potentially destructive. The deep breath I suggested after the draw with Burnley still applies now.