The media were full of praise for Philippe Coutinho and felt Liverpool's positive traits covered over shortcomings in the 3-2 win at Leicester.
The Reds exacted sweet revenge for Tuesday's League Cup loss by edging a thrilling contest to claim a much-needed three points.
Three brilliant goals from Mohamed Salah, Philippe Coutinho and Jordan Henderson ensured strikes from Shinji Okazaki and Jamie Vardy—who saw a penalty superbly saved by Simon Mignolet—counted for nothing.
It was a priceless three points to get the campaign back on track and restore confidence, but, crucially, also to keep pace with the leading pack with those top-six rivals in action also all winning.
Here's how the media assessed a chaotic contest at the King Power Stadium.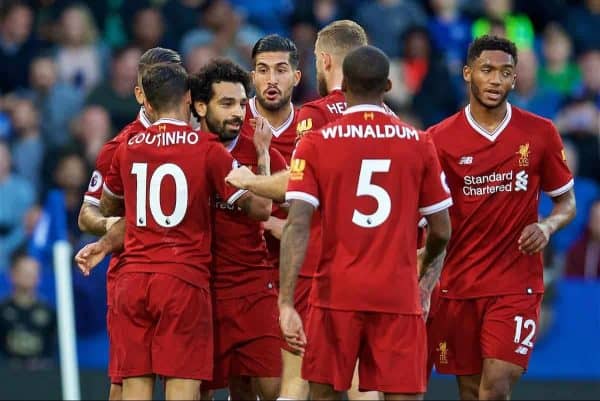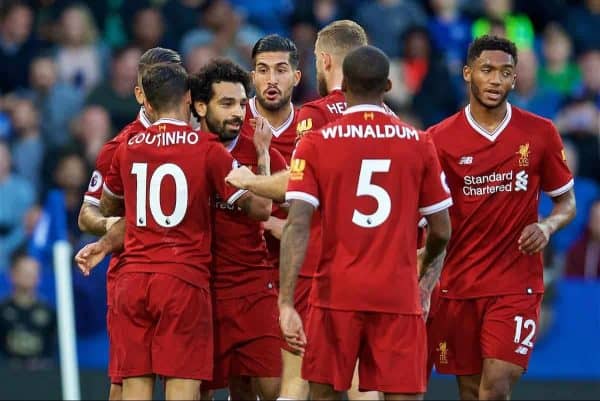 Watching reporters unanimously felt that this was a vital victory for Klopp's side to get back on track, but also thought the Reds' performance was far from convincing.
Summarising events, the Independent's Simon Hart assessed "the good Liverpool outdid the bad":
Liverpool's first Premier League victory since August came in the only way it seems they know how right now—a breathless match full of thrills and spills, where the good Liverpool just about outdid the bad.

This was Jürgen Klopp's Reds in a nutshell.
The Guardian's Paul Doyle assessed a return to the days where the Reds' attack offset defensive issues:
In the end, however, Liverpool banked three points because their vibrancy going forward more than offset their problems at the rear, earning reward in the form of goals by Mohamed Salah, Philippe Coutinho and Jordan Henderson.
The Liverpool Echo's James Pearce felt victory was vital given the results of top-six rivals and to begin rebuilding confidence:
After wins for Tottenham, Chelsea, Manchester City and United earlier in the day, the pressure had been cranked up. Klopp got the response he wanted and this should go some way to repairing battered confidence levels.
The Mirror's Andy Dunn thought the win was one of the most important of Klopp's tenure:
There have been some landmark victories but few can have been as significant as this.

[…]

No matter how this win was achieved—and the irony of Simon Mignolet somehow saving the day is stark—it has given Klopp a psychological breather.
ESPN's Iain Macintosh was among those to feel that for all recent struggles, the Reds are on the right track:
Klopp has taken some heavy criticism recently as the goals-against column continues to tick over, and some of these concerns have been justified. But his team are five points off the top with 32 games left to play. It is hardly a crisis.
Post-match reports heavily focussed on the match-winning display of Philippe Coutinho, who journalists felt showed exactly why Liverpool viewed the Brazilian as unsellable in the summer transfer window.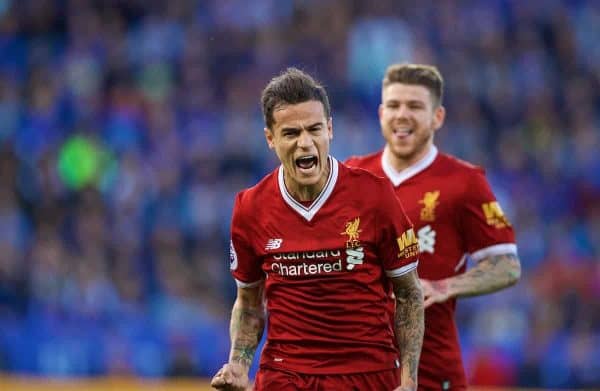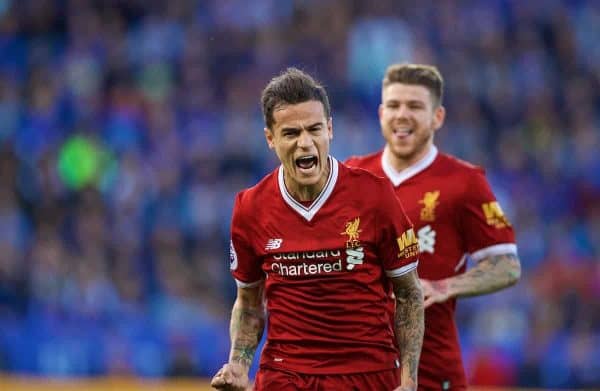 The Express' Harry Pratt assessed Coutinho as "back to his best":
The Brazilian ace, supposedly unsettled after a summer being chased by the mighty Barcelona, certainly looked back to his stunning best here.

[…]

No wonder Klopp had ordered the Liverpool board not to cave into the pressure of a huge bid from Barcelona. For when Coutinho ticks like this, more often than not the Merseysiders do too.
The Liverpool Echo's Kristian Walsh saw Coutinho's performance as his way of apologising:
After penning a transfer request to the club in the summer, this was his apology, presented in the shape of an excellent, influential display.

Chosen to operate in the front three—where he showed his best football last season—he tortured those in Leicester blue. There were tricks and flicks, a few stepovers and rollovers, but most of all, a constant threat to the opposition.
Macintosh praised the way Coutinho has been reintegrated at Anfield:
But not only did Liverpool stand their ground, they quickly reintegrated the Brazilian into the first team too, with no recriminations and no judgement.

[…]

How wise a policy it has proved.
Writing for Goal.com, Melissa Reddy thought Coutinho's display showed those who questioned the Reds' decision to turn down £150million exactly why they did:
Liverpool could not contemplate losing their stardust for this season, and anyone who questioned why they didn't cash in on him received a very clear answer on Saturday evening.
This Is Anfield's Karl Matchett praised Coutinho's influence and positional versatility, which will help this season:
Quite why there was any annoyance or worry over Coutinho's position is unfathomable: he was excellent in the role last term, it was an away game and he has goals to offer—it was really the only role for him from the start in this match.

[…]

But there shouldn't be a one-size-fits-all approach to lineups, especially this season with a deeper squad, and Coutinho—along with several others—have to be able and willing to filter into various roles according to need.
The watching journalists offered views and general thoughts on various aspects of Liverpool's set up and performance at the King Power Stadium.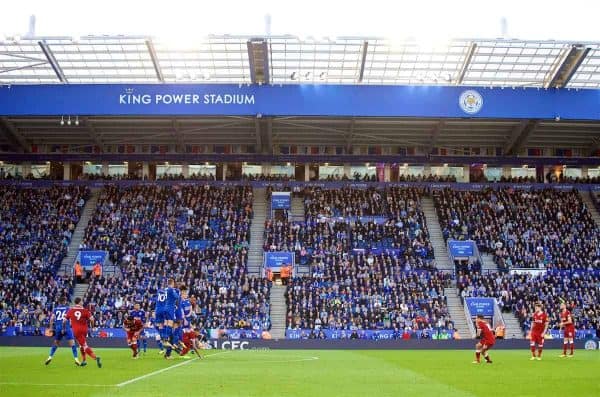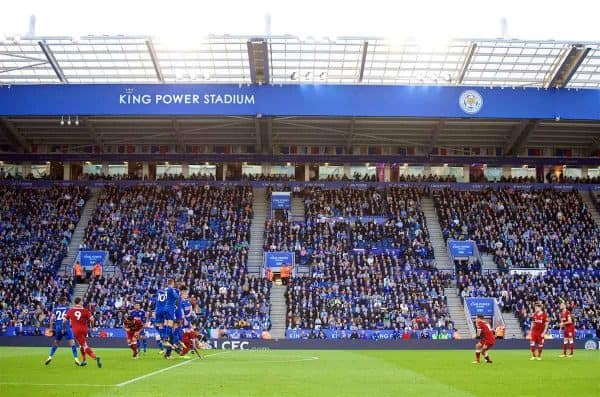 On the Reds' display, Pearce praised Klopp's men for showing they can "dig deep":
But, crucially, when their backs were against the wall, Liverpool dug deep and got themselves over the line.
Dunn discussed the goalkeeping situation, and feels the lack of trust in the position is the root cause of defensive issues:
There is little doubt where the seeds of Liverpool's defensive dithering lie: with the goalkeeper.

Or rather with the goalkeeping situation. There is probably no other position on the pitch where trust can underpin performance. Has Mignolet ever really been trusted? By Klopp? By an assortment of defenders?
Matchett questioned Klopp's rotation choices—and feels the German's current method is counter-productive:
Rotation for the cups is all well and good, but those performances have to mean something more than just a 90-minute runout for the sake of it.

All squad players want to work their way into the starting XI on a regular basis, and without the reward of more consistent minutes on the pitch, where is the incentive to perform when handed a rare opportunity?
However, ESPN's Steven Kelly felt Klopp enjoyed a better game, calling selection and substitutions right:
Jurgen Klopp got his selection right and even his substitutions gave some impetus.
Pearce thought Klopp's more "conservative" selection paid off:
Picking Gini Wijnaldum ahead of Daniel Sturridge and opting to start Coutinho in the front three rather than in midfield was a conservative move by Klopp.

But it paid off handsomely during a first half when Liverpool bossed proceedings and packed a real punch going forward.
However, Matchett was impressed by the strength of Liverpool's substitutes and the competition for places in the squad currently:
Liverpool can call on experienced international players from the bench, players who have proven they can perform at the elite level over a period of time.

[…]

And it's up to those same players to offer something to the team and work their way into the XI. That's the upward spiral of how competition works and can improve a team, and consistency along with impact must be noted and rewarded, as suggested above.
As always, reporters offered views on who shone and who struggled – with deserved praise for Jordan Henderson and Daniel Sturridge, but less complimentary words on Gini Wijnaldum.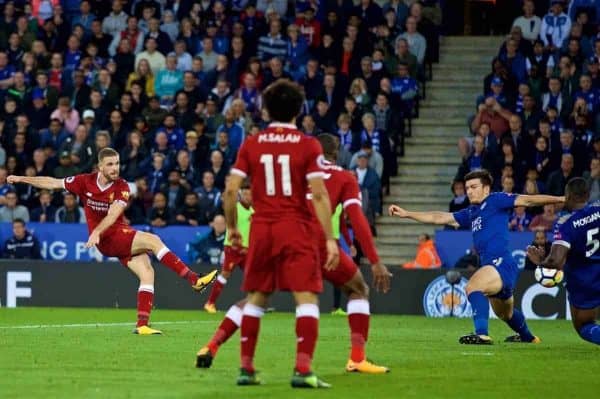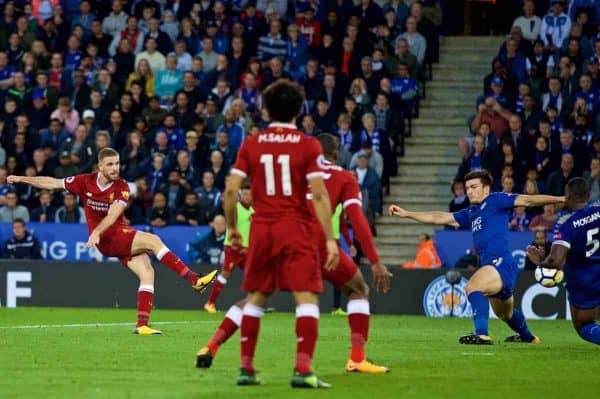 Walsh felt Liverpool's captain answered his critics:
The criticism he has faced this season has been overblown, if not founded in fairness. This was a showing that answered the question of what he does with aplomb.
Kelly reserved praise for Sturridge after an "excellent" cameo:
An excellent cameo from the England man, who was calm in possession, set up Henderson's goal superbly and almost scored himself. Sturridge can't duplicate Firmino's work rate but does provide an alternate style late in a game.
Walsh believes Sturridge showed he is ready to start against Spartak Moscow:
Pick he did when setting up Jordan Henderson for the crucial third goal, and otherwise playing with the nous and sensibility of a veteran striker. His hold-up play and back-to-goal work was superb, even if he efforts on goal were reduced to distance.

As Leicester pushed for the equaliser, he was a constant outlet. His selection in Moscow should be a no-brainer.
Kelly felt Mignolet's erratic performance symbolised Klopp's Liverpool:
He almost symbolises this Liverpool, in that he's great at the flashy stuff but poor at the basics. He was unlucky a foul on him wasn't spotted for the first Leicester goal but a baffling decision to kick conceded a penalty and almost threw away two points. Fortunately, he is excellent at saving penalties, his denial of Jamie Vardy was his seventh stop from 15 spot kicks faced as a Liverpool player.
This Is Anfield's Chris Williams was unimpressed by Dejan Lovren:
Had a horrendous opening five minutes; knocked the ball out of play under no pressure, then gave away possession on the edge of the box.

Talked himself into the book with an overzealous complaint after his protest for a penalty was waved away. Still far from convincing.
Finally, Kelly labelled Wijnaldum "invisible" and wants an improvement in the Dutchman's form away from Anfield:
Another invisible away performance; while he seems to work hard, he rarely gets to grips with the game. Kept going right to the end—one of his qualities—but needs to have more influence during the earlier stages.