Liverpool's second trip to Leicester City in a week ended in victory as a back-and-forth game went to the wire and resulted in a 3-2 win.
Leicester City 2-3 Liverpool
Premier League, King Power Stadium
September 23, 2017
Goals: Okazaki 45+2′, Vardy 68′; Salah 15′, Coutinho 23′, Henderson 65′
---
Four straight matches without a win made this a must-win fixture for Jurgen Klopp's team, and that's exactly what they provided at the King Power Stadium.
The first chance fell Leicester's way as Jamie Vardy showcased the pace which has troubled the Reds so many times before, but the game's first goal fell to Mohamed Salah.
The Egyptian had already missed a sitter after Emre Can hit the post, but minutes later headed home Philippe Coutinho's cross for 1-0.
Coutinho then doubled the lead with a superb free-kick shortly afterward.
Shinji Okazaki scored against the Reds for the second time in less than a week just before the break—in highly contentious circumstances—to halve the lead at the interval.
A crazy 10 minutes in the second half determined where the points would end up; firstly Daniel Sturridge teed up Jordan Henderson for 3-1, before Vardy immediately pulled one back.
Vardy then won a penalty from a Simon Mignolet challenge for the chance to equalise—but the Reds stopper came up with a huge save from the spot-kick and preserve the win for his team.
Coutinho Stars On the Left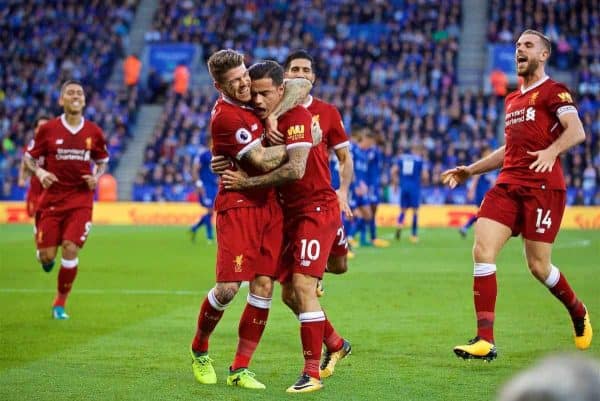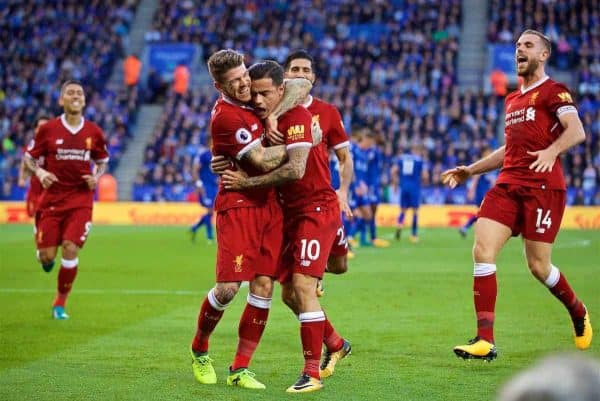 As expected, the absence of Sadio Mane has meant an obvious route back into the side for Coutinho: left of the front three.
Despite some pre-game chatter over the role from Reds supporters, it was always likely to be the case that Klopp opted to keep faith with the shape and personnel in midfield, rather making Coutinho for Mane the only switch.
Quite why there was any annoyance or worry over Coutinho's position is unfathomable: he was excellent in the role last term, it was an away game and he has goals to offer—it was really the only role for him from the start in this match.
Yes, Coutinho can be devastating for the Reds as a No. 8. Over the course of the season, it's to be hoped that he sees plenty of game time in that role, especially in Europe or at home.
But there shouldn't be a one-size-fits-all approach to lineups, especially this season with a deeper squad, and Coutinho—along with several others—have to be able and willing to filter into various roles according to need.
And fans should be welcoming about that, too.
Rotation and Robertson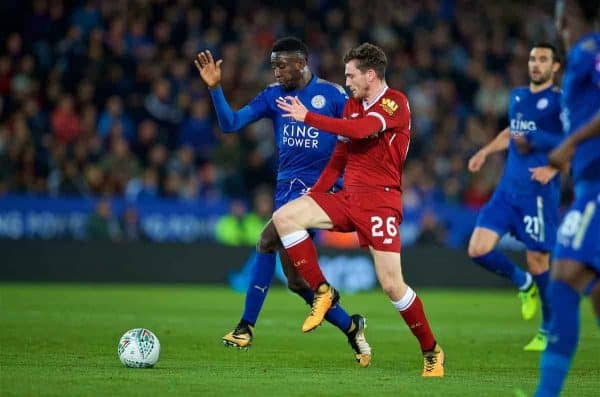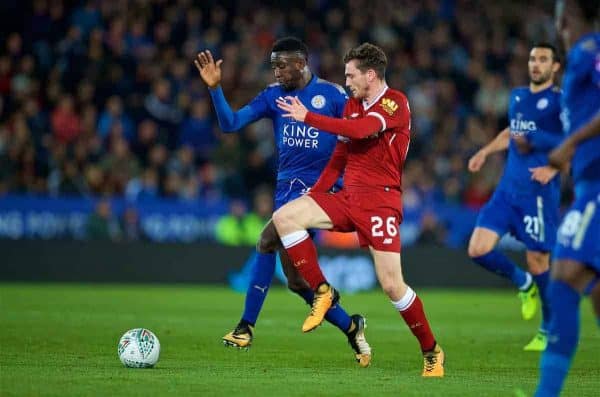 Klopp reverted to type with his team of the season, as it has been, and while that's not inherently a problem, it does beg questions over what some players must do to earn a league start.
Andrew Robertson was the best performer in the midweek League Cup defeat against the same opponents, yet Alberto Moreno was handed a recall.
Danny Ward was similarly impressive, yet Loris Karius reprised his bench role for Saturday.
Rotation for the cups is all well and good, but those performances have to mean something more than just a 90-minute runout for the sake of it.
All squad players want to work their way into the starting XI on a regular basis, and without the reward of more consistent minutes on the pitch, where is the incentive to perform when handed a rare opportunity?
Sturridge and a Strong Bench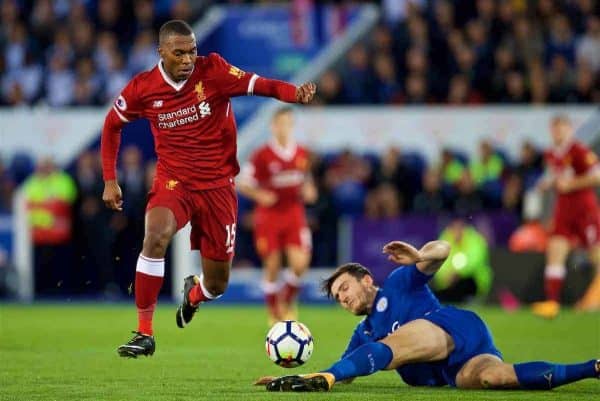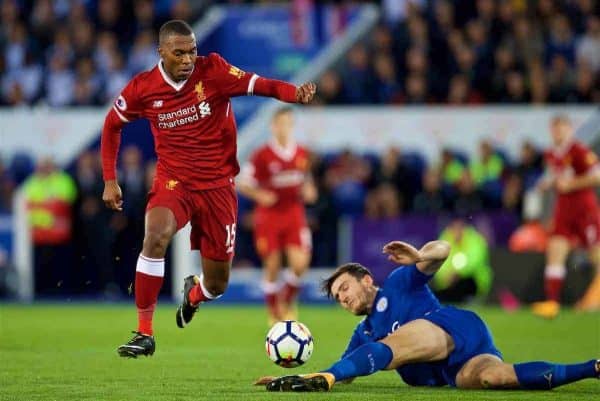 Daniel Sturridge, James Milner, Alex Oxlade-Chamberlain.
Fan favourites or not—and those three Englishmen split opinion like few others—gone are the days of bringing on a David N'Gog, a Milan Jovanovic or other hopeful prospects or squad players are at an end for now.
Liverpool can call on experienced international players from the bench, players who have proven they can perform at the elite level over a period of time.
And it's up to those same players to offer something to the team and work their way into the XI.
That's the upward spiral of how competition works and can improve a team, and consistency along with impact must be noted and rewarded, as suggested above.
Sturridge in particular made a strong case against Leicester, running the channels and keeping the pressure on the Foxes' back line, fashioning a few shots and assisting Henderson for the winner.
More of the same, and from a few team-mates, and it can only bode well for the Reds.
Bad Decisions Against the Reds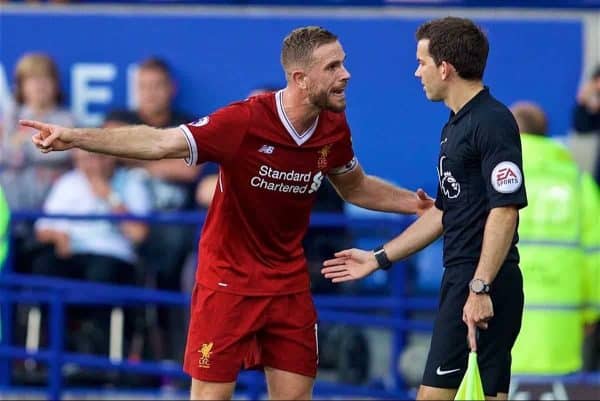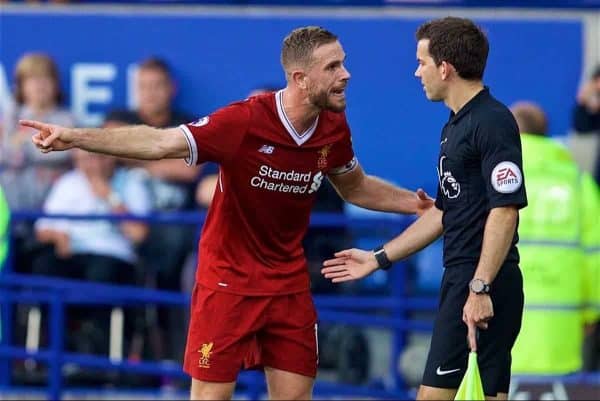 Not for the first time this season, questionable decisions went against Liverpool at the King Power when they might otherwise have benefitted the Reds.
Okazaki's goal just before the break was clearly contentious, with the forward fouling Mignolet and Joe Gomez also held back on the initial header, but the strike stood.
There was a potential offside call for Vardy's goal too, a definite touch on the ball from Mignolet in the challenge which resulted in a penalty and plenty of other in-game calls which went Leicester's way.
The look on Klopp's face when a last-minute free-kick went Leicester's way after a delayed reaction from an Oxlade-Chamberlain foul was priceless—and summed up how difficult it can be to cope with that additional pressure.
Character and resilience were required to find the points this time out, and one way or another the team found enough.
Looking to Midweek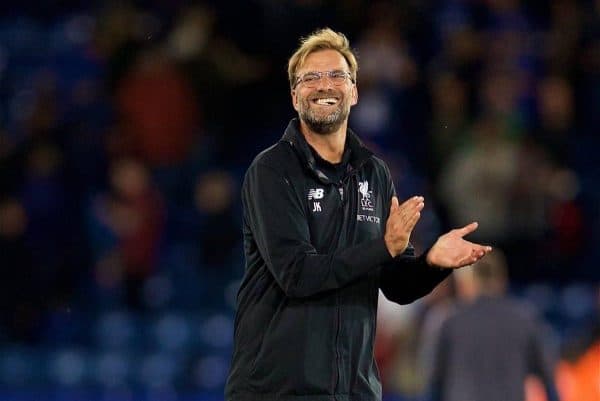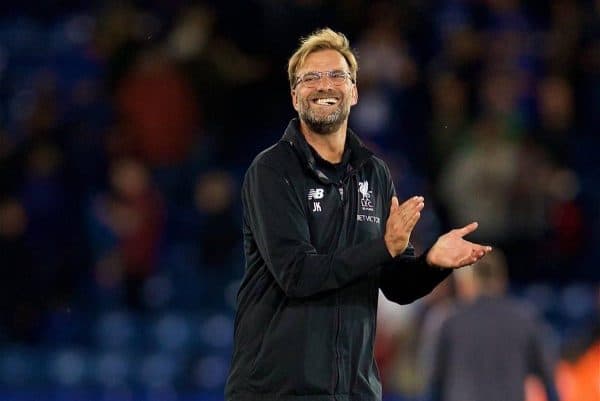 Already Reds fans know there will be at least a couple of changes for the midweek Champions League game, with right-back Gomez suspended and Trent Alexander-Arnold ready to step in, while Karius will probably replace Mignolet again in Europe, too.
But elsewhere?
The midfield just hasn't functioned well enough of late, with Gini Wijnaldum in particular guilty of disappointingly fluctuating form—so a midfield change or two isn't out of the question either.
Milner, Oxlade-Chamberlain or even shifting Coutinho infield could be options for Klopp, and none of three starters at Leicester could realistically argue they have been in undroppable form.
When Milner "played" Wijnaldums role he had 92 touches, 6 key passes, 8 passes into the box and 4 touches in the box

— SimonBrundish (@SimonBrundish) September 23, 2017
Sturridge's impact is also worthy of consideration. It's tough for the No. 15 to be assured of game time, given Roberto Firmino's importance and work rate, but Sturridge has to be in the equation somewhere along the line.
Mane will also be free of his domestic suspension to play, and a big performance from him will pose further questions about the alignment of the team when Klopp finally has everyone available.
Most importantly, it's better to have more options who are playing well than having to pick and choose between under-performers.
And that's what Klopp must cultivate this term thanks to the depth in the squad.