The media felt Liverpool's 5-0 loss to Man City was a reality check, and were critical of the Reds and Jurgen Klopp's response to going down to 10 men.
What was billed as one of the games of the season saw the Reds suffer a nightmare first defeat of the campaign.
Sergio Aguero put City ahead, but Sadio Mane's red card shortly after completely changed the game and ultimately ended what should have been a gripping contest.
Gabriel Jesus and Leroy Sane netted a brace each as the Reds tried to keep the scoreline respectable, but Klopp's men did a bad job at that with a woeful defensive display.
Anything that could have gone wrong did go wrong, and Klopp and his squad will simply want to move on from a truly dreadful afternoon as quickly as possible.
Here's how the media assessed the shock events at the Etihad Stadium.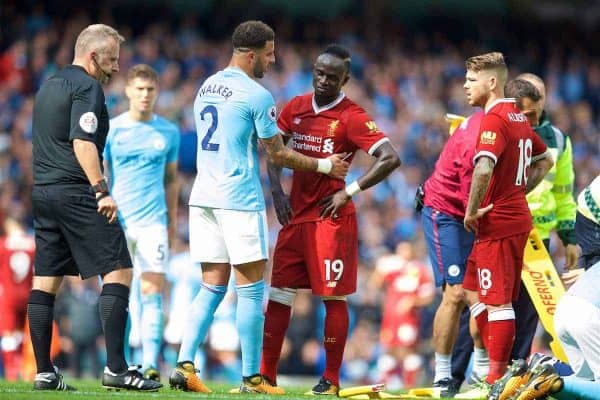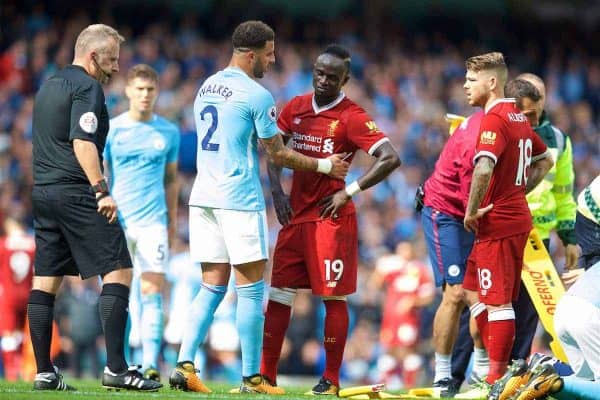 The watching journalists—who near enough all felt Mane's red card was justified—took contrasting views on the significance of the result given how the sending off impacted the contest.
The Mirror's Andy Dunn labelled it a "reality check":
"Klopp's tenure has been studded by reality checks and this was another."
BBC Sport's Phil McNulty felt the red card didn't excuse Liverpool's defensive shambles:
"The problems come at the back and were brutally exposed in the second half in a dreadful display, even given for the fact they were down to 10 men."
Meanwhile, Melissa Reddy, for Goal, felt the result was ultimately "inconsequential":
"Everything that happened afterwards, with City utterly dominant in a 5-0 win having being an Aguero goal to the good when the red was shown, feels inconsequential.

[…]

"Liverpool should have never capitulated in the manner they did, but facing City's cannonry for more than a half with 10 men is torture—especially for a side not geared to be primarily obstructive."
ESPN's Glenn Price thought the loss showed weaknesses are still "unresolved":
"But they should have found another solution, because the flaws of last season remain unresolved. Liverpool are not strong enough in the heart of their defence, with Joel Matip, Ragnar Klavan and Dejan Lovren, the latter an unused substitute on Saturday, not good enough for a sustained title challenge."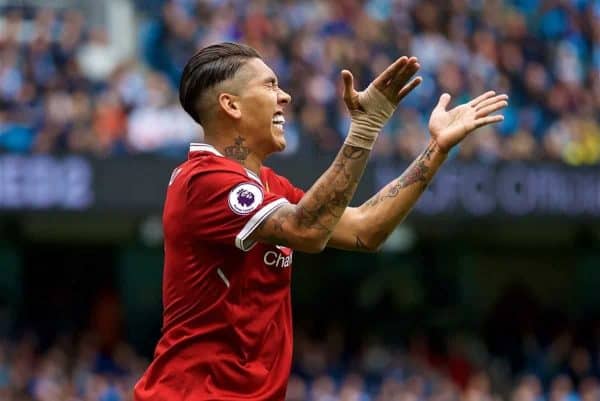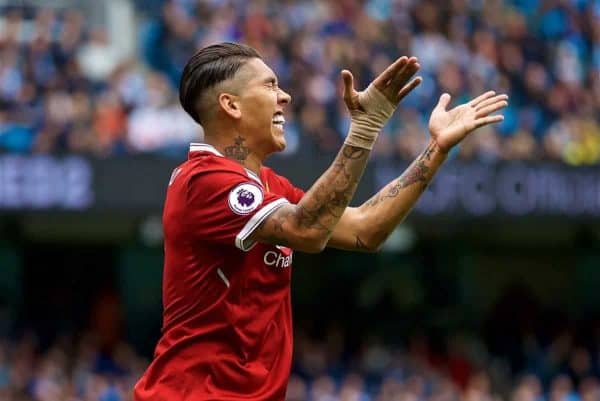 The Liverpool Echo's Ian Doyle felt the game highlighted the club's stupidity in failing to improve the defence:
"One game. That's all it has taken since the end of the transfer window to underline the folly of Liverpool having not strengthened in central defence."
The Independent's Miguel Delaney drew no conclusions from a "disproportionately distorted" game:
"The match in fact seemed so settled after the eight-minute spell just before half-time when Liverpool went down to 10 and City subsequently 2-0 up through the effervescent Gabriel Jesus that it even felt like Jurgen Klopp had decided to declare and look ahead to Sevilla in the Champions League on Wednesday.

[…]

"That was why the Mane red so disproportionately distorted the game, even if it is difficult to complain that he had been dismissed."
However, ESPN's Mark Ogden, in an over-the-top assessment, felt the game ruled Liverpool out as title contenders:
"In losing 5-0 at the Etihad, however, Liverpool failed to display their credentials when it comes to showing grit, tenacity and stubbornness.

[…]

"By contrast, Liverpool have still to show that they can win or even draw 'ugly'. Until they do, they cannot be considered genuine title challengers."
In a more sensible outlook, Doyle thinks the result doesn't rule Liverpool out, but shows need for improvement:
"But while the Reds' 4-0 victory over Arsenal didn't confirm them as title challengers, to this heavy reverse doesn't preclude them from the championship argument just yet.

"Klopp and his players cannot forget this loss. Lessons must be learned, yes, but they also cannot allow confidence to be affected, as difficult as that will appear right now."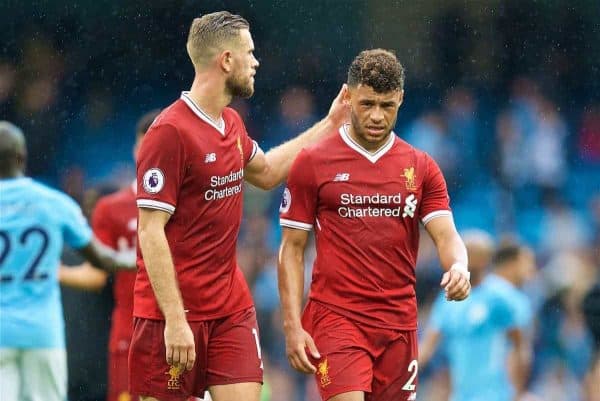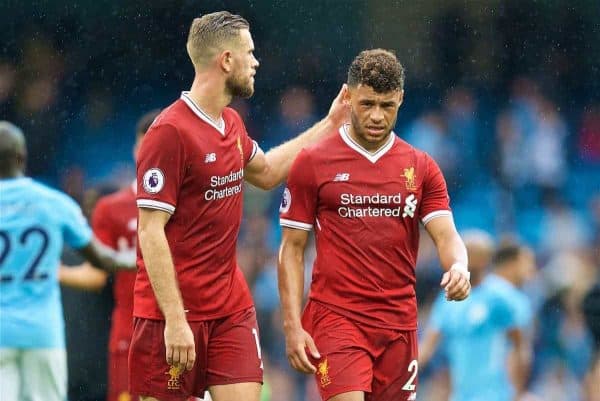 Reporters were critical of Liverpool's response to going down to 10 men—in particular over the lack of steel and fight in the performance thereafter.
Ogden assessed the Reds "capitulated in the worst possible way":
"They could not defend in numbers, but they also failed to give City any concerns in an attacking sense when chasing the game, so they capitulated in the worst possible way."
Doyle criticised senior players for "disappearing into their shells":
"What wasn't acceptable was the way in which the Reds seemingly waved the white flag during a painful, painful, painful second half.

[…]

"When the going got tough, too many Reds players disappeared into their shells."
The Guardian's Daniel Taylor thought Klopp's men had "no idea" how to shut the game down:
"There is a way of playing with 10 men and this was absolutely not it.

[…]

"They had little or no idea about what was required for a side in that position and, unfortunately for them, they were not playing a team that was going to exhibit any form of pity."
This Is Anfield's Karl Matchett was critical of the Reds' lack of organisation and desire:
"After the lengthy stoppage due to Mane's red card, the Reds weren't organised, weren't strong in trying to get to the half-time interval without further damage and the second half was largely a walkover.

"Klopp switched from a brief four-man midfield to a 3-5-1 variation after the break, but even at 3-0 down there were too many gaps in midfield, too many trying to surge forward and leaving gaps, too many not working hard enough."
Meanwhile, Price felt the Reds lacked the personnel needed to close shop:
"Once Mane was sent off, Liverpool should have set out on a damage limitation exercise and put up the shutters. However, they were unable to do so because they lacked the personnel at the back and in midfield, and City's goals flew in unchecked."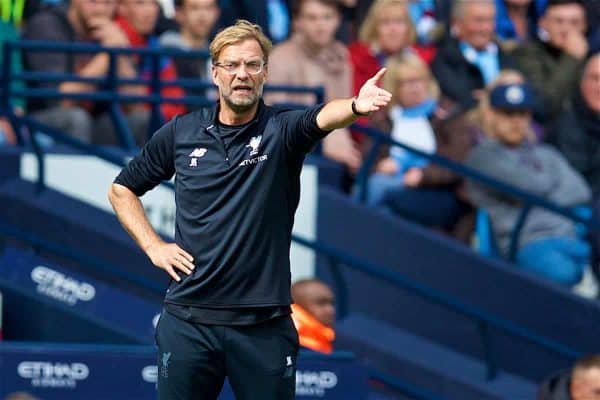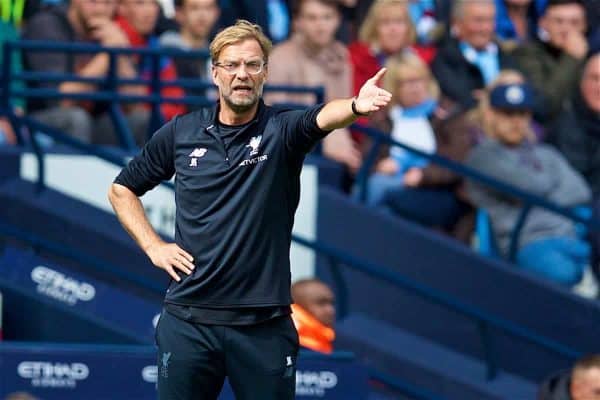 There was criticism for Jurgen Klopp in post-match reports, with numerous journalists blasting the boss for giving up—which many felt rubbed off on the team's performance.
Dunn attacked Klopp for essentially throwing the towel in:
"King of the touchline histrionics, he retreated to his bucket seat, hiding any culpability behind the dastardly Jon Moss.

"He was beaten a long time before Leroy Sane ignored Liverpool's white flag and administered two flamboyant lashes of the whip."
Ogden was one of those to criticise Klopp's changes, particularly the withdrawal of Mohamed Salah:
"But while some teams, some coaches, smell the danger and put up the barricades when down to 10 men, Jurgen Klopp failed to act quickly or decisive enough to prevent his team from sliding to their heaviest defeat in Manchester in 70 years.

"By substituting Mohamed Salah with Alex Oxlade-Chamberlain at half-time, the Liverpool manager attempted to make his team more solid and difficult to break down but, in doing so, he simply took away the pace that would have enabled his side to defend in number and hit City on the counterattack."
ESPN's Steven Kelly thought Klopp was "tactically naive":
"Poor defensive selections gave City no respect and Liverpool paid the price. Jurgen Klopp can argue all he likes about the red card but his team's inability to be professional and achieve damage limitation exposed a tactical naivety."
Elsewhere, the Liverpool Echo's Neil Jones assessed the back four as not good enough, and criticised Klopp for failing to improve it:
"Quite how Liverpool arrived into a game against a Premier League heavyweight, four weeks into the season, with a defence like the one they fielded here, is anyone's guess. It looked a brittle line-up, and so it proved."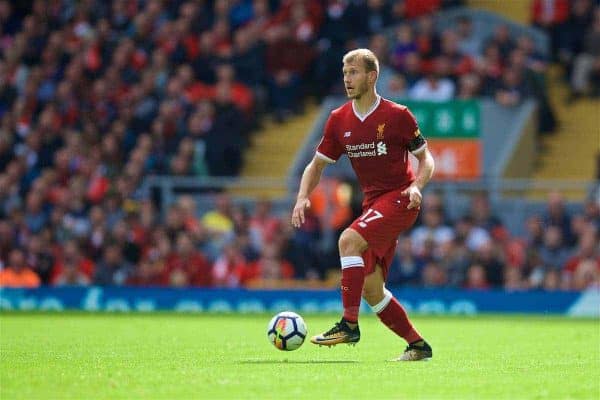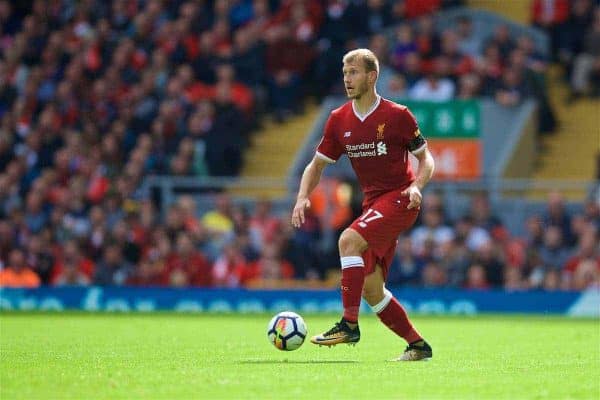 Reporters offered verdicts on individual performances at the Eithad Stadium, with criticism coming for a host of Reds—but Ragnar Klavan more than most.
This Is Anfield's James Nalton thought Klavan was poor and expects Dejan Lovren to return:
"Despite a good early block on De Bruyne, he went on to have a torrid time on his return to the side and looked uncharacteristically uncomfortable on the ball.

[…]

"Never really recovered from his early errors and you'd expect Dejan Lovren to start the next game."
Matchett feels Klavan needs to produce more reliable form given his importance as a stand-in:
"A fair enough change, but the Reds need stand-ins to step up and produce a big performance when called upon…and it didn't happen with the Estonian.

[…]

"In truth none of the back line was impressive for Liverpool, but a third-choice centre-back plays a big role across the course of a season, given the importance of position and amount they could play, and Klavan failed on this occasion to produce."
McNulty questioned Klavan as an adequate go-to option and the quality of Liverpool's centre-backs:
"Liverpool could not add Southampton's Virgil van Dijk in the transfer window and it has left them short, with Ragnar Klavan's replacement of Dejan Lovren a sign of Klopp's uncertainty about that position.

"It is a vulnerability that, for all their exciting attacking options, could seriously undermine Liverpool."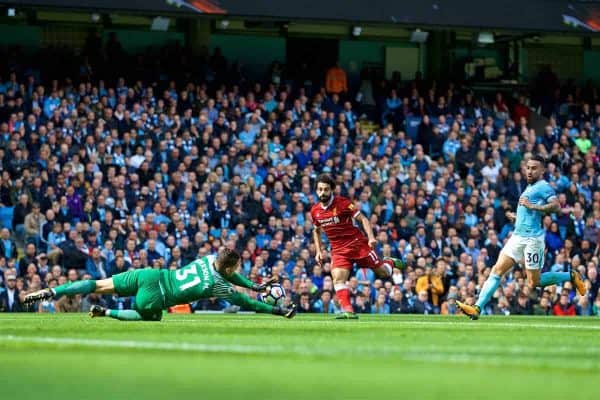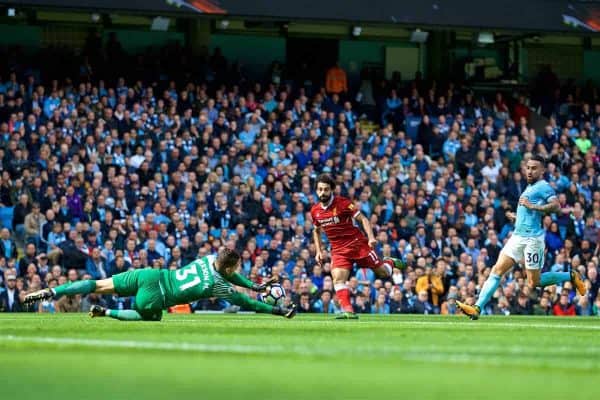 Matchett rightly bemoaned Salah's wasteful finishing:
"There's no question that he has been anything other than a positive addition, but his finishing in one-on-one situations still leaves something to be desired.

"The Egyptian has, not just against City but in previous games too, sent his attempted curling shot far too close to the goalkeeper, allowing an easy save. The biggest positive is, of course, that he's there and able trouble teams so frequently, but those chances need finishing."
Kelly criticised Trent Alexander-Arnold, labelling the right-back "out of his depth":
"Out of his depth in a major way, so perhaps people can now rein in their expectations of what is after all a youngster. Not keeping tight on Kevin de Bruyne before the Belgian crossed for the second goal was just one of numerous errors. Received no protection whatsoever, but that's an easy cop-out."
And he also pulled no punches on Georginio Wijnaldum, labelling the Dutchman "invisible":
"Largely invisible, still a thorny problem between good home form and irrelevant away performances. Lucky to last 58 minutes, despite his team being reduced to 10 men. Might be cruel but some fans feel Liverpool are always down to 10 men away from home."