Entertainment and optimism mixed with frustration and despair: just another 90 minutes in the life of Liverpool Football Club.
Excitement does not directly equate to success.
It's not fun to read, but it's something Liverpool are going to have to learn under Jurgen Klopp if they want to take their undoubted quality and turn it into tangible silverware.
Sevilla should be heading back to Andalucia on the back of a beating, the only points they're clocking up being frequent flyer ones. Instead they have a point taken on the road, the toughest fixture from their six over and done with and emerged from largely unscathed.
And it is only because of Liverpool's failings, the same ones as are seen on a near-weekly basis, that this has been the case.
Natural protection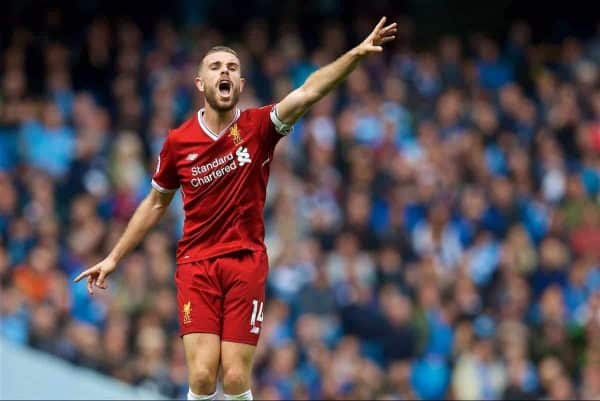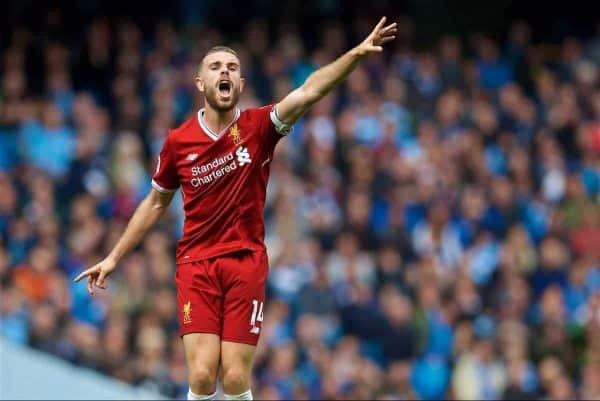 Let's get something clear: Jordan Henderson, Liverpool's defensive midfielder, is not a defensive midfielder.
The England international has forever been associated with surging runs in the channels, box-to-box work and athleticism.
It may well be that, after injuries and time away, he can't quite do it to the extreme he previously did. We don't know, we can't know, unless someone confirms or otherwise.
The point is, he's not being asked to do so any more, but instead has another, new, completely different role: sit, dictate, protect.
Henderson does it to the best of his ability—perhaps barring full fitness and sharpness, still working himself into the season—but he does not do it to the level of a natural sitter, an accomplished schemer from deep.
Positionally he may never adapt to the level of, say, Nemanja Matic. On the ball, he may never reach the metronomic state of an Andrea Pirlo. But even if he was at 70 or 80 per cent of those players, the Reds might be alright…if it weren't for other parts of the team not being at full capacity at the same time.
But there isn't just one fault with this Reds side, and Henderson being shoe-horned into the role only makes his, and others', faults show up more.
His passing against Sevilla was not of the highest order. In fact at times it was downright poor, even on simple balls into feet. It could be put down to him being yet to reach peak sharpness, but it could also be one of his limitations.
In that role, construction of play cannot be a limitation.
Simple pass map explains why Jordan Henderson should keep it simple when passing the ball.

Map 1 = all his passes
Map 2 = his failed passes pic.twitter.com/KiX5IBc1La

— ReviewFootball (@ReviewFootball) September 13, 2017
Defensive failings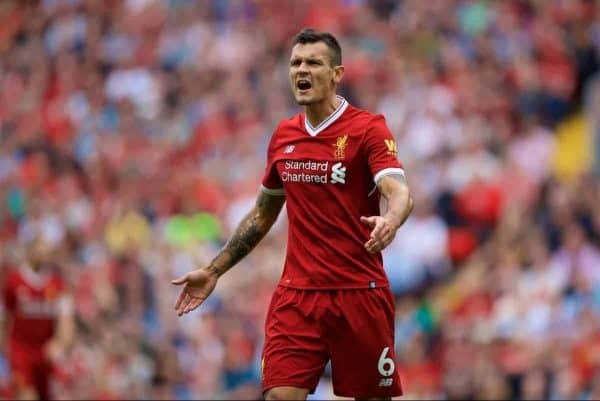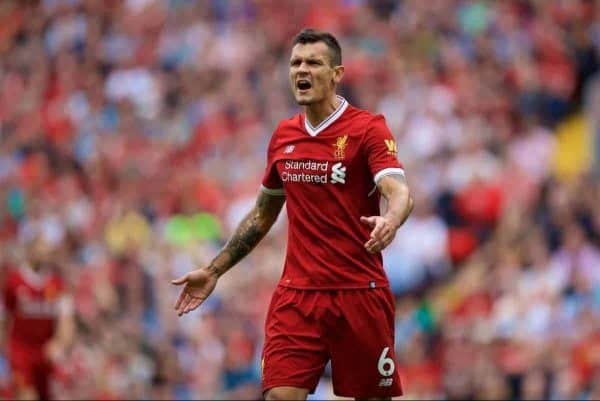 "What year is it?" demands Robin Williams' character in Jumanji when he jumped out the boardgame back into the real world.
Liverpool fans are well acquainted with the meme which has ensued from that cinematic moment, a phrase and feeling which arises with regularity after defensive mishaps borne of not having elite central defenders in place.
Daniel Agger's too-early demise and Jamie Carragher's enforced departure through retirement have left some rather large holes at the back, and a succession of "trusted" starters haven't come close to filling that void.
Martin Skrtel was aggressive but erratic at best, but Dejan Lovren has set an unfortunate new bar for individual mishaps repeated ad nauseam.
Again and again, whether in marking, technical decisions or simple concentration, Liverpool's defence has let the team down. So it was against Sevilla, with the Reds firstly failing to win a midfield challenge, then not stopping a cross, then Lovren playing his part with a mis-kick in the six-yard box.
A side which can go from clean sheets and solidity, offering promise and hope, to playground behaviour and a one-shot-one-goal ratio in conceding, is simply not one which will win trophies.
Sevilla vs. Liverpool after 75 minutes at Anfield:

3 chances created
3 shots
2 shots on target
2 goals

Clinical, if nothing else. pic.twitter.com/ORnlkqGq91

— Squawka Football (@Squawka) September 13, 2017
Consistency, even if it's boring, predictable and stale in some matches (or some spells of matches, more to the point) needs to become a part of the team's DNA.
Lack of clinical edge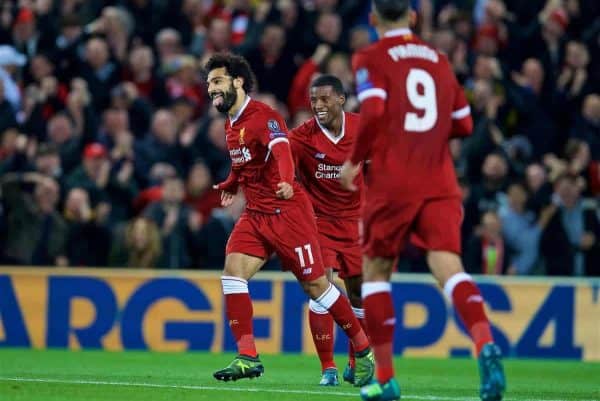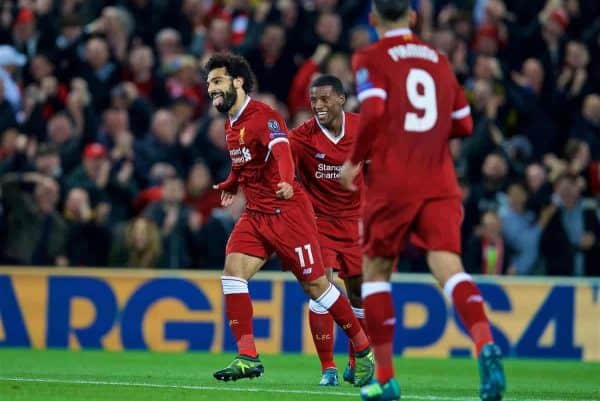 But it isn't fair to only point fingers at the deeper areas of the team.
After all, how to judge Loris Karius? The German goalkeeper conceded twice and didn't make a save…yet couldn't possibly have done anything about either goal and was commanding aerially.
At the other end of the pitch, chance after chance was spurned, a theme which has been frustratingly prevalent once again.
Jurgen Klopp spoke in his post-game press conference about "chances being the most important thing," and he's right to an extent, but it's chances at both ends. Liverpool gave up good ones that the opposition scored from, and didn't take their own.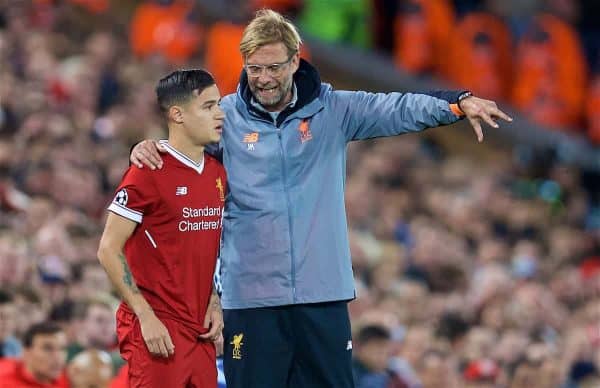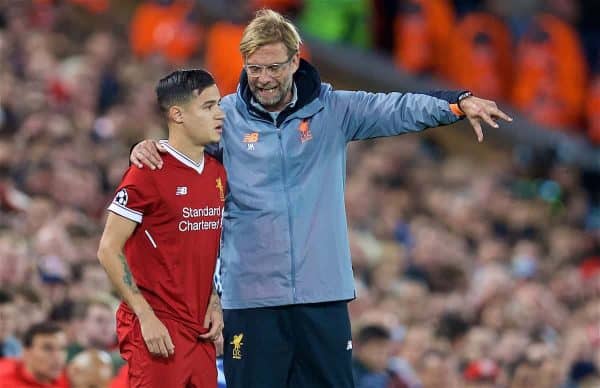 Fine, Roberto Firmino missed a penalty. It happens. He has also been one of the team's best two players in the opening weeks of the season, and netted the equaliser on the night.
Sadio Mane and Mohamed Salah both spurned opportunities, Emre Can should have buried one and there were shots from range from all angles.
Ruthlessness isn't a word associated with this side at present.
It could be, given time, but time has a tendency to ruin silverware hopes while offering marginal improvements, so there's a balance to be struck in not losing out on challenging for titles by the time the clinical edge is discovered.
Exciting football? For sure. Lightning on the break, capable of getting the crowd on their feet? Absolutely. Will win games with daring, panache, spectacular passages of play? Bet your life on it.
But all that won't add up to silverware and success unless the constant, unending, obvious, frustrating deficiencies within the exact same group of players are fixed.
There's so much going for the team, so many reasons for positivity, but a refusal to alter the parts which undermine that greatness will, quite simply, cost the side everything.