Liverpool midfielder Georginio Wijnaldum insists he and his team-mates were always confident the goals would return despite a frustrating run.
Since hammering Arsenal 4-0 on August 27 to take their early-season tally to 14 in five matches, Jurgen Klopp's side hit a barrier.
But the Holland international said it was a physical one—put up by determined opponents—and not a mental one for the squad.
Slovenian side Maribor, despite boasting a home record of conceding just four in 10 matches this season, were the opposite of determined opponents.
And Liverpool took out the pent-up frustration of scoring just eight goals in the previous eight matches—three of which came in one game against Leicester—to record a 7-0 Champions League win on Tuesday night.
Asked whether it was a relief to get the goals flowing again Wijnaldum said: "Not with me."
"We were a little bit sad that we didn't score a lot of goals [previously] as we created a lot of chances," he explained.
"The manager told us if we play like that, creating a lot of chances and [are] maybe more ruthless in the chances we get, then we would score goals.
"We just kept the belief and played how we always believed—just being more ruthless."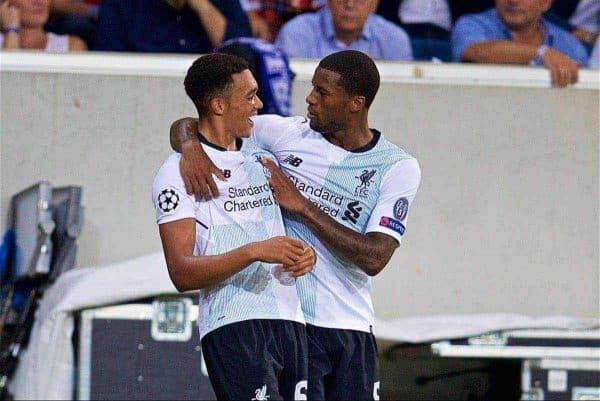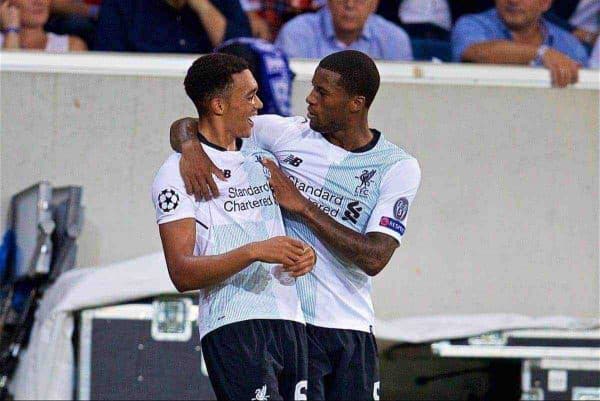 The result was a huge confidence boost heading into Sunday's trip to fellow top-four rivals Tottenham.
Gowever, Wijnaldum accepts it would naive to think they can repeat anything approaching a similar feat at Wembley.
"I am not the person to say today we scored seven and the next one we will do the same again'. Every game is different," he added.
"Every game you have to work hard and show your best to score goals and win the games.
"Against Tottenham it will be a good game but we have to wait for that."
In Maribor youngster Trent Alexander-Arnold scored his first Champions League goal proper, having already netted a brilliant free-kick in their play-off with Hoffenheim in August.
"It's always a good day when you score your first Champions League goal," he said.
"A positive side to my game is attacking and I try to do that as much as possible.
"It is always a proud moment to score for Liverpool, two Champions League goals is a really good moment for me."