Jurgen Klopp has vowed to protect Liverpool's under-fire defensive unit, but did not rule out omitting Simon Mignolet and Dejan Lovren in the future.
The Reds have come under considerable scrutiny following Sunday's 4-1 mauling at the hands of Tottenham, leaving them ninth in the Premier League.
Ahead of Saturday's visit of Huddersfield Town, who last weekend vanquished Man United at home, there have been calls for Klopp to change his personnel at the back.
Namely, criticism has come in for Mignolet and Lovren, who both produced costly errors at Wembley, with the latter withdrawn after just 31 minutes.
Speaking to BBC Sport ahead of the Reds' upcoming clash at Anfield, Klopp insisted he "would never let them down," but hinted that the duo could sit out.
"We will see," he said, with a smile, when asked whether he could take Mignolet and Lovren out of the firing line.
"That's our job and that's the world, if you find somebody who has made a mistake then we go on them. When we make a mistake ourselves we don't want anybody to realise it.
"I would never let them down, that would never happen. I hope they were smart enough not to read [the criticism].
"I'm 50, so I'm clear in my mind, but I don't read it because it makes no sense.
"If somebody says I have no clue about football, it's not right but on the other hand it doesn't help so why should we read it?
"For the boys it would be good that they do the same, but it's not the biggest problem in the world.
"We made mistakes in that game, and if people said 'yes, you made a mistake', we knew that before.
"It's only about reaction. It's always about reaction. If you don't feel well, you have to change the situation, and that's what we have to do."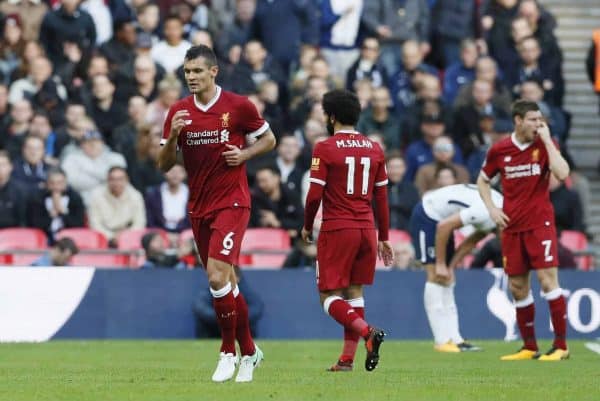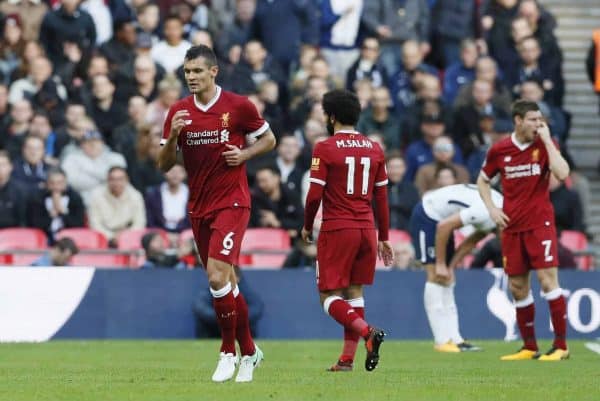 It has been suggested, by the Mirror, that Klopp will ring the changes for Saturday, with both Mignolet and Lovren dropping out.
This would see Loris Karius and Trent Alexander-Arnold take their place, with Joe Gomez shifting over to partner Joel Matip at the back and Alberto Moreno retained at left-back.
While it is highly unlikely these claims are true, given Klopp does not finalise his team selection so far in advance, his approach is clearly cautious.
It seems that it depends how the likes of Mignolet, Lovren and Matip—who Klopp said could also have been brought off at Wembley—respond in training this week.