Jurgen Klopp has explained how Joe Gomez's absence from his starting lineup in Liverpool's 3-0 win over Southampton showed his forward planning.
Gomez excelled for England during the international break, and the 20-year-old's breakout display against Brazil saw widespread calls for a move to centre-back for the Reds.
But when Klopp's teamsheet was revealed on Saturday afternoon, Gomez's presence on the substitutes' bench led to criticism.
Though Trent Alexander-Arnold performed strongly in his stead, Klopp was questioned as to his motive for leaving Gomez out at Anfield after the game.
"This will happen over the next few weeks, we will have to make decisions," he told reporters.
"Usually I don't think too much about the next game, but in this case I have to think about the next 13 games.
"I haven't already planned them, but we need to try to. We cannot play one lineup until they are all injured, we need to mix it up—even if we win games like today.
"Joe had two games in the last week and it's not a problem, he could have played today.
"But then for Tuesday I don't think it would have been a big chance or a good idea to bring him again."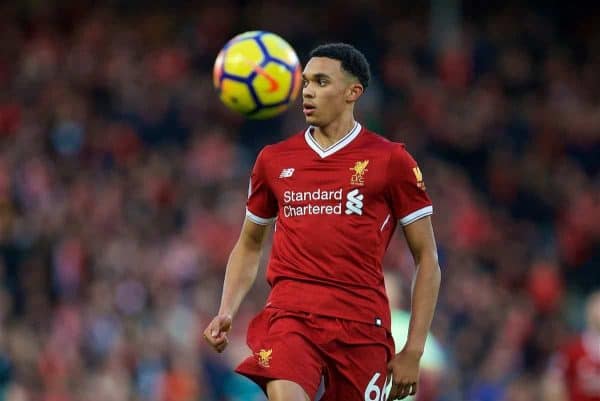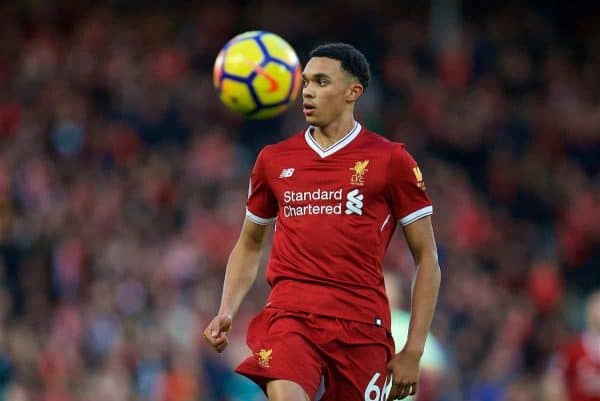 Alexander-Arnold was one of Liverpool's standout performers at Anfield, with his defensive quality at right-back particularly encouraging.
Klopp was quick to lavish praise on the 19-year-old, highlighting his development in a new role since stepping up from the U23s last season.
"We have Trent and he is another type of defender," he continued.
"When he started he was a proper winger and sometimes a defender, and now he is a proper defender and sometimes a winger and that makes much more sense for this position.
"He was really good today, it was one of his best performances over 90 minutes in defending.
"What he can do offensively everybody knows. It's good for us we have the two of them."
Klopp has regularly explained how he will rotate his two young full-backs in Nathaniel Clyne's absence, and this was no different on Saturday afternoon.
With Liverpool playing Sevilla in the Champions League on Tuesday night, and then Chelsea in the league the following Saturday in a run of 13 games in 45 days, this approach is likely to continue.
Leaving Gomez out after his performances for England will have been a difficult decision for Klopp, but the No. 12 can now come in refreshed in Andalusia in midweek.