This Sunday, Liverpool will be looking to equal a Merseyside derby record, one which has stood for almost 40 years.
As the Reds line up against the Blues at the weekend, they will be seeking extend their unbeaten run against their neighbours from across Stanley Park to 15 consecutive games.
Liverpool have not lost against their near rivals since a 2-0 reverse at Goodison Park in October 2010.
Since that defeat, Liverpool have notched up nine wins and five draws, meaning the red half of the city has enjoyed an extended run of bragging rights.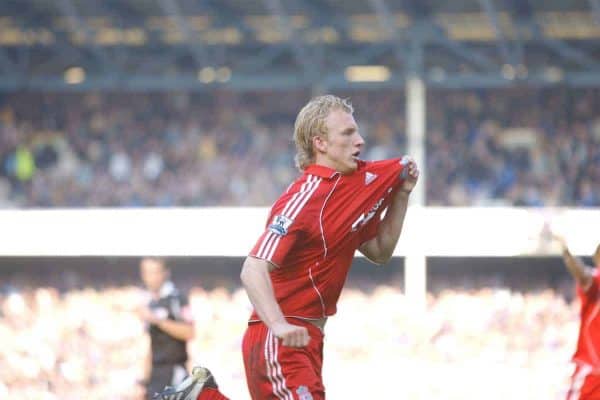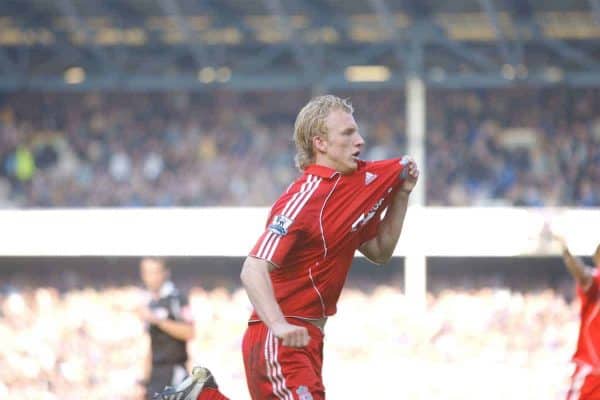 In antiquity, Everton once managed a sequence of 17 Anfield derbies without defeat, between 1899 and 1915.
During this spell they ran out winners on 10 occasions. That run ended after the blues had dished out a 5-0 hammering, in front of 32,000 at Anfield on the October 3, 1914.
It would surely have been a nightmare following the Reds in those days, had it not been for the fact that Liverpool recorded six wins at Goodison during the same spell.
Following that humiliation the Reds redeemed themselves, going on a nine-game unbeaten run, home and away, a sequence which helped them to back-to-back titles in the early 1920s.
However, the current run of 14 consecutive derbies without defeat is only the second-longest in the history of the fixture.
The previous record was set by the Reds between 1972 and 1978, in which the Reds went 15 games unbeaten.

The derby seems to have been a far less-thrilling encounter during this period though, with the sides recording eight draws, six of which ended 0-0.
Andy King famously broke the spell the Reds had held over the Toffees when he scored in a 1-0 victory for the Blues, at Goodison Park in 1978.
It was a result greeted by Liverpool supporters with sheer disbelief, and by scenes of wild celebration from the blue half of the city.
The current sequence of games can at least claim to be far easier on the eye, with 39 goals scored and only two goalless draws. Liverpool have plundered 28 of those goals, conceding just 11 in 14 games.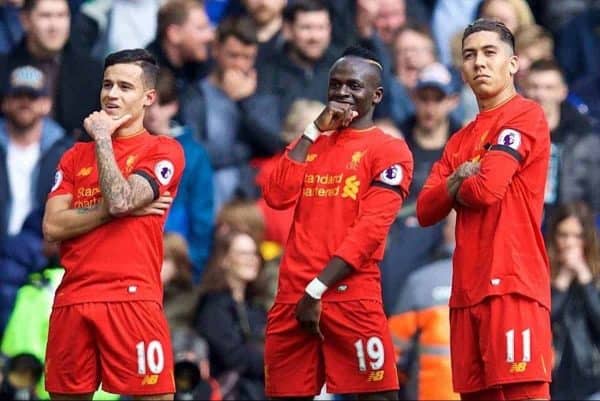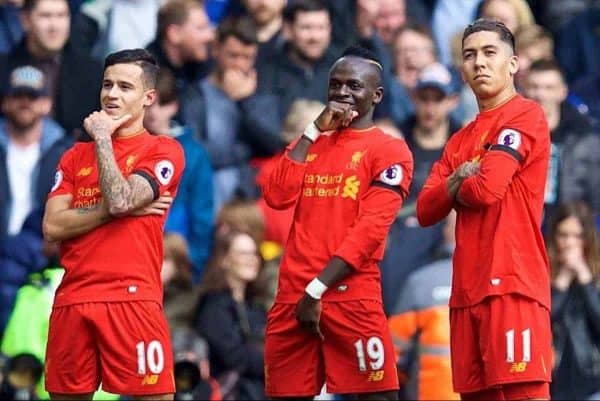 The two biggest victories during this latest spell both involved 4-0 hammerings at Anfield.
The first of these took place on January 28, 2014, when Brendan Rodgers' Liverpool overcame Roberto Martinez's Blues thanks to goals from Steven Gerrard and Luis Suarez, either side of a brace from Daniel Sturridge—who also managed to miss a penalty.
The other was a thrashing handed out by Jurgen Klopp's team in April 2016, under the Anfield floodlights.
On that night, goals from Divock Origi, Mamadou Sakho, Daniel Sturridge and Philippe Coutinho, put Martinez's Blues to bed once more.
However, perhaps the sweetest victory of all during this run was the 1-0 win at Goodison, last Christmas.
The game had been seemingly heading for a 0-0 draw when Sturridge crashed a low shot off the Everton upright. Sadio Mane immediately gobbled up the ball and poked it into the net, with what was almost the last kick of the game.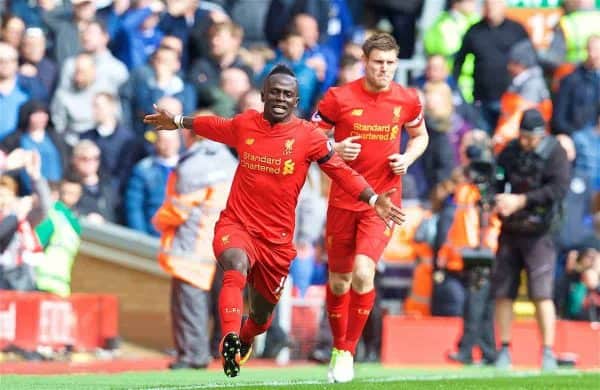 The sight of Mane and his team-mates celebrating in front of jubilant Reds supporters in the away end will linger for many years to come.
So, almost one year on from that magical moment, we'd happily take another result like that.
Having said that, this Liverpool side will surely be looking to make a statement, take the game to the Blues, and hopefully record another famous victory.
However, if they can simply avoid defeat this Sunday, they will equal a record set by Bob Paisley's Liverpool team almost four decades ago.