Busting a few ghosts from last season's visit to Bournemouth, Steven Scragg reckons this was a nailed-on win as soon as it became apparent that Philippe Coutinho was "on one."
Frustrating points dropped at home to Everton and West Brom?
What better way to shake the limbs loose again than an away trip to a location where we self-destructed last season?
The 4-3 defeat at Dean Court (I don't do sponsorship named grounds, unless they are bestowed at birth) last season was symptomatic of all which had been good and bad about Jurgen Klopp's Liverpool during his first two years in charge at Anfield.
Frightening going forward. Petrifying at the back.
Something feels different now though—in a good way.
Phil was "on one"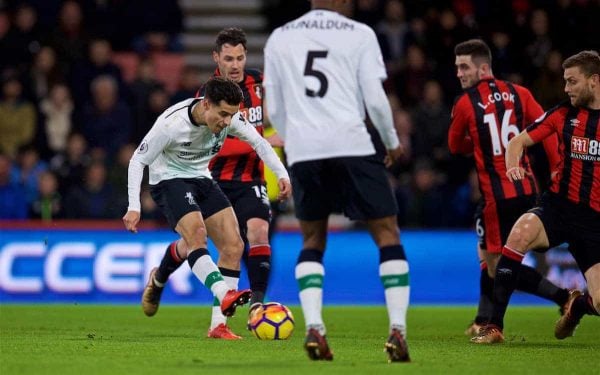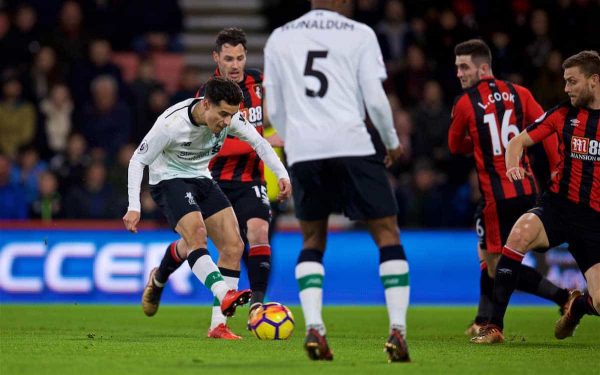 I love it when he's on one. Liverpool win when he is on one. There is a significant air to Philippe Coutinho when he's on one.
Eyes down, but chin up. Jogging away from the scene of his latest masterpiece of a goal. Poker-faced. A lack of certainty about what it means to him.
A darting move to his left, as a team-mate closes in to embrace him within celebration. Bobby Firmino usually throwing out an entertaining shape in homage to the goal.
Enjoy it while you can. We may only have a limited time with him left.
We've been here before. A star player being forced or persuaded to stay, before leaving the following summer.
If FSG and/or Klopp insist Coutinho stays beyond the summer of 2018, then we will have entered new territory. Liverpool need to give star players like Coutinho a reason to stay though.
It has to be a two-way thing.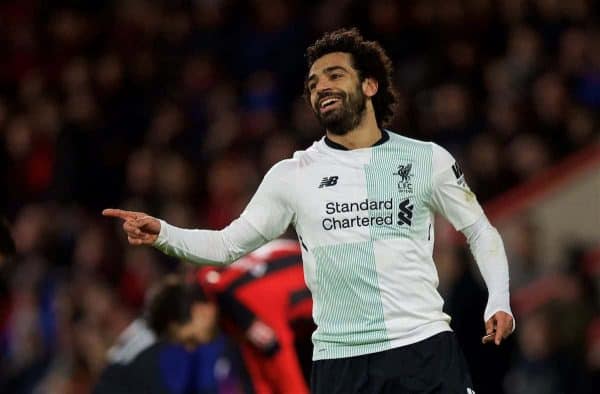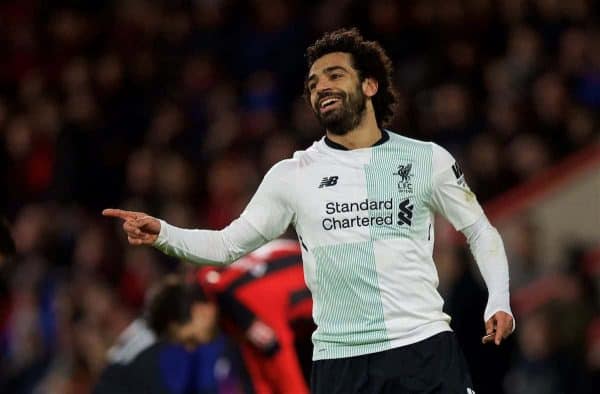 Mohamed Salah—with a 20th goal of the season—the next king, maybe already the new king of Anfield, will be the next star attraction to be mooted "for better things" should Coutinho move on.
Manchester City will win the 2017-18 Premier League title in record time. An FA Cup final win wouldn't convince Coutinho to stay.
Imagine this Liverpool winning the Champions League though.
A catalyst, a convincer for want-away stars to stay. A magnet to other, upwardly mobile stars, to join the party.
We can either aim for the moon, or continue to sit in the corner of the room.
He can play then!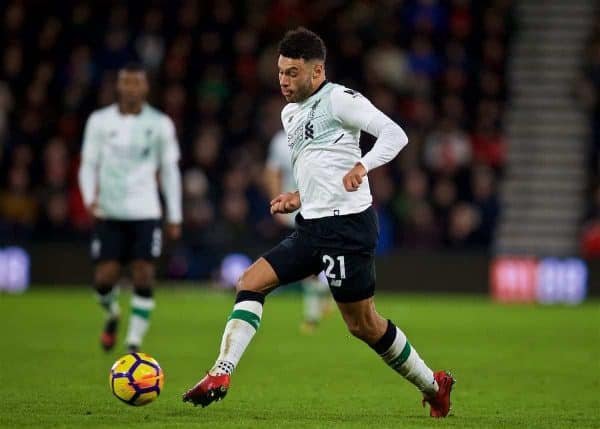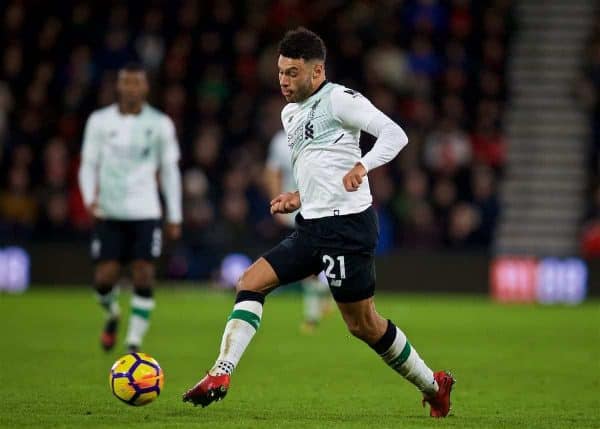 Alex Oxlade-Chamberlain is steadily turning from career enigma into a player of compelling substance.
Hardly a bombshell, but he didn't hit the floor running on his arrival from Arsenal.
In the first couple of months after his signing, it almost felt like Klopp either didn't really want him, or didn't know what to do with him.
The initial watching-brief Oxlade-Chamberlain was handed probably powers his current upturn in fortunes, in one way or another.
Grasping the nettle now that opportunities to play come his way on a regular basis, or assimilating to the ways of Klopp effectively, having taken notes on the sidelines for an extended early period?
Possibly a little bit of both scenarios.
Either way, we are definitely benefitting from the rise of a valid and effective on-pitch option in Oxlade-Chamberlain. Sometimes it even feels disappointing if he isn't playing.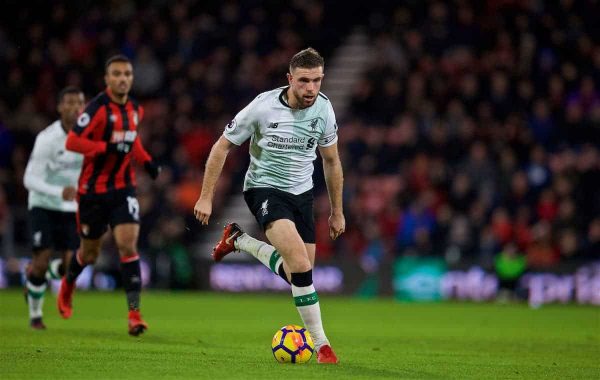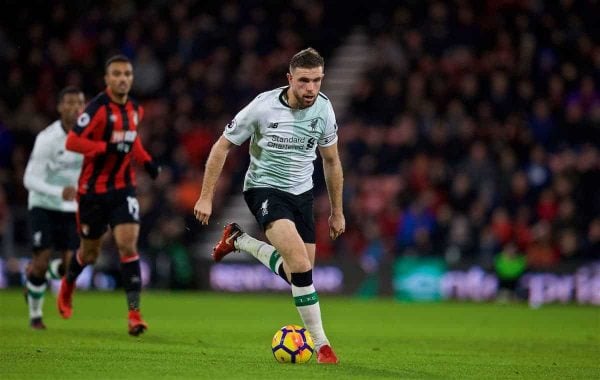 At a point in time when questions continue to surface about the suitability or future of Jordan Henderson, Emre Can and Georginio Wijnaldum, the rise of Oxlade-Chamberlain's stock is a pleasing turn of events.
No certainties of course, but the bold move would be to field him away to Arsenal on Friday evening.
While totally different types of player, the complexities of the polar situations of Coutinho and Oxlade-Chamberlain are fascinating.
The star element who is glancing at the exit-door, who we will be devastated to lose, and the footballing question mark, who strives to prove his worth, and opted to join us for considerably less earnings than he would have accumulated by staying in London.
Oxlade-Chamberlain becomes more and more likeable with each passing week.



Lovren's goal was outrageous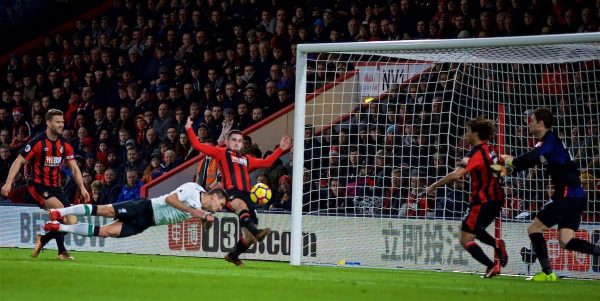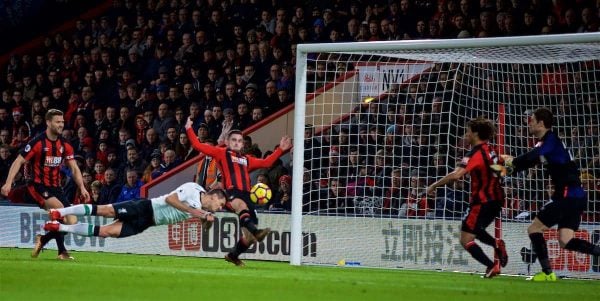 We aren't being tested defensively. We haven't had much to defend of late. How can we be crap at the back, if the opposition doesn't venture forward?
All of which have been recently floated as reposts to suggestions of the defence not causing as much cause for concern as they were earlier in the season.
In the main scare of the day, Jermain Defoe hit the post. This aside, some dives for the cameras from Simon Mignolet were the sum total of threats at the back, on a day when we could have scored seven.
So, what is different now, to the peak lunacy of a dozen games or so ago?
No Joel Matip, yet less of a panicked trigger-finger it seems. Coincidence? We'll see when Matip returns I suppose.
Dejan Lovren's goal was laugh-out-loud football.
From Wijnaldum being so high up the pitch, to Firmino keeping the ball in play, to Lovren stooping to head home.
It smacked of the type of goal you'd see on the training pitch on a Friday afternoon, when the players are freestyling for the purposes of their own entertainment.
Andrew Robertson continues to find his stride, Joe Gomez is regularly impressive and Ragnar Klavan nails the basics in a reassuring manner.
To Arsenal it is then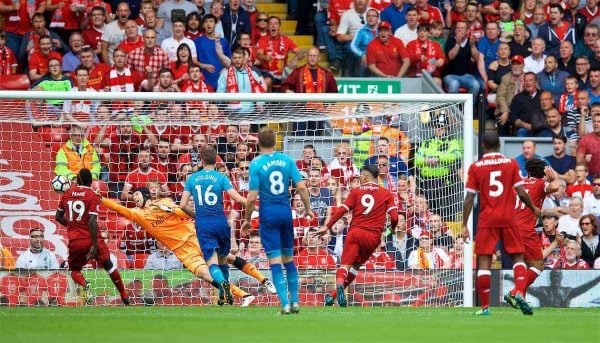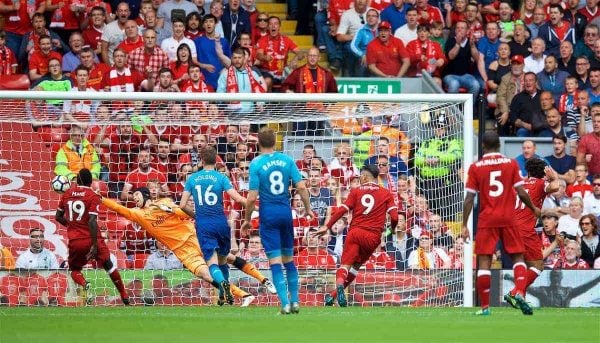 Having conceded heavily in our two highest profile away games so far, this season, at Man City and Tottenham Hotspur, we will be handed a fairer reflection of where the defence stands on Friday.
With Coutinho, Firmino and Salah all throwing out hypnotic shapes, it's now up to Sadio Mane to snap out of his perceived comparative slumber.
Mane dismantled Arsenal last season at the Emirates. I'd expect him to play there again on Friday.
It's time for him to join the escalating party.