Liverpool produced a stellar all-round performance to secure a 5-0 win at home to Swansea City on Boxing Day, with plenty of positives to take.
The Reds got off to a perfect start when Philippe Coutinho bent a trademark long-range strike past Lukasz Fabianski after just six minutes at Anfield.
But they were forced to wait until the second half to grab another, with Roberto Firmino's back-post volley kicking off a half-hour blitz in front of the Kop.
Trent Alexander-Arnold netted his first Anfield goal with a rising strike that went in off the bar, before Firmino added his second and Alex Oxlade-Chamberlain sealed the win late on.
This victory extended Liverpool's unbeaten run to 14 games, but what will Jurgen Klopp be considering as he prepares for the next challenge at home to Leicester City on Saturday?
This is Anfield regulars Jack Lusby (@jacklusby_) and Henry Jackson (@HenryJackson87) and supporter Samuel Sossai (@APolitische) discussed the positives and negatives of Tuesday night's display.
The good…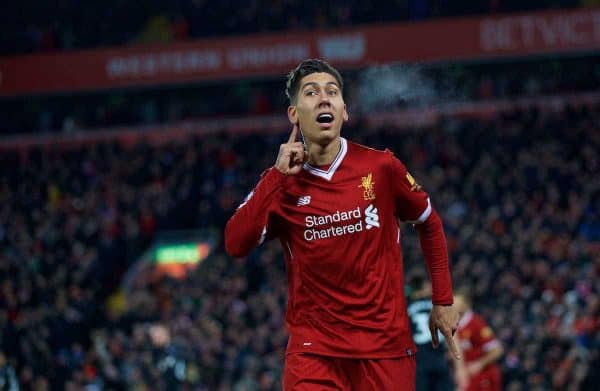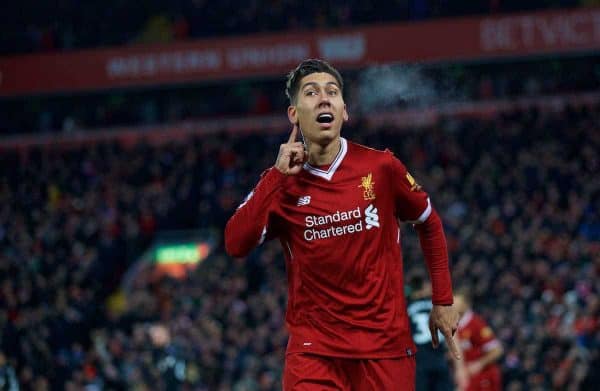 HENRY: There was so much to feel happy about, even though the first half was slightly flat.
I was delighted to see Firmino get two more goals, making it 16 for the season, as he continues to silence those who claim he doesn't score enough. He's a phenomenal footballer, and the goals are an added bonus, as Klopp has alluded to.
Coutinho was majestic, another home clean sheet was recorded—Liverpool now have the best home defence in the league in 2017/18, conceding just three times—and both Alexander-Arnold and Oxlade-Chamberlain scored their first ever goals in front of the Kop.
Some of the football on show was superb, as this team once again showed how special they can be when they click.
SAMUEL: Overall it was a good game against a very poor Swansea side.
Although we started really slow and the first half wasn't that great, we won convincingly at the end against a team we lost to in January.
And even if we had some disappointing draws this year against smaller sides, like West Brom and especially Everton, I am slowly starting to feel confident about beating teams from the bottom region.
For me that is one of the most important things we developed in the last year under Klopp, and it's mainly due to our front three.
They were once again totally dominant in every aspect of the game. Coutinho's goal was beautiful and once again Firmino showed how vital he is to our current system.
Further I was really impressed with Robertson, Trent and Oxlade-Chamberlain's performances. The latter proves to be a better signing then a lot of us expected him to be.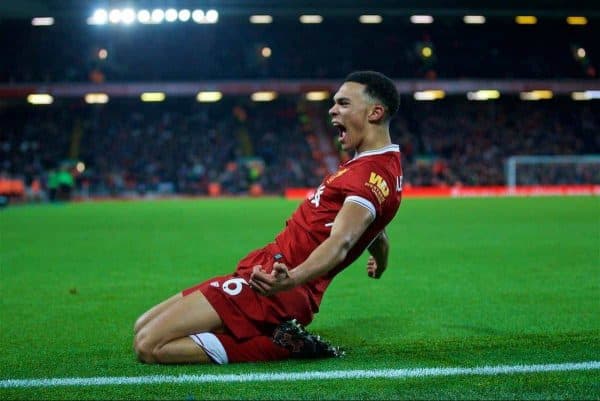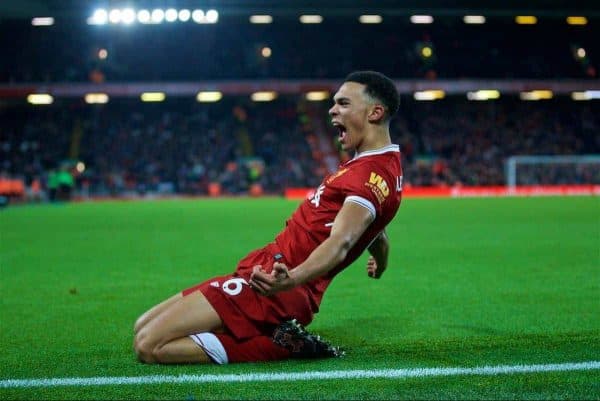 JACK: As Henry and Samuel have already mentioned, it was a top-class all-round performance which saw Liverpool show character to improve after a slow first half.
The front three were, again, majestic, and I thought Oxlade-Chamberlain in particular was excellent in midfield, while Alexander-Arnold's goal was one to treasure.
To pick up on a point not yet discussed, Klopp's ability to withdraw Firmino, Salah and Robertson in the second half due to his side's dominant performance was a major positive.
Given Moreno is set to remain on the sidelines, Klopp needs to preserve Robertson's fitness, as though Milner is a useful stand-in the Scot has developed rapidly since coming into the side.
The bad…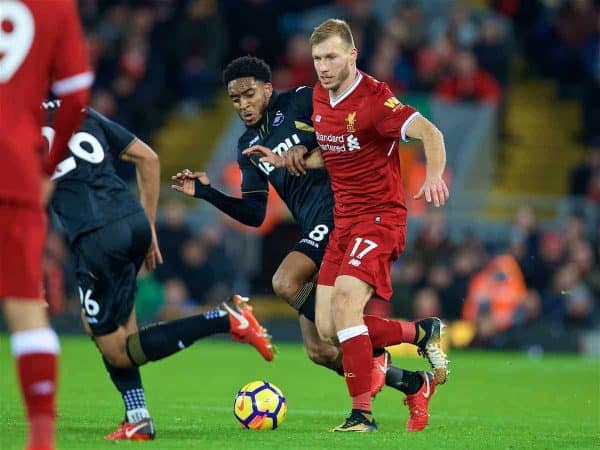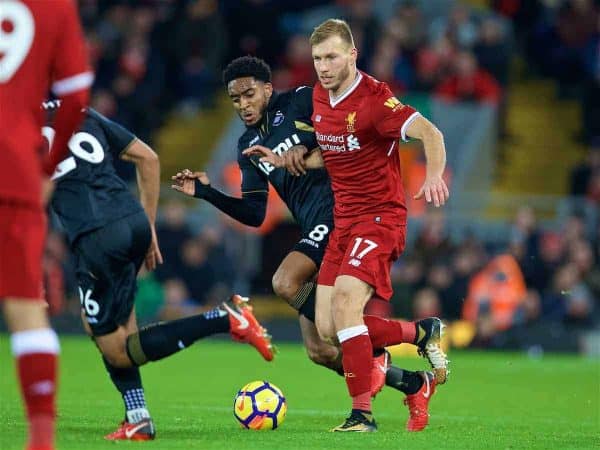 HENRY: As mentioned, the first-half performance was fairly sloppy, and it is the only real negative to take from the game.
Against better teams, the Reds could easily have been punished for taking their foot off the gas and losing the ball at will—they must learn from this moving forward.
The tricks and flicks came out too early, and if a similar approach happens against Leicester and Burnley in the coming days, the outcome could be very different. Be ruthless!
SAMUEL: Sometimes I get a feeling that we don't really have a system in breaking down deep-sitting teams or teams which are unwilling to play football.
It contradicts what I said at the beginning, but our ability this season to win against smaller sides is mainly due to outscoring them because the individual quality of our world-class front three.
It sounds overly critical after a 5-0 win, but especially in the first half we seemed really nervous at the back.
And as everyone who once played football or plays football knows, as long as you can't rely on your 'keeper you'll get nervous every time the opposition gets close to your goal.
For me we need to strengthen at the back, not only with good squad players, but with leaders who will bring calm and confidence to the team.
I'm a huge fan of Gini and Can but we also need to strengthen our midfield. As a team there isn't enough contribution and help from the midfield as you would like to see against a side like Swansea.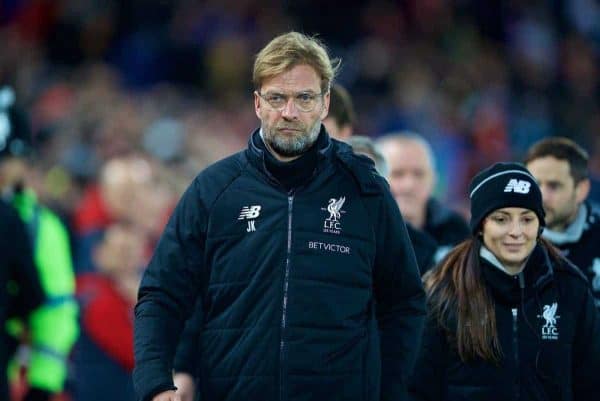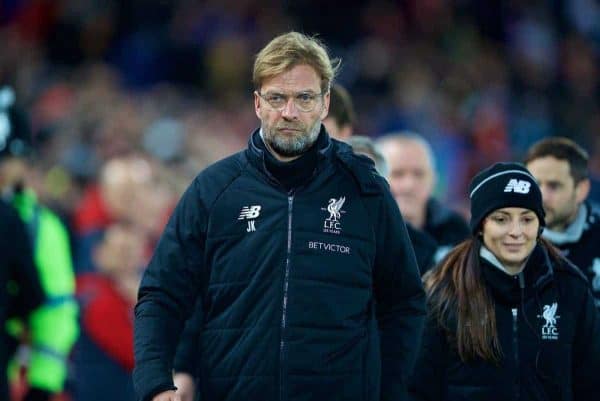 JACK: There's very little to be disappointed about following that performance, though as Henry discussed a staid 40 minutes following Coutinho's opener didn't make for great viewing.
Another bright Solanke cameo without a goal could be seen as a negative, as the 20-year-old is coming inches from breaking his senior duck to no avail.
I would expect him to start against either Leicester or Burnley in the coming days, and back him to find the back of the net if he does.
And should Oxlade-Chamberlain now be a first-choice midfielder?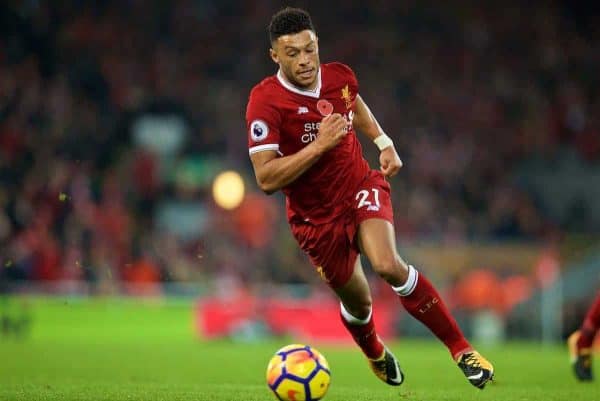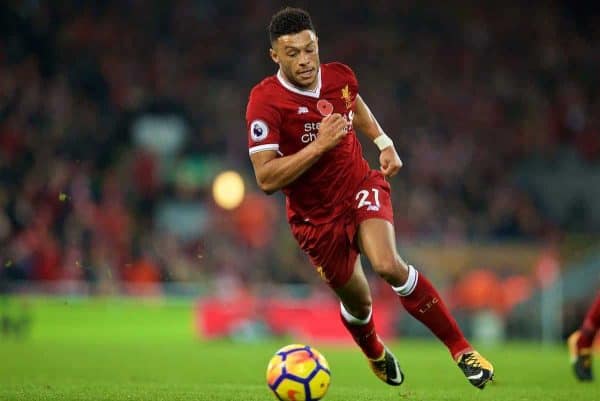 HENRY: I'm a big fan of Oxlade-Chamberlain, and always have been, but I wouldn't say he merits a regular starting berth just yet.
His form has been impressive, and it is clear that his confidence levels are rising all the time, but he still has to do more to justify being a key man.
Liverpool's best team has Coutinho at the top of a midfield three, with Mane—he will come good after some patchy form—Salah and Firmino in attack.
Let's not forget Lallana, too, who could easily leap ahead of Oxlade-Chamberlain in the pecking order if he returns to the level of last season.
The former Arsenal man is a strong, versatile option, though, and he will have a big part to play in the coming years.
SAMUEL: Ox has played really well once called up this season.
Even though some of us (including me) thought we paid way too much for him, he starts to get more and more fans on his side every time he plays.
His goal was a clear statement of his desire to play and get on the scoresheet, he didn't stop fighting even though he was surrounded by Swansea players and we were up 4-0 at the time.
And his comments after the game, saying that he wasn't too happy with his performance and could have done more, are what you want from a Liverpool player. Top mentality!
Yes, he should be a first-choice midfielder for me, but only as long as he starts in the middle. He adds way more to the squad from starting there as anywhere else.
He has well-earned the praise he gets, even if some are still underestimating his potential to be a top, top player for our club.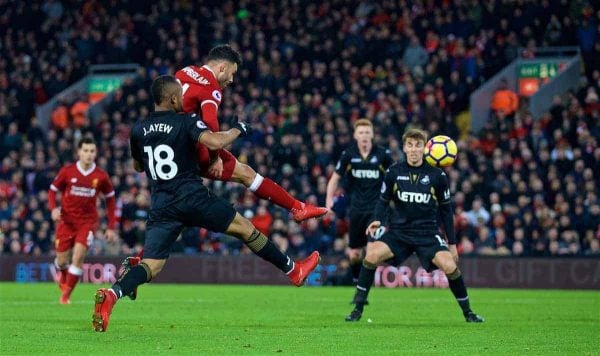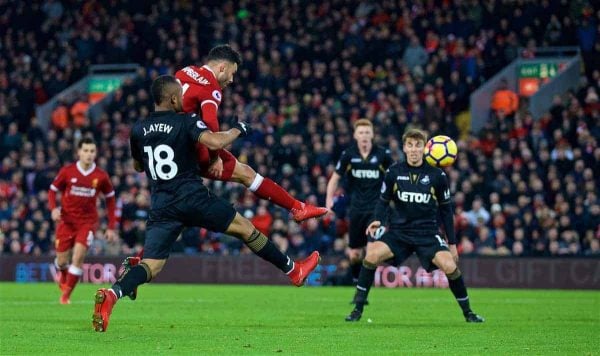 JACK: It's a difficult one given the personnel around him, but I think on current form he deserves a regular stint in the middle of the park.
Against Everton, Bournemouth and now Swansea he's shown he can shine in his preferred role, and particularly in the Merseyside derby he proved his ability to operate in a variety of duties.
The question is, as Henry says, who would make way if he broke into Klopp's first-choice group when this rotational period is over, but I'd argue that he is an upgrade on Wijnaldum in that knitting role.
Finding the balance with Oxlade-Chamberlain, Coutinho and preferably Can could prove difficult, but his performances since joining warrant a starting berth.