Jurgen Klopp's successful shift to a makeshift back three in Liverpool's 5-1 win at Brighton provides his side with another useful new system to utilise.
The Reds sauntered to victory at the Amex Stadium, with Philippe Coutinho producing a star showing on his return to the starting lineup.
Coutinho scored one and assisted three as Klopp's side secured their sixth win in the last eight games, cementing their fourth-placed standing in the Premier League table.
Victory in East Sussex was vital as Liverpool head into a busy December that will see them play eight times over just 29 days, and Klopp made six changes to his starting lineup to ensure this.
The German is regularly resting his key figures to maintain quality throughout a congested period, but Saturday saw his selection hampered by injury and illness.
Most interestingly, this saw Klopp opt for a 3-4-3 formation, with Emre Can, Dejan Lovren and Georginio Wijnaldum filling in as the Reds' back three.
And while they are far from a long-term solution in defence, the fluidity of Klopp's system against Brighton suggests this could return in the future.
Klopp's Bold Gamble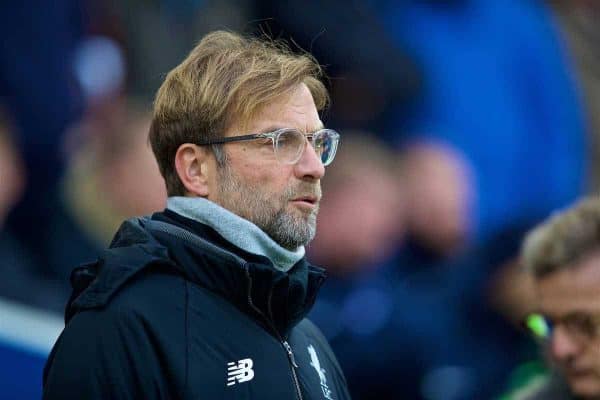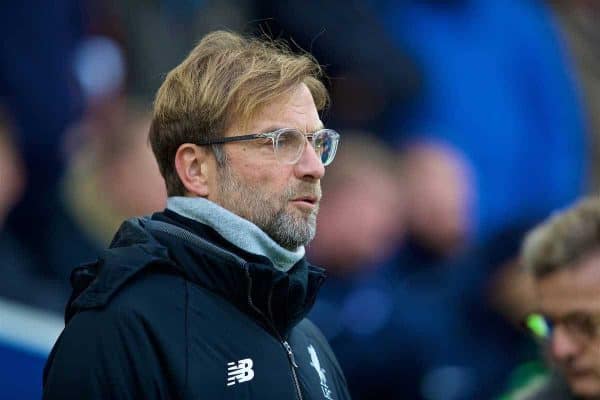 With Joel Matip sidelined until the New Year with a thigh injury, Ragnar Klavan not having trained due to illness and Joe Gomez also out with a seasonal ailment, Klopp's options were limited.
The absence of his defensive trio left Lovren, who himself has struggled for fitness in recent weeks, as Klopp's only fit senior centre-back.
Klopp even admitted after the midweek victory away to Stoke City that, if Klavan were healthy, Lovren would not have been in the squad, highlighting his precarious position.
But nevertheless, needs must and Klopp deployed Lovren at the heart of his three-man back line, flanked by two midfielders in Can and Wijnaldum.
This saw Can reprise the role that proved a hit in Brendan Rodgers' last full campaign on Merseyside, but for Wijnaldum, lining up in defence was an alien experience.
"We were training a day before the game, [Klopp] didn't tell me, he just picked the team and he told me I was at the back," the Dutchman revealed after the game.
"He picked the first XI and told I me I was at the back. Normally I am a player who can play in different positions, but never in defence."
This was evident in the opening stages, with Wijnaldum struggling with his positioning and getting caught in possession in dangerous areas, but Klopp's unit meshed quickly.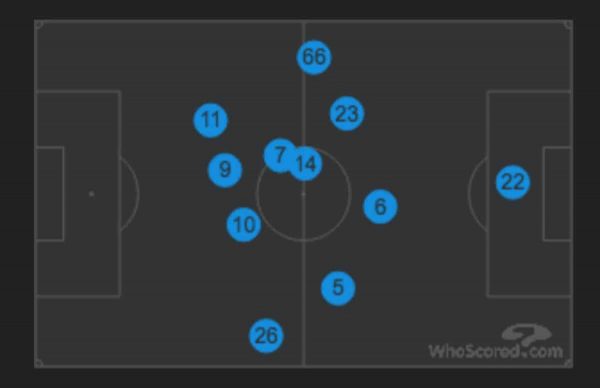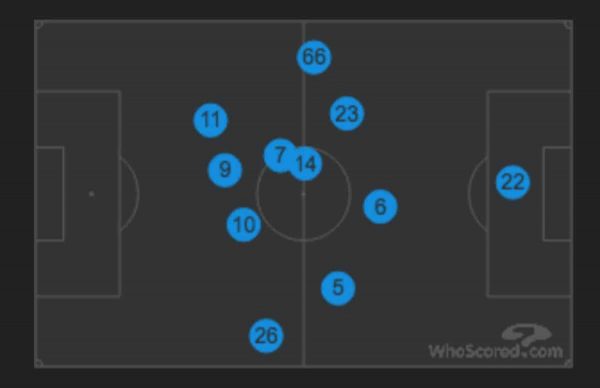 (Average positions at the Amex, via WhoScored.)
---
Lovren stationed himself as the sweeper, with his restricted role mopping up loose balls and covering for the more progressive Can and Wijnaldum suiting his attributes.
The Croatian's duty was similar to that of Martin Skrtel in Rodgers' back three in 2014/15, and going back to basics should, in theory, suit Lovren.
More interesting was the approach taken by Klopp's out-of-position duo, with Can and Wijnaldum tasked with operating on the front foot, stepping out of defence to quell danger.
Can's performance was most demonstrative of this, making three interceptions, the joint-most of any Liverpool player and the most of Klopp's three centre-backs.
A key example of this came when Can's opposite number, Lewis Dunk, made a marauding run of his own from Brighton's defence to Liverpool's half, finding his pass cut out by the Reds' No. 23.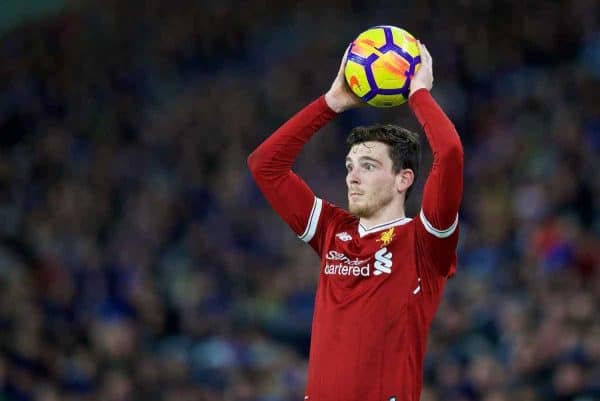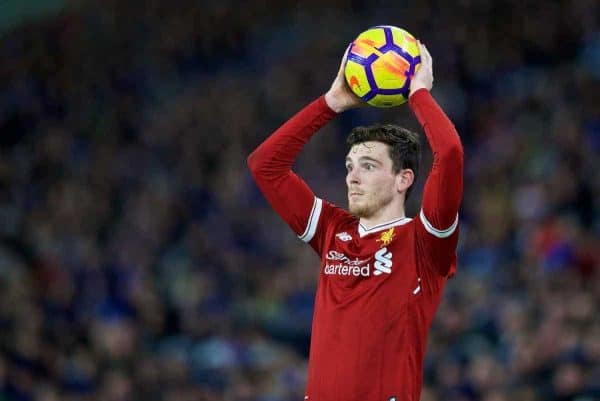 Both Can and Wijnaldum were aided by a tweaked approach from Klopp's wing-backs, Andrew Robertson and Trent Alexander-Arnold, who were far less adventurous than expected.
Liverpool's setup often saw Can and Wijnaldum more advanced than either Robertson or Alexander-Arnold, and this aided their support for the glittering likes of Coutinho and Roberto Firmino.
It was far from a perfect defensive display, but the fundamentals of the system are worth noting as Klopp continues to flex his managerial muscle.
An Expanding Playbook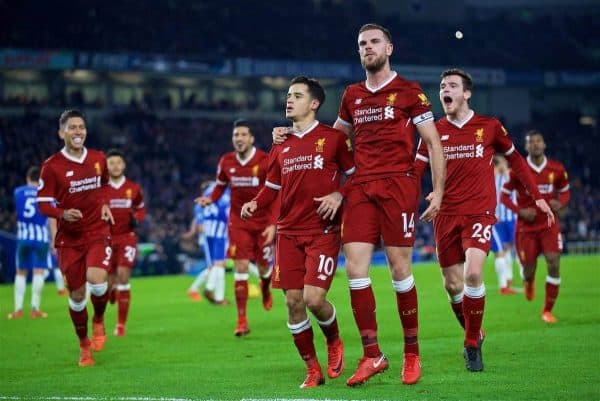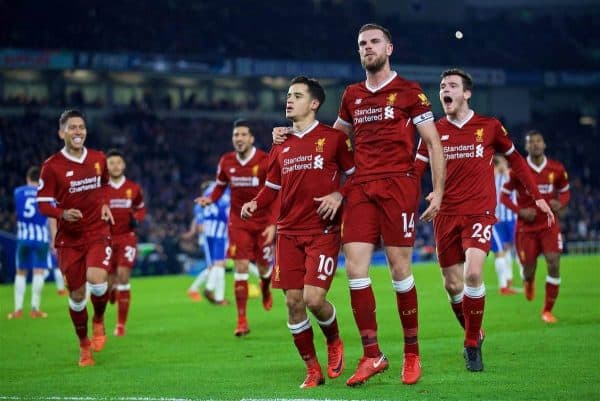 Perceptions of Klopp have wavered between pragmatic and dogmatic throughout his time as Liverpool manager, with the 50-year-old forced to defend his game management last month.
But after largely fielding a 4-2-3-1 formation in his first campaign in the Anfield dugout, Klopp switched to a 4-3-3 last season due to the successful signing of Sadio Mane.
This has remained the go-to system in 2017/18, but after his side's 4-1 humbling away to Tottenham in October, Klopp has have deviated when required.
Away to West Ham, Klopp shifted to a 4-4-2 with two deep-lying midfielders, Can and Wijnaldum, shielding the back four while Mohamed Salah took up a more central role supporting Firmino.
Klopp reverted to the 4-3-3 for the 3-0 win at home to Southampton and back-to-back draws with Sevilla and Chelsea, before his 4-4-2 returned at the bet365 Stadium in midweek.
While when the team news broke an hour before kickoff on Saturday, a switch back to the 4-3-3 seemed likely, as Klopp's side took to the field at the Amex it was clear he had sprung a surprise.
A win away to Brighton should not be considered a barometer of the success of Liverpool's new system, with Klopp telling reporters after the game that "they defend deep, that's how it is."
But the prospect of the Reds returning to a more expansive three-at-the-back formation in particular clashes is an intriguing one.
Saturday proved it can be accomplished, and Klavan replacing Wijnaldum could provide further stability, with the 27-year-old no doubt eager to return to a midfield berth.
Klopp has displayed an impressive willingness to tweak his side during the busiest period of the season, and expanding his playbook can ensure Liverpool are less predictable in the future.
Crucial Caveats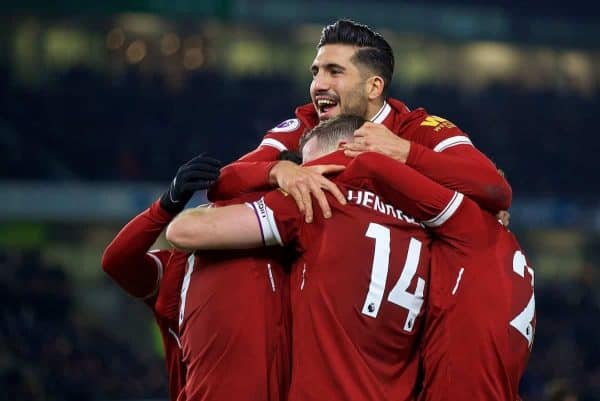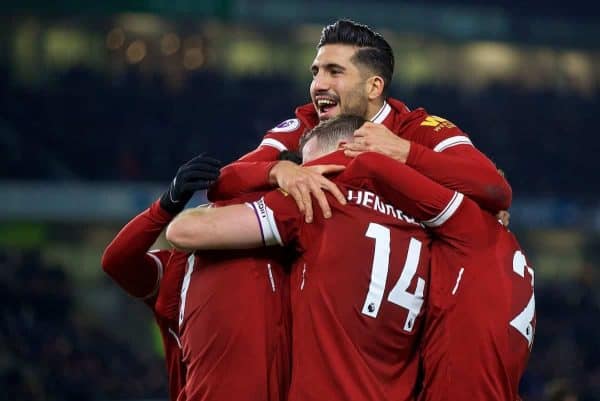 Klopp's setup in Sussex could certainly be described as experimental, but given the nature of Liverpool's performance he has avoided suggestions of papering over the cracks.
However, it is clear that a back three of Can, Lovren and Wijnaldum is not a long-term solution, nor should it even be a semi-regular feature.
It was a last resort, as Klopp alluded to before the trip to the south coast, telling reporters at Melwood that "it's not that we have a big choice to make in defence."
The reality remains that both Matip and Lovren have consistently struggled for fitness since joining the Reds, while Klavan is cemented as a firm third choice.
And with Nathaniel Clyne sidelined until February, Gomez is unable to take over duties as a regular at centre-back while he alternates with Alexander-Arnold at right-back.
This glut of withdrawals hammers home the need for Liverpool to head into the January market in search of not one, but two new centre-backs.
Virgil van Dijk remains Klopp's priority target, and negotiating a deal is certainly more feasible than it was three months ago, but the Dutchman should be supplemented by another arrival.
For now, however, Klopp is continuing to make do with the options at his disposal, and three points at the Amex underlined his ability to adapt in order to thrive.