When Man City ran riot against Liverpool in September, Steven Scragg was laughed at when he suggested the Reds would beat their torturers before the season was over.
We weren't 5-0 worth of shite against Man City when we lost at the Etihad earlier in the season.
There were extenuating circumstances, on a day when we arguably matched our opponents until Sadio Mane was sent off.
Days of Liverpool Being Underestimated Almost Over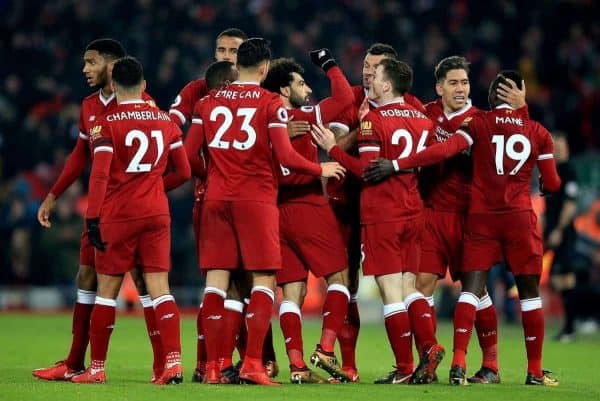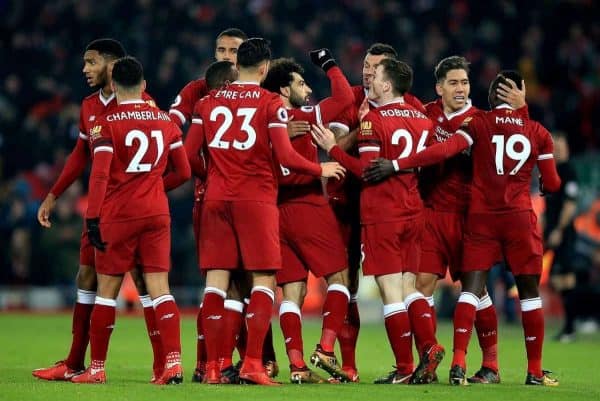 I can't remember where I heard it, but someone, somewhere within the wide world of sports media, just a few short hours before kick-off, declared that Liverpool v Man City was to be the biggest game of the season so far.
This wasn't a questioning statement, as in "could it be the biggest game of the season so far?"
Instead it was a definite classification. Liverpool no longer being underestimated, you could say?
Outside the ground we were certainly being underestimated.
"Have you heard the team? Van Dijk isn't playing," declared one fearful red.
"It doesn't matter," I insisted. "Today, we win." A solitary voice of optimism, swimming against the currents of negativity.
Almost three months unbeaten. What do we have to do before we start to believe in ourselves a little bit more?
This Liverpool can do great things. Underestimation has been a handy advantage, but one we will have to get by without before too long.
Alex Oxlade-Chamberlain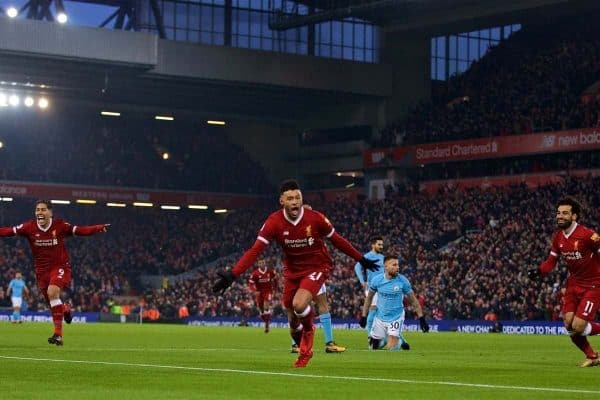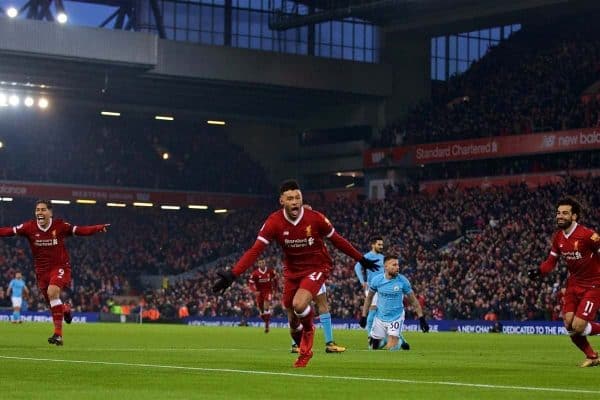 Brought on back in September at City, as a second-half substitute for his debut.
A thankless, almost counterproductive exercise, which felt like one he would have been better off being spared from.
It took a prolonged period of time until Alex Oxlade-Chamberlain was given substantial game time in a Liverpool shirt.
With each passing match where he didn't make the starting line-up, the more you wondered whether Jurgen Klopp had wanted to sign the player at all.
Four months on, and Oxlade-Chamberlain is growing in Liverpool stature at an impressive pace.
It bothers me when he doesn't start games; his movement, his vision and his relentlessness have all come as a wonderful surprise.
He scores goals in a Liverpool shirt, too. He looks brilliantly at home with us.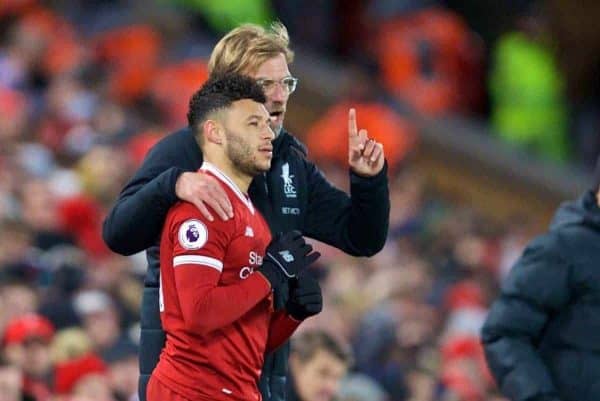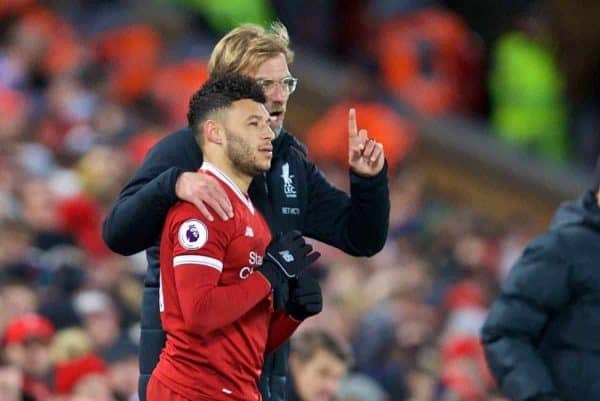 Yes, Oxlade-Chamberlain had always been 'highly regarded' but he had also provoked great suspicion.
The English disease. An English footballer being highly rated, only to fail to hit the career markers that were demanded of him. Also see Theo Walcott and Jack Wilshere amongst others.
Liverpool's midfield is going to look a bit different next season.
No Philippe Coutinho, probably no Emre Can, do we really need Jordan Henderson?
Whatever restructuring goes on, suddenly Oxlade-Chamberlain is looking likely to be the one player in which we can confidently build anew around.
Pantomime Villains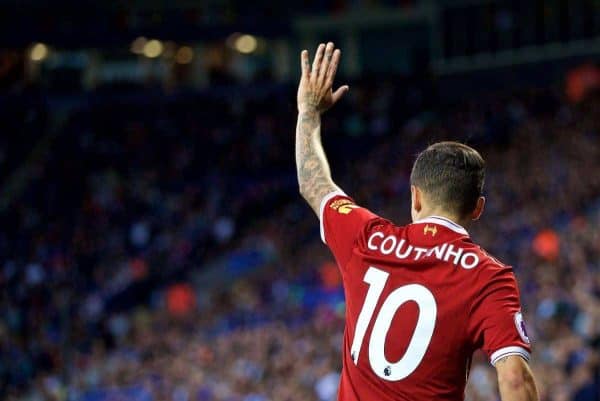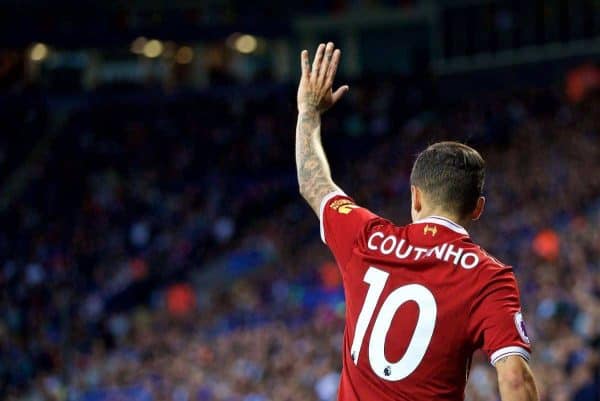 Much understandable talk had been of the exit of Philippe Coutinho to Barcelona. Wounded words of how we don't need him, of how we have better players.
Of course we would be better off in possession of a player like Coutinho than not—while we've rarely had a player better than Coutinho since we lost Luis Suarez.
We can do other things though, and during the last 18 months Coutinho has had rivals to his crown of the king of Anfield. In recent times, we have crumbled under the pressure of losing a star player.
We don't need to do that now, because just look at that glorious first goal from Oxlade-Chamberlain.
Just look at that beautiful second goal from Roberto Firmino, just look at that ferocious third goal from Mane, and just look at that fantastically outrageous fourth goal from Mohamed Salah.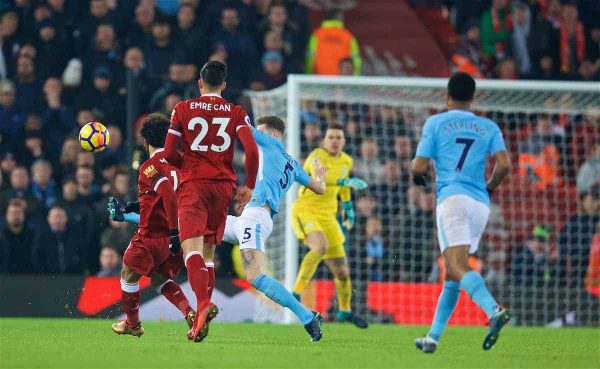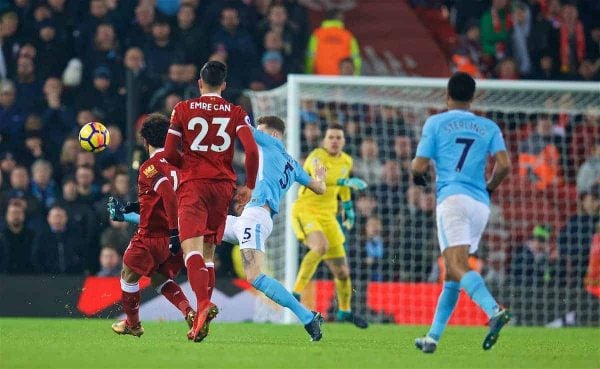 We dance when we play football.
It is joyous once more, and that will not alter in the wake of losing Coutinho.
We are going to overcome FC Porto, and then face Barcelona in the quarter-finals of the Champions League, where they are going to underestimate us, and we are going to beat them.
Imagine being sat in Catalonia, watching Liverpool dance against Man City, and not wanting to be a part of that?
We roared against Man City, we hounded them. Yes, at this distance, we won't be catching Man City in the Premier League, but they will be hoping to avoid us in both the Champions League and the FA Cup.
The biggest villain of the day was always going to be Raheem Sterling however.
Whether you elected to boo him or not—and in many ways it wasn't big or clever to do so—was it actually necessary to boo him?
Let's be honest about it; would you really cash in one of Firmino, Mane or Salah to see Sterling in a Liverpool shirt again?
Would Pep Guardiola snatch your hand off if you offered him any one of Firmino, Mane or Salah, in exchange for Sterling?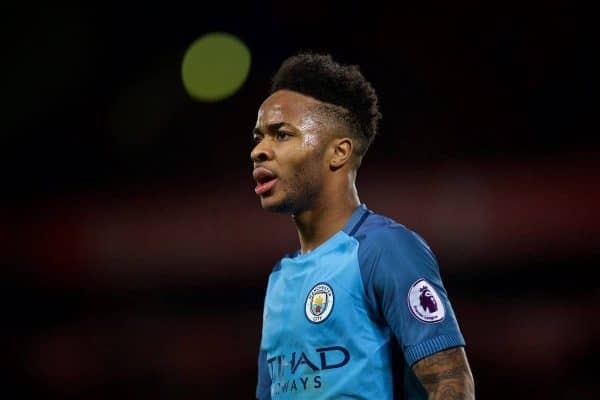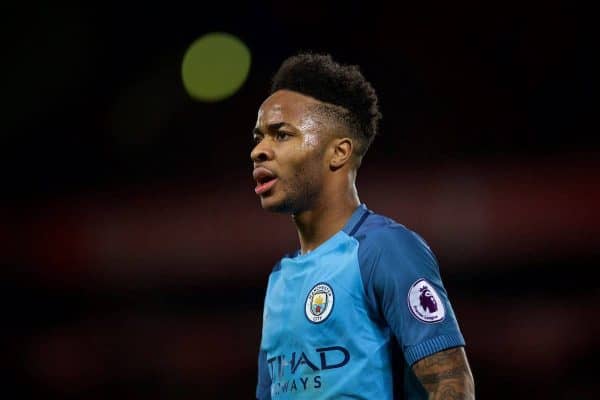 I didn't boo him, but I let out a "yeah!" here and there when he misplaced a pass, or was tackled enthusiastically.
Just like Coutinho, I don't care what Sterling does, because he doesn't play his football in a Liverpool shirt anymore.
I don't think he should stand as a figure of hate, but I don't mind him being given a rough ride when we play against whoever he plays for. Anything which gives us a potential edge is fine by me.
Man City ultimately came back into the game once Sterling had been run out of town.
Basically, this win was about us.
This win was about beautiful attacking football, it was about pressing our opponents back, it was about Andrew Robertson chasing down sky blue-shirted player after sky blue-shirted player after sky blue-shirted player.
It was about Klopp winding up the crowd in the 93rd minute to see us over the finish line. It was about proving we should never be underestimated.
Next Up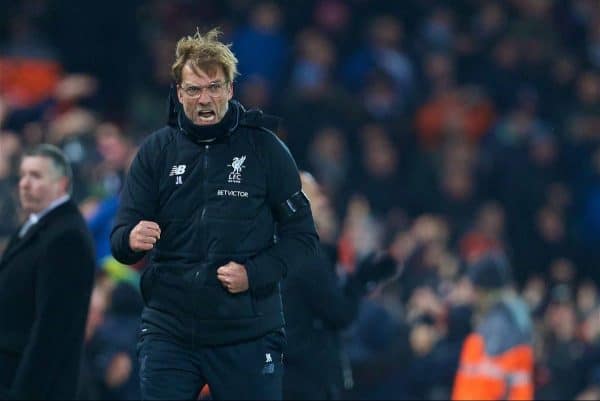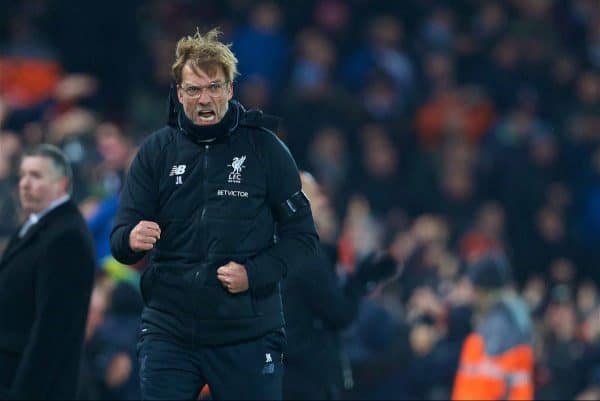 A frustrating eight-day gap between games.
Go to Swansea City and win. Reach the fifth round of the FA Cup, then win the second leg of the el Shanklyco at Huddersfield Town.
These aren't big asks, as long as we remain ruthless and focused. This will also take us into February, and up to the closure of the transfer window.
Interesting times are ahead.