Man City are in unsurprisingly high spirits ahead of Sunday's Premier League clash with Liverpool at Anfield, but a share of the spoils is being predicted.
This weekend sees a potentially memorable league meeting take place, as Liverpool welcome the soon-to-be-champions to Merseyside.
Incredibly, Pep Guardiola's side have dropped just four points all season, and their quality of football has been admirable.
The Reds are in good form themselves, however, losing just once in their last 23 games, and remaining unbeaten in the last 16.
Ahead of the game, we spoke to Man City writer and supporter Ste Tudor (@SteTudor123) to get his thoughts on both teams' season, and Sunday's clash.
Man City are cruising to Premier League glory as things stand—how much fun have these last five months been?
The takeover and "Aguerroooo!" were dreams beyond our imagination but this is another level of daftness altogether.
As a kid I used to watch the great Liverpool side of John Barnes, Ray Houghton and Peter Beardsley and imagine what it would be like to see such incredible football being exhibited by your own team each and every week.
Now I've got a greater appreciation of that.
What do you see as the key reason behind such an astonishing run of form compared to last season?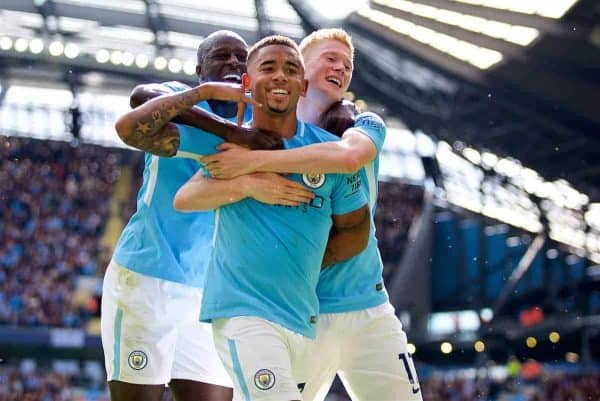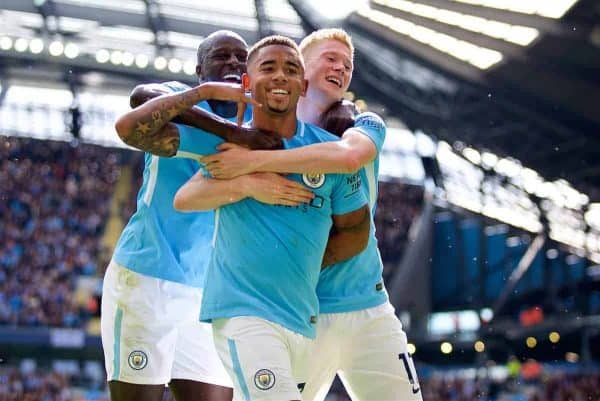 Pep now has players he can trust with his intricate, demanding blueprint.
They have the intelligence, legs and ability to make it work, whereas last season compromises had to be made to facilitate four ageing full-backs and the calamitous Claudio Bravo (who Pep brought in so that one's on him).
Who have been City's three best players so far this season, and why?
Kevin De Bruyne, for very obvious reasons. He is everything.
Raheem Sterling's trajectory has been astonishing and his absence is sorely felt when rested. His late goals have been key, too.
A left-field shout for Nicolas Otamendi is deserved, in my opinion.
He has cut out the Hollywood defending and been little short of exceptional. His passing through the lines has been vital against sides who have parked the bus.
A special word on Kevin De Bruyne—are there many better players in the world at the moment?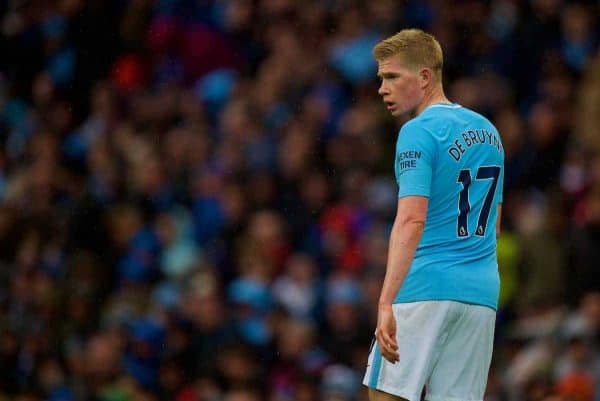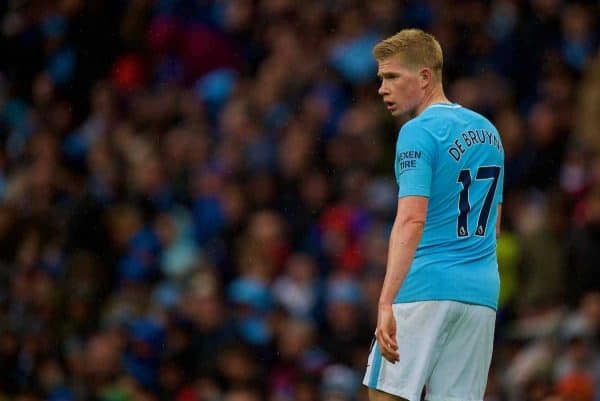 The rating of players is always entirely subjective (even in the age of stat obsession) but I don't think there's anyone out there at present who is so important and consistently influential to a title-chasing side.
Even Lionel Messi.
What have you made of Liverpool's campaign so far?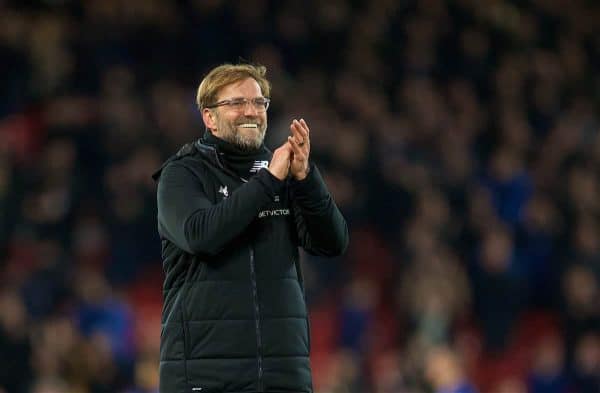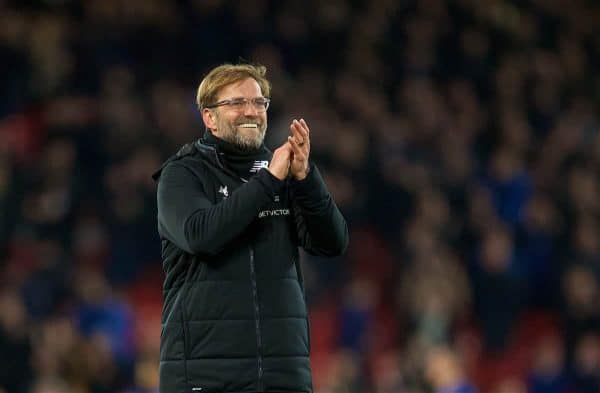 If it wasn't for City and Liverpool, this season would be boring as hell.
You're unbeaten since October yet you remain 'only' fourth. You've scored half a century of Premier League goals already, yet you've also leaked in a full third more than Chelsea or Man United.
Just don't ever change please because Liverpool are entertaining, unpredictable and exhilarating to watch. Oh, and Mo Salah is special.
If you could put one Reds player in the City team who would it be, and why?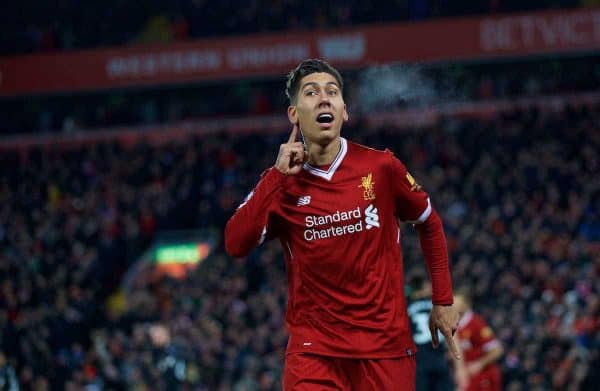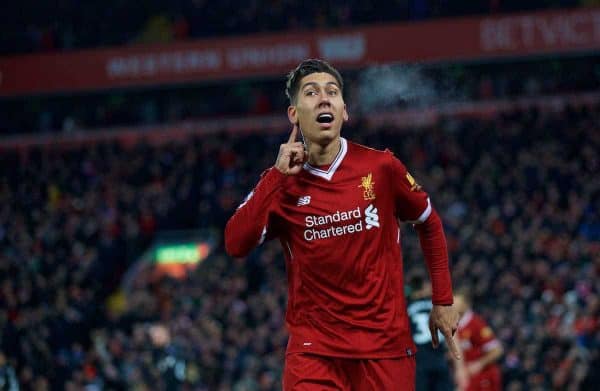 If the Alexis Sanchez deal falls through then it's Roberto Firmino every day for me. The perfect, all-round modern centre-forward who would give City something they don't presently have.
We were seriously interested in Virgil van Dijk too, of course, so he would have to be a contender.
Looking ahead to Sunday's game, where do you see the key battles taking place?
I think this will be the first occasion this season where Pep compromises a little on his principles.
It will be a familiar lineup but I can see David Silva and De Bruyne being stationed a touch deeper, with Fabian Delph and Kyle Walker being entrusted to 'invert' to central areas when necessary.
The game will be won or lost, but probably drawn, in midfield.
Of the individual battles, Sergio Aguero vs. Van Dijk stands out, as does Sterling vs. his past.
Finally, hit me with your prediction and how you think the game will pan out. Does a Premier League classic await us?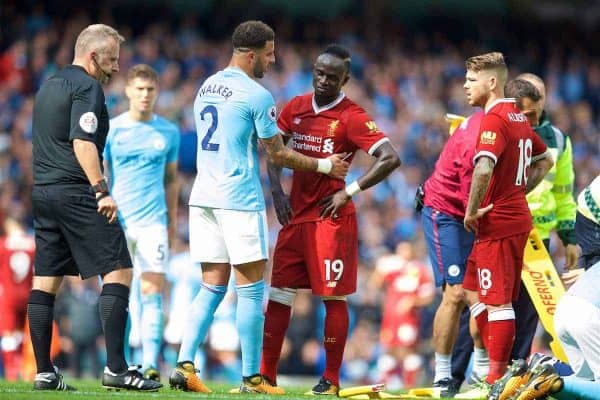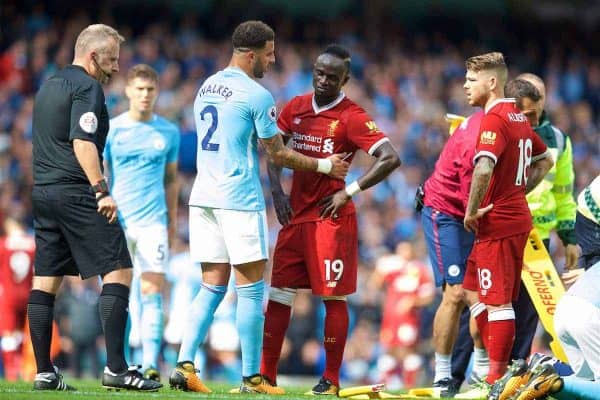 Let's hope it's not a repeat of last year—if they were still playing now the scoreline would be 1-0.
It would be fitting if it were a classic and I can certainly see goals, with both sides poor at defending set-pieces but furnished with an abundance of attacking talents.
I'm going for 2-2. You can have a late equaliser if you'd like, with us retaining our unbeaten run that would ensure both sets of fans leave happy.