Liverpool manager Jurgen Klopp has told Loris Karius it is now time for him to deliver after installing the goalkeeper as his first choice.
The German was picked ahead of Simon Mignolet for last weekend's 4-3 win over Manchester City and is set for an extended run in the side as Klopp's new No. 1.
Even then the 24-year-old was criticised for being beaten at his near post when Leroy Sane made it 1-1 just before half-time.
"It is a difficult job being a goalkeeper or centre-half at Liverpool because no-one forgives you one mistake," said Klopp.
"Obviously since I'm in [as manager] it feels like 'wow', if our goalkeeper makes a mistake it is a disaster and if any another goalkeeper makes a mistake he is still a fantastic goalkeeper and we should buy him.
"I am fine with our goalkeeper situation. Yes, Loris could have made a save for the first goal against Man City even though I thought it was a world-class finish.
"He is a really good goalkeeper and we brought him in because we wanted him to play.
"But of course Loris has to deliver and he knows that."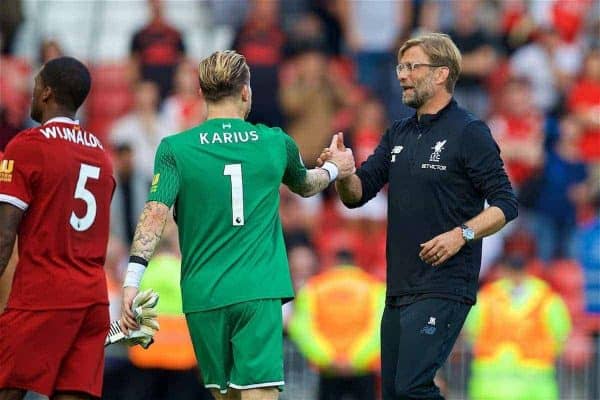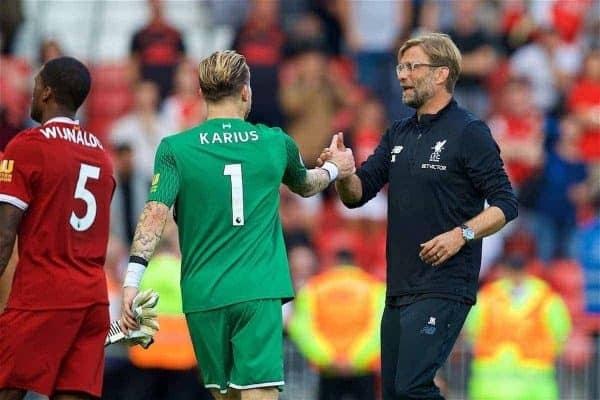 Liverpool have already been linked with a move for another goalkeeper in the summer after Mignolet said earlier this week he was considering his future at the club, saying: "This situation cannot last too long."
Klopp picked Karius as his goalkeeper for Champions League matches this season and he conceded just six goals—three of which came in 45 minutes against Sevilla—in as many games during the group stage.
However, his longest run in the side as first choice came last season when he started 10 Premier League matches in a row before being taken out of the firing line after criticism for mistakes against Bournemouth and West Ham.
At the time the Reds boss admitted he had done it to protect his compatriot from the glare of the spotlight after his mistakes were picked apart by pundits.
"I'm not interested in public pressure, I'm interested in the boy. There's no reason to push him through the situation, he loses confidence," Klopp said 13 months ago.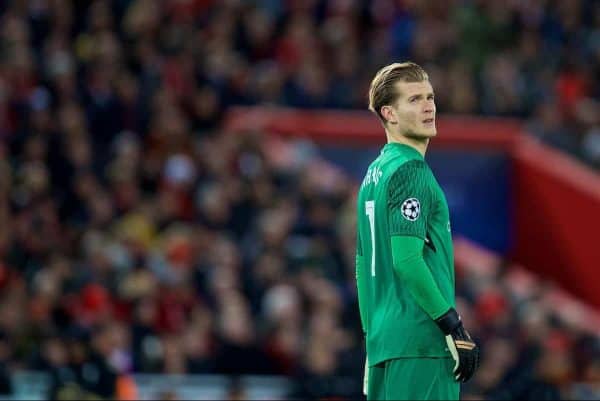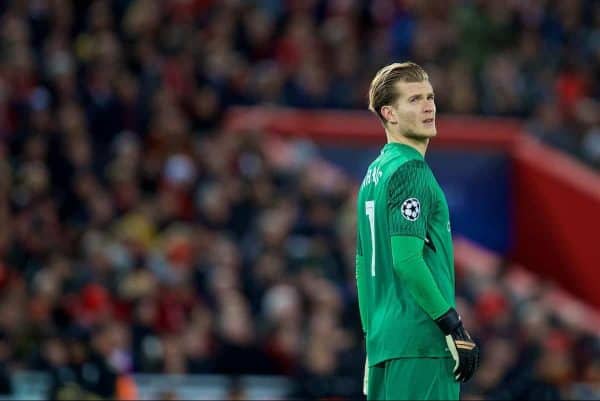 Karius did not feature in another league match after being dropped on December 14, 2016 but has started four times this season, including the wins against Arsenal and City and the FA Cup victory over Everton.
"There were a few difficulties but meanwhile he has settled as well," Klopp said.
"There are a lot of really good things in his game which are natural and I like them and now he can show them.
"We changed a lot of positions during the year not only with the goalkeeper but it looks like we have to stick to our opinions for 20 years if we have made a decision one time.
"I changed not my opinion but I changed the situation and that is all.
"He is the No. 1 and that means he can play a game and can concede a goal against Man [City]—it's not that we want that but it is possible—but all the good things I'd like to see again.
"I saw a lot of good things in the games he played in the last few weeks and that is why he is in."