What a game we have in store on Sunday. Unbeaten in 17 games, Liverpool, versus unbeaten this season, Manchester City. Alex Malone shares his pre-match thoughts.
The best home defence in the league versus the second best away attack (guess who's number 1?).
A home team unbeaten in 11 versus an away team unbeaten in 11 (they've won 10 of them). A home team who have conceded only 5 goals versus an away team who has scored 25.
To add to the intrigue, Liverpool have just lost their most creative player, while City's top scorer is an ex-Liverpool player.
Although we boast the best home defence and are unbeaten at Anfield this season, we actually have only the fifth best home record, due to 5 draws in those 11 games (interesting fact – Coutinho started in four of these home draws, and came on as a sub in the fifth).
When you consider that at home we have failed to beat Everton, West Brom, Burnley and the two teams directly above us in the league, it seems talk of a victory against the unbeaten, best away record, runaway leaders, is somewhat optimistic.
I don't think it is.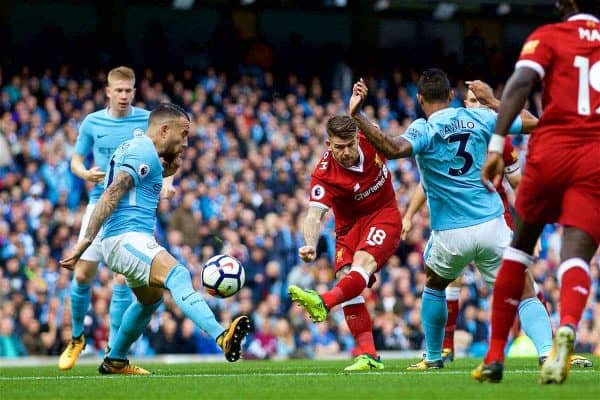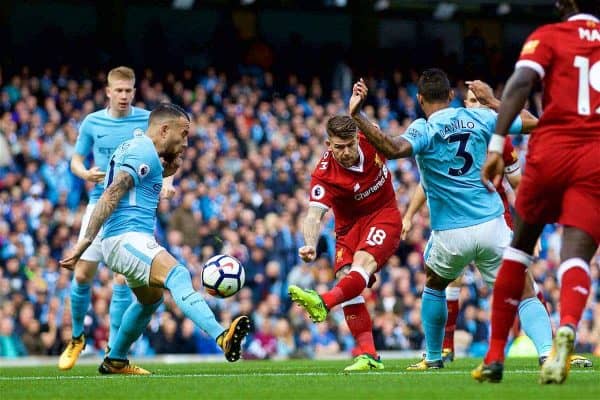 I've watched a lot of Man City games recently, mainly out of a sense of intrigue as to how they're achieving such amazing results. Are they simply that much better than anyone else that we should all just pick up our ball and go home? Are they playing football that is simply out of this world?
No, they're not.
In late November and early December, they eked out three successive 2-1 victories against Huddersfield, Southampton and West Ham. The latter two were home games and it took them until the 84th, 96th and 83rd minutes respectively to beat all three.
Recently, they drew with Crystal Palace (and would have lost only for a bottled penalty in the last 5 minutes) and were given a run for their money by Bristol City.
What has been notable in their 'easy' wins, has been the opposition's lack of attacking intent. Too many teams (and their managers) have seemingly already accepted defeat before a ball has been kicked. But, as has been proven time and again, parking the bus against Man City is akin to football suicide.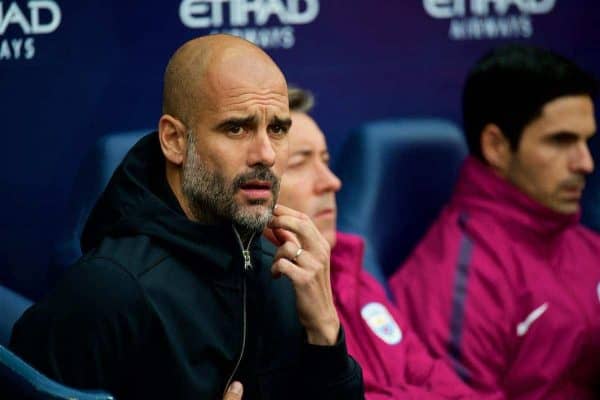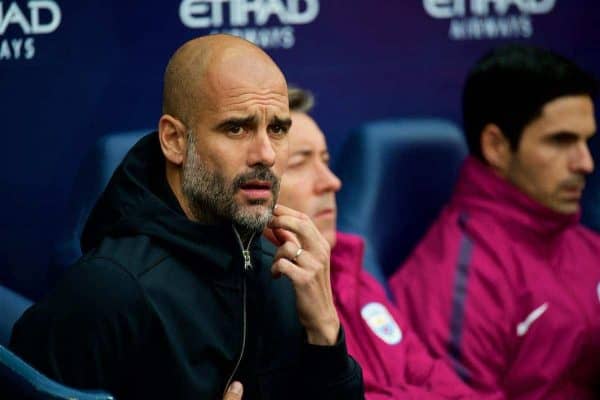 Conversely, in the games City have struggled, it's been against teams who have matched their high-intensity games; teams willing and capable of nullifying their ability to play out from the back and progress unchallenged through the midfield.
Huddersfield, who decided bus-parking was futile, caused them problems, as did Bristol City. Both were within minutes of avoiding defeat, but unfortunately did not have the required quality to see the game out.
But… if any team has the players, the weapons and the genuine quality required to fully exploit City's vulnerabilities, it is Liverpool.
Liverpool have won the ball in the middle third more than any other team. We are also second in the league at winning the ball back in the final third.
Given all of this, I think the tactical approach to this game speaks for itself. Job one is to stop them from playing their passing game out from the back and though midfield. We need to give their goalkeeper no other option than to kick long by closing out every avenue open to him with the ball at his feet. We can't allow him an easy 'out' when he gathers the ball.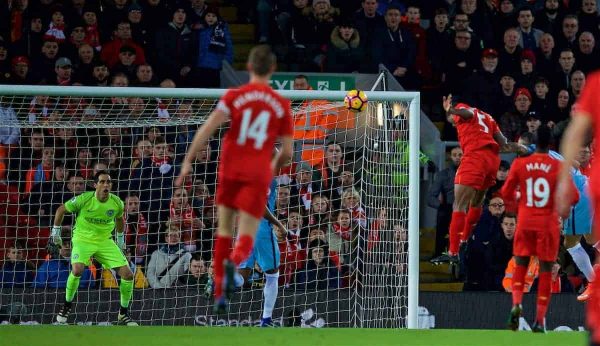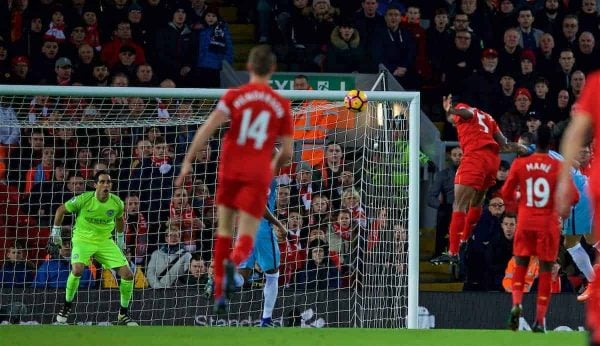 We must harass and harry them all over the pitch, but what we must not – and I am certain we will not do – is revert to the outrageous thuggery exhibited by both Spurs and Crystal Palace in trying to hospitalise City's star men.
Klopp is not only a man of football, he's also a man or principle, and the treatment of Kevin De Bruyne by the two cockney teams was beyond reprehensible. It didn't work for Spurs, who, while abandoning their football ethic in favour of a lack of ethics, were simply swatted aside.
No, we can beat City by legal means.
We need to use the pace of our front line to close down their 'ball playing' defenders. They don't like being pressured one bit. They look uneasy and uncomfortable when they have no clear, easy option ahead of them. A glaring mistake so many opposing managers have made this season is to sit off them and allow them to play.
Restriction of their supply line being such an essential part of the game plan, I would start with Mane, Salah, and of course Firmino. The latter is quite simply excellent at closing down opposing players and generally making a defender's life uncomfortable. All three have pace, technical ability and positional sense to 'defend from the front' and of course all three offer a goal & assist threat. And, of course, Mane 'owes them one.'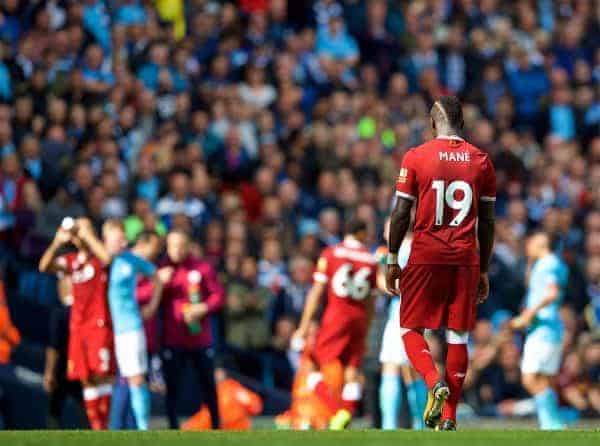 Behind them has to be Adam Lallana. He's right up there with Firmino in terrorising defenders and offering the opposition so little time with his Duracell bunny work rate. He might not be fully match fit yet, but we can likely get a solid 60 minutes out of him.
The other midfield spots are where I think we have different options. Do we go with the experience of Milner (plus he'll be desperate to beat his old club), the pace of Oxlade-Chamberlain, the energy of Can, or the hit/miss option of Wijnaldum?
For me, we need energy, pace and determination in this area, so I'd like to see the in-form Oxlade-Chamberlain given a start. He'll also be desperate to continue his fine form and prove his worth in probably the biggest game of the season so far.
For the third spot, it's either Milner or Can, and after thinking through the pros and cons of both, I'd go with Milner. Another key element to winning this game is to minimise the influence of De Bruyne. To do so, we need a wily old fox using all his experience to disrupt his game. That player, for me, is Milner. Stop De Bruyne's supply line to their front three, and you go a long way to nullifying City's threat; let him pull the strings and he will hurt you.
The defence will of course have to be disciplined and focused, for the entire 90 minutes. But with only 8 goals conceded in the last 11 games, I am feeling a whole lot more confident we can achieve it.
After several years of defensive instability and costly errors, Klopp is getting it right. The signing of Virgil Van Dijk is huge. He's the commanding influence we have lacked in central defence since Jamie Carragher hung up his boots almost 5 years ago. I would have no hesitation in starting him as I think his reading of the game could be essential in nullifying City's free scoring attack. He'll also scare them to death at set pieces.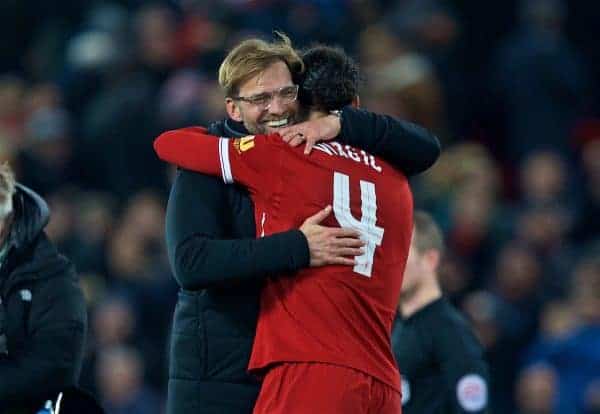 Alongside Van Dijk I'd go with Joel Matip. While Klavan has been refreshingly impressive of late, Matip remains our other most accomplished centre back. With the threat of Aguero, Sane, Silva et al, I think the fledgling partnership which was impressive against Everton should be retained.
At left back, it has to be Andrew Robertson. He was superb against Everton, and must be, with Glaswegian relish, be chomping at the bit to go toe-to-toe with the hugely unpopular Sterling. He just might get a helping hand from the Sir Kenny Dalglish and Main Stands.
If Sterling thinks he can dance around the pitch doing his best Rudolf Nureyev impression, he's got another thing coming. Robertson's forward forays will also make sure Sterling can't abandon his defensive duties and will force him, against his instincts, to track back.
At right back, I'd go with youth, pace, and forward threat, so that means Trent Alexander Arnold. He's growing in stature with every game, and while still prone to the odd positional lapse, gets the nod for me over Joe Gomez who, with his tendency to lose players in the box, might struggle with Aguero's movement in particular.
Finally, it has to be Mignolet in goal. Not only does he remain our most experienced keeper, but Karius is still yet to convince. Let's hope Mignolet has the game of his life because, even with the greatest optimism, it's unrealistic to think City won't create chances.
This is a game this Liverpool team can enter with great confidence. Eight wins and three draws in the last eleven games, with 34 goals scored and only 8 conceded is a superb record. When you consider two of these goals were non-penalties, and a third was a fluke from Willian, the recent defensive solidity looks even more impressive.
In fact, in 10 of those games, we have conceded 1 goal or less, with the crazy 5 minutes at Arsenal the only major blemish.
With the Kop in full voice, the banners flying high, and an atmosphere City won't have experienced this season, we are in for potentially one hell of a spectacle.
We owe City one to make amends for the injustice at the Etihad and I have absolutely no doubt we can achieve it.
Roll on Sunday.