Liverpool will reportedly resist Philippe Coutinho's efforts to force through a January move to Barcelona that would earn them up to £140 million.
The Reds turned down three bids from the Spanish giants last summer, with Fenway Sports Group issuing an emphatic statement on the Brazilian's future.
Coutinho went on to score 12 goals and assisted a further nine in 20 appearances in the first half of the season, suggesting he was prepared to knuckle down for the campaign.
But having missed the 2-1 win away to Burnley on New Year's Day due to a suspiciously timed thigh injury, Coutinho is now once again pushing for the exit.
Widespread reports suggest Barcelona are willing to make the 25-year-old the world's third-most expensive player behind Neymar and Kylian Mbappe.
According to the Telegraph, however, Liverpool won't step aside lightly, as they "do not want to sell" their star playmaker and "are making strenuous efforts to keep him."
Interestingly, they also claim that the Reds are yet to sound out Monaco's Thomas Lemar as a potential replacement, as they are "focusing on convincing Coutinho he can achieve Champions League ambitions at Anfield in 2018."
It must be stressed, though, that Coutinho is said to be "intent on heading to the Nou Camp in January," with Liverpool "not succeeding in persuading him [to stay]."
This should come as no surprise as, at least publicly, the club would not concede that they are willing to sell—even for the mooted £105 million up front with £35 million in add-ons.
But the hope remains that Coutinho will at least commit to a further six months on Merseyside, with a deal to be put in place for a move to Catalonia ahead of 2018/19.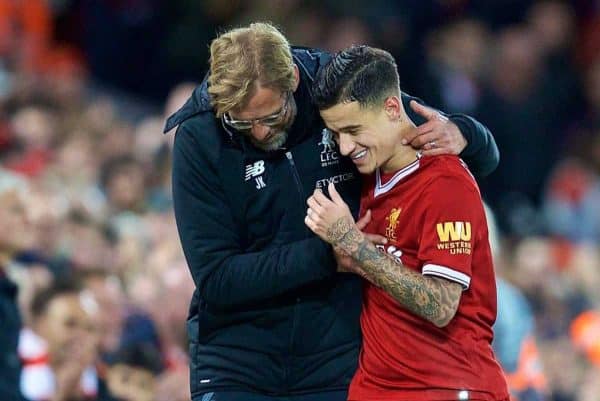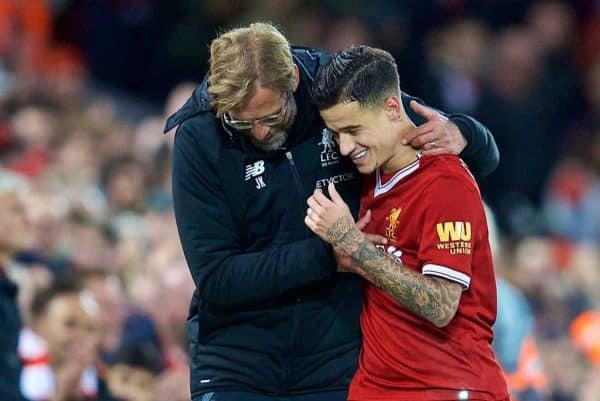 Speaking ahead of Friday night's FA Cup third-round clash with Everton at Anfield, which Coutinho is due to miss, Klopp insisted the focus was on matters on the pitch.
"They are professional football players. Sometimes they are in the middle of the story and sometimes they are sat next to the guy in the dressing room who is in the middle of the story," he told reporters.
"These young boys are used to this from a really early age and are used to ignoring things around them.
"If they are smart enough they ignore most of it. All the stories around are no problem.
"This story is not around since yesterday. It has been around since the summer and did you at any moment get the impression this team is distracted because of transfer rumours? No.
"We are focused on what we have an influence on. All the rest we have to ignore. It is clear there is a lot of excitement around."
Coutinho signed a new five-year contract with Liverpool just over a year ago, ensuring the club remain in a strong position when it comes to negotiations.