Eight days after ending Man City's unbeaten season, a lacklustre Liverpool were beaten by bottom of the table Swansea City, losing 1-0 in south Wales.
Swansea 1-0 Liverpool
Premier League, Liberty Stadium
January 22, 2018
Goals: Mawson 40′
---
Loris Karius – 6 (out of 10)
The newly crowned Liverpool No. 1 stamped his authority on the game early doors, with a big fist he punched clear a whipped in Swansea cross.
Very vocal to his backline from set pieces he looked a more composed individual than in recent weeks.
Not at fault for the Liverpool goal and apart from picking the ball out the back of the net, he had little to do.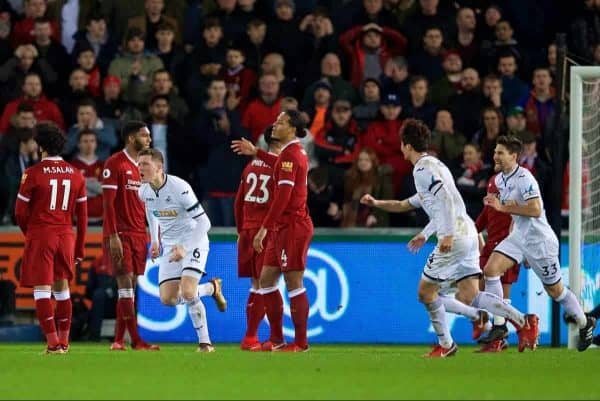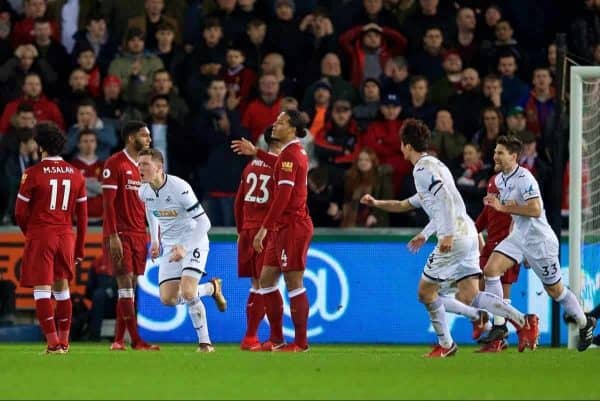 Joe Gomez – 5
The 20-year-old was full of energy, happy to whip down the flank and attack he's also tidy when it comes to recovering at speed.
Kept Olsson in check for the vast majority of the first half, only once caught out of position and his mistake allowed the Swansea player to deliver a dangerous ball that was cleared for the corner in which the opening goal came from.
Has become a theme for the defender of late.
Joel Matip – 5
Looked OK for 20 minutes then lost his head a little. First, he had a rush of blood to the head and ended up playing unconventional back heel in their box when a more composed approach may have led to a shot on target.
Swiftly followed by a decision to volley Clucas three foot in the air, picked up a yellow card inevitably.
Virgil van Dijk – 6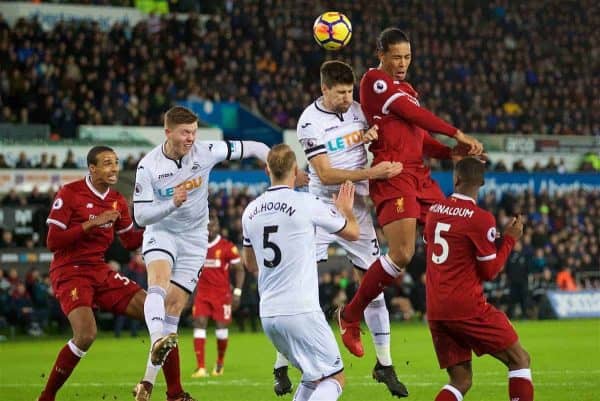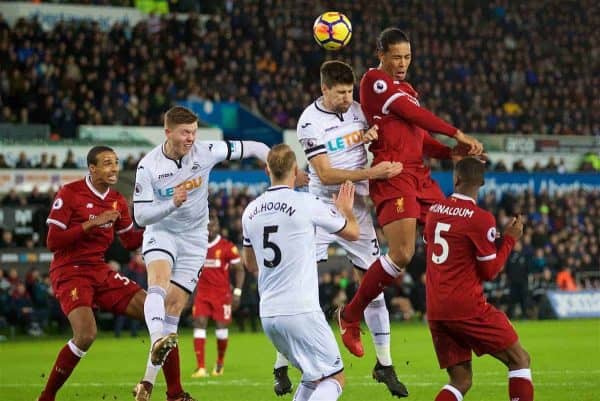 Almost doubled his goal tally from headed corners on 23 minutes when he rose well to meet an Oxlade-Chamberlain cross.
Crowded out in the Liverpool area by his own players he half cleared a header from which Swansea scored.
Second half was hardly anything to write home about either, almost had an assist in added time. Subdued somewhat, like everyone else.
Andrew Robertson – 6
The Scot is making friends across the Liverpool fan base with his performances. He's like the attacking left back who can defend, someone we've dreamt of for years.
Solid first half but was bullied a little in the second, had an easier time once Dyer went off and was able to get back to trying to make the difference with an attacking run and cross.
Emre Can – 4
Captain for the night he started well. Delivered a delightfully chipped ball into the area but the resulting chance wasn't executed properly.
Challenged by Carragher at half time on Sky that he may he "concentrated too hard on his man marking role" in the box, from which Swansea scored; bit harsh if you ask me.
Covered for Winjaldum whose head was somewhere on the A5 by Shrewsbury. It was all very safe and therefore predictable, but when you wear the armband you need to lead. Ballooned a decent chance in added time.
Got off the team bus, got back on it. Not sure what happened in between. Looked like a child lost in a theme park, didn't act like one though as they often talk to someone, even if it's to ask where their mummy is.
Had a fleeting appearance on 56 minutes with a forward ball that almost resulted in a chance for Firmino was subbed off on 72 minutes.
Genuinely awful and it was incredible he wasn't subbed earlier.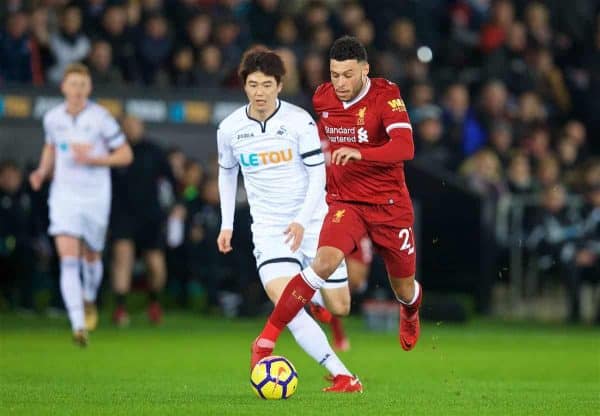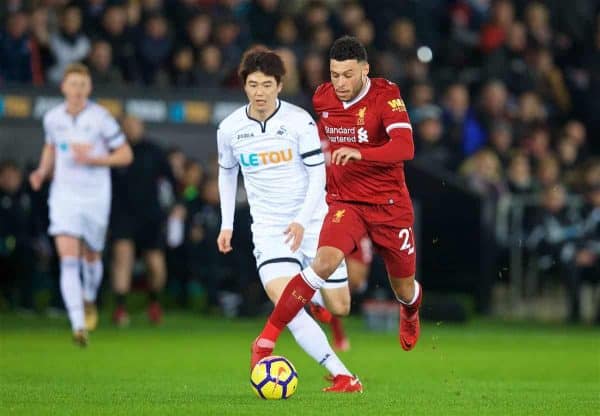 Pressed and harassed the Swansea backline like a terrier, did it in straight lines though. Became a little predictable in his play and was hooked by Klopp for Lallana on 68 minutes.
If you're looking for a positive then it's the way he crosses the ball. Deserved more quality on the end of the three good balls he delivered.
Mohamed Salah – 5
Didn't take any of his three opportunities from open play. Looked short on confidence which is a surprise as he's been blasting them in lately.
On a positive note his positioning was spot on, unfortunately positioning doesn't score goals, the finishing does.
Whipped in a free kick on 60 minutes which was tipped over well by Fabianski.
Sadio Mane – 4
Not the best night for the Senegalese attacker. In a similar vein to Salah his positioning was excellent; however, his passing wasn't and neither was finishing. On another night, he could have had two goals.
Hopefully just a blip, could probably knock on the head the theatrics in the area when he's lost control of the ball.
Roberto Firmino – 5
Fed off scraps but showed a degree of Dirk Kuytism, i.e. ran around a lot with little end product. In his defence, he can't be expected to score if the play behind him is poor.
Anonymous by the action of others and not by choice, not his intention so not really his fault. Smashed the post in added time, says it all.
Starting XI Average Rating: 4.81
Substitutes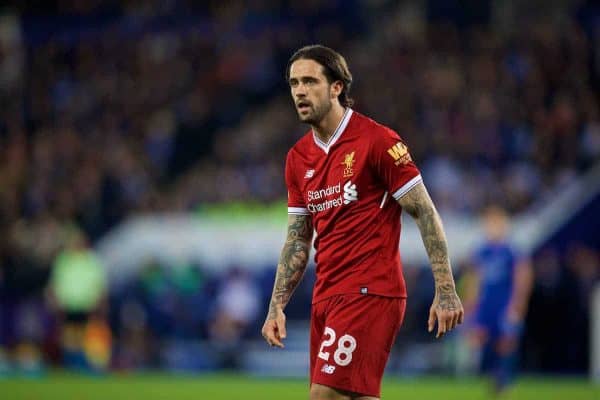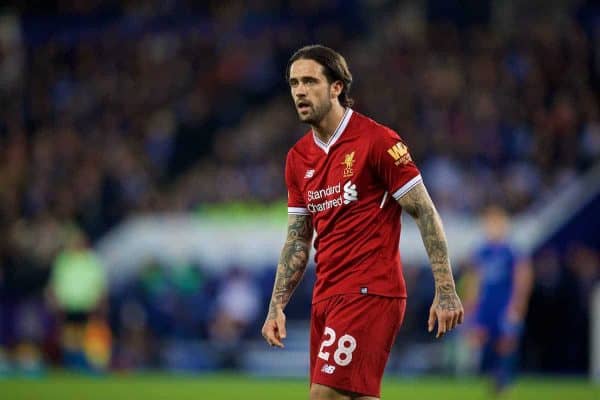 Adam Lallana (on for Oxlade-Chamberlain, 69′) – 5
A big ask for Lallana to come into this game and make an impact, especially when the other 9 outfield players looked like they'd rather be somewhere else.
If you're looking for someone to come on and grab the game by the balls and change it singlehandedly he's probably not the man to look towards.
Did his best to harangue the Swansea defence, looked to pinch the ball and try and build an attack.
Danny Ings (on for Wijnaldum , 74′) – 6
Entered the play on 73 minutes and got a real sight of goal just five minutes later.
With a wonderful first touch, he made space for himself by giving Van der Hoorn the slip before striking the ball across the goal. Fabianski got down quickly to deny him the equalising goal.
Tried to show himself three further times but the final ball in to him was poor.
Subs not used: Mignolet, Milner, Klavan, Solanke, Alexander-Arnold.
Manager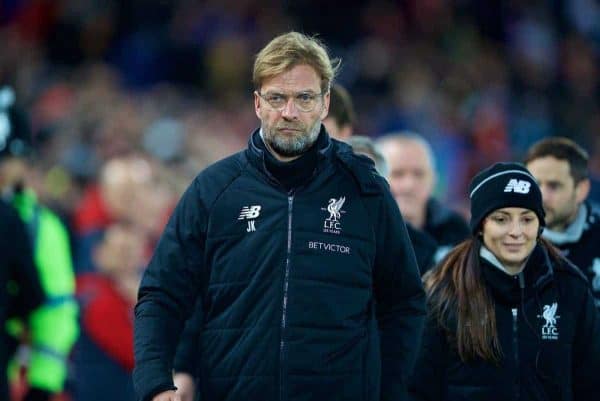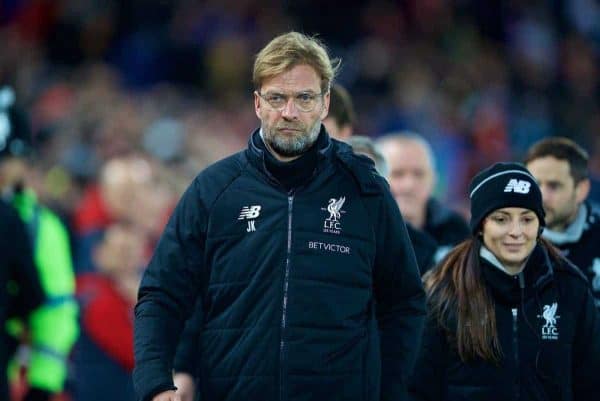 Jurgen Klopp – 6
Didn't look like the Jurgen we all know. Picked a strong line-up then tried to shake it up with some substitutions but his options were extremely slim—with just two league goals this season between all his subs.
But maybe that's a bigger issue that the manager needs to rectify.
Short of coming on the pitch and playing the last 10 minutes himself he exhausted all his managerial opportunities. Let down by a cowardly performance on the whole.